Hiking with Horses – Highland Wilderness Glamping
Packhorse supported hiking with wild camping comfort – a UK first!
This guided hiking holiday marries the traditional pack horse role of the native Highland Pony and more luxurious camping. For the first time, this wilderness trek offers guests comforts like heated nordic tipi's, warm showers and comfy camp beds! This Packhorse supported hiking holiday provides remote wild camping with an elevated level of camp comfort.  It offers wild camping and hiking with horses in some of the Scottish Highlands wildest and most beautiful scenery. It's a truly immersive, off grid experience.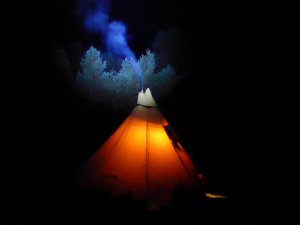 What to expect
The experience provides:
Woodburner heated Nordic Tipi's big enough to stand up in!
giving somewhere warm to sit and relax on camp chairs
A wilderness journey in the company of our Highland Ponies, Goldie and Foxy!
The ability to dry outdoor clothing in camp overnight
A trek through the beautiful Caledonian pines and mountains of the Cairngorms National Park.
Warm camp showers
Experience the Uk's most bio diverse natural habitat
A proper Camp toilet!
Half a day of expedition training
A sleeping experience akin to being in your own bed
The comfort of only having to carry the weight of a "day sack".
An off grid and truly immersive nature experience
Probably the most carbon neutral holiday you will ever have been on!
All conducted with Leave no Trace principles in mind.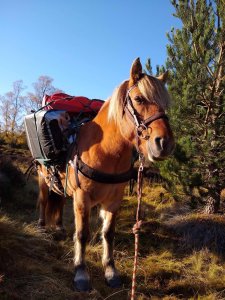 What's included?
This 2.5 Day/2 night fully inclusive adventure includes:
2 Days of guided hiking
1 night of wild camping
1/2 a day of expedition training
2 nights accommodation (Day 1) at Fraoch Lodge at the beginning of the trip and the last night after returning from the camp.
All meals from lunch on the first day of arrival through to breakfast on your day of departure
Transport from Fraoch Lodge to the start of the trek
Transfers between Inverness Airport or Aviemore Rail Station.
The Cairngorms National Park  is the UK's largest national park, home to 25% of the Uk's rarest and most endangered species. It holds 5 out of 6 of Scotland's highest peaks and contains Scotland's largest, most natural habitats. It is home to the country's most ambitious, landscape-scale nature conservation project, Cairngorms Connect
Additional information:
Add ons: Glamping addons
Dog policy: Dog Policy.doc
Read all about this trip in Scottish Field and Trail Magazines