This tour has expired
Highland Family Adventure
Duration:
3 days, 4 nights
Tour Type:
Family adventure
3 Day Highland Family Adventures
3 days, 4 nights: Scotland is full of family adventures but most involve a lot of driving and not much activity or what we would consider to be genuine adventure in the outdoors.
Inclusive of guide, transport, accommodation and meals as described
If your family active and full of energy? Then this is the family adventure for you in one of Britain's most beautiful mountain settings.
Based in the Cairngorms National Park, this adventure is a chance to explore the UK's largest National Park through a range of activities with Highland ponies; on the water at Loch Morlich, including wild swimming; flying through the trees on a zip wire; off road biking through ancient Caledonian pine forests along the Speyside Way and a Victorian style picnic with our trusty Highland ponies.
Highlights:
4 nights accommodation at Fraoch Lodge, our family home in the Cairngorms National Park
meals as described (all breakfasts, all dinners and all lunches, except on mountain biking day)
transport and driver to all activities where necessary
water sports on Loch Morlich
visit the Cairngorm Reindeer Herd
1 day hire of mountain bikes
one session at the Zip park in Alvie
visit to Leault farm to see the sheepdog trials
pack pony supported hike and picnic with heated tentipi
Day of arrival:
Aim to get to Fraoch Lodge before 6pm if you can so you have time to relax, explore the village and settle in to your accommodation.
NB We are a TV free Lodge but we have plenty of family games stored in the lounge and a large selection of books to borrow.
Day 1:
We'll head over to Loch Morlich where we'll first go and see the Cairngorm Reindeer centre before we get kitted up to go our on the Loch in kayaks or family canoes. If possible, we'll go for a wild swim in the waters of the loch. During the activities, we'll also set up a BarBQ and maybe give the sailing or paddleboarding a go.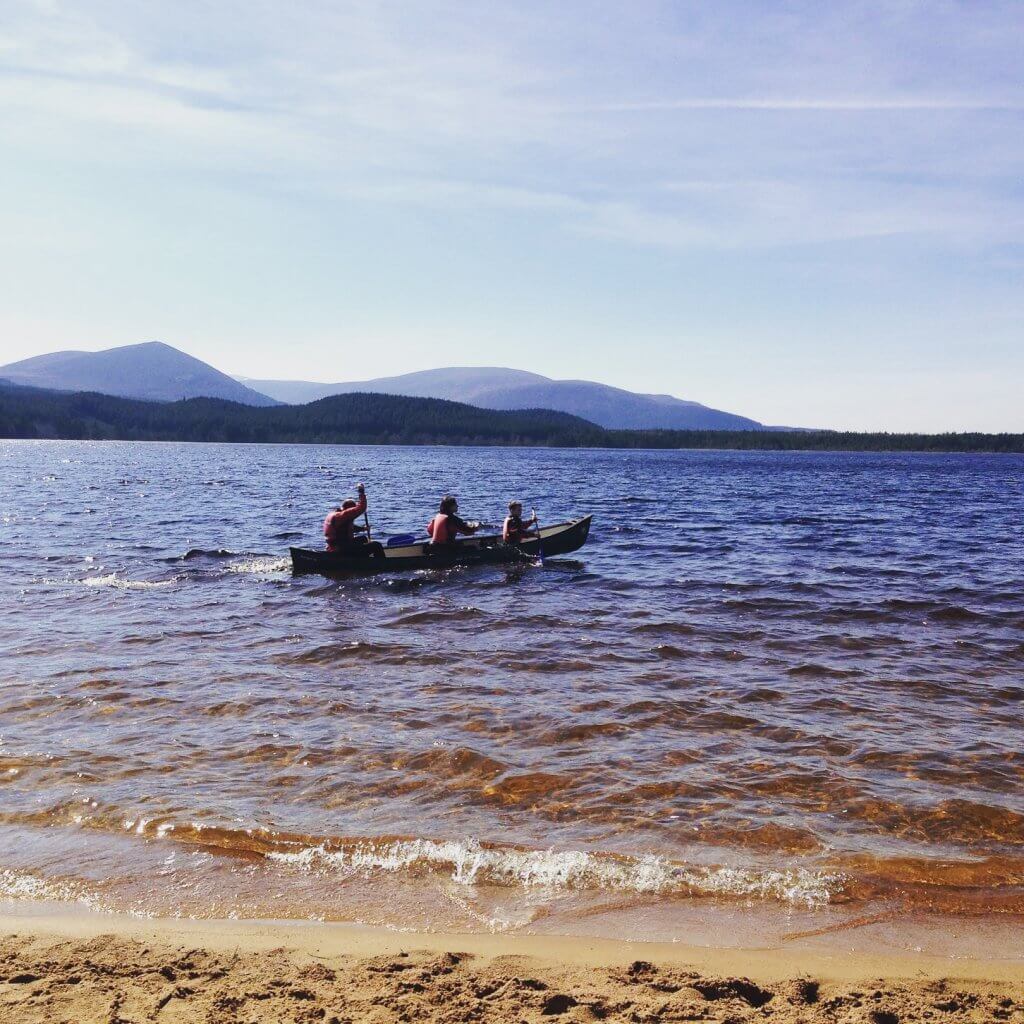 Day 2: 
After breakfast, we'll pick up our mountain bikes at Ride Cairngorm then head out along the Speyside Way to Aviemore. We'll skirt round Aviemore and continue to head further south to Kincraig, where we'll have lunch at the Old Post Office cafe and if time we'll explore round Loch Insh before going up to the ZipTrek park on the Alvie Estate. Our aim will be to have time to go to the Sheepdog demonstrations at Leault Farm after the Zip Wire experience. This is a pretty packed day out but should be well within our capabilities.
Day 3:
You'll be learning all about how to walk with our ponies and how to load them for a day trip. Our team of Highland ponies (Goldie and Foxie) will be joining us today for a hike into the wilderness of the Cairngorms National park. They will be carrying some gear for us so we can have a luxury picnic site complete with group Tentipi, seats and a wood burning stove, along with gourmet picnic food.
Day of departure:
Hopefully you'll have time to join us for breakfast before you head off on further adventures, or for your journey home. We hope you'll be back or perhaps you'll be continuing your adventure with one of the extensions on offer below.
OPTIONAL EXTENSIONS
NB: All options are one day extensions which include: activities and entry fees as described, 1 extra night at Fraoch Lodge, full board including picnic on the tour.
We have several additional family adventure extension tours. Choose from:
Loch Ness, Clava Cairns, dolphin watching, Urquhart Castle, kilt making and Culloden –
2. Glenfinnan. Hogwarts Express photo opportunity and Steall Falls walk
3. Llama trekking, Braemar castle and the Snow Roads –
4. Back to Nature at Inshriach – POA
5. Foraging walk and cooking class –
Available: Easter to end October
Min/Max: 4 – 8 people. Please enquire if you have a larger group and we will price the trip accordingly.
Core tour price: please enquire
Enquire about this tour

Day of arrival:
Try to arrive in the area mid-afternoon if you can. This will allow you time to settle in and have a wee explore of the village. You can pop down to the hotel for a coffee/drink, wander round the local paths, go down to the river, visit the gallery or try out the new coffee shop across the road. There are also a load of geocaches around the village if you'd like to check these out and a bird hide down at Milton Lochan where you can mellow out and watch the herons and ducks.
Day 1:
Enjoy your first breakfast at Fraoch Lodge. There'll be fresh bread, home made muesli, jam and marmelade, porridge (if you want), OJ etc Any hot breakfast orders will be brought through as they're ready but there's no need to make up sandwiches today as we plan to have a barBQ at the beach in between our sessions on the water. We'll also pop over to the reindeer centre to learn all about the history of the Cairngorm Reindeer herd and hopefully meet one or two of them.
Don't worry though – wetsuits are included in the hire of the kayaks etc!
After our water sessions we'll pack everything up at the end of the day and drive back over to the Lodge for cake and a chance to relax before dinner.
Day 2:
After a leisurely breakfast, we'll pop down to Ride Cairngorm, the local bike hire shop, pick up bikes and follow the planned route to Kincraig. We'll run through the route and give you maps to follow after breakfast.
The route is a section of the Speyside Way, roughly parallel to the Speyside Steam Railway and the river Spey, through to Aviemore and then connecting on to the Badenoch Way through to Kincraig. From Boat of Garten, you climb slightly out of the village and ride across the moorland heading towards the mountains before you descend next to the Spey Valley golf course and into Aviemore.
(Lunch is not included today as the plan will be to stop at the Old Post Office in Kincraig run by Ann Vastano and her family. Ann is a very well known local artist. You might be tempted to pick up some souvenir cards in the cafe.)
After lunch you'll head over to the Zip Trek park where you can't help but have fun flying through the trees. (Hope you have a head for heights!) You have to walk up the gorge to the start of the zip wire runs but the trip back down, zooming along the wires, is no effort at all. We'll meet you back in the car park and if there's time we'll be sure to head over to Leault Farm to see the sheep dog demonstrations. If we're in luck, we'll meet the puppies afterwards.
We'll head back to the Lodge afterwards and grab some home made baking to tide us over until dinner.
Day 3:
We'll do a bit of geocaching or exploring in the woods for a wee bit first thing after breakfast before heading over to the stables at Rothiemurchus to meet the ponies and learn a wee bit about walking out with them. They'll carry our supplies for us out to a carefully selected picnic site. We're taking a tentipi and stove with us so even if it's a wee bit damp we'll still have shelter and the ability to cook up.
After lunch we'll make sure that we're leaving no trace at the campsite of our presence before we head back to the bus. Remember that we need to make sure that the ponies are also comfortable before we can head back home.
Day of departure:
Your last breakfast with us at Fraoch Lodge before we drop you off for your transport home, or onwards to explore other parts of Scotland. You may be staying on to experience one of our extension days Loch Ness, Glenfinnan or foraging. Take your pick.
We asked our guests what sets Scot Mountain Holidays apart, why they return year after year:
"the social aspect"  –  "the camaraderie, food and conversation"   –
"the company of the hosts"  –  "so warm and welcoming"  –  
 "a profound sense of belonging"  –  "the welcome of Rebecca's home cooked meal"  –  "Andy's skills as a guide, naturalist and leader"  –  "stewardship, sustainability and a small footprint"  –  "in harmony with the land"  –  "a slice of rural Scottish life"
Scot Mountain Holidays is the ONLY adventure tour operator in Highlands of Scotland with a combined home and guest lodge. We strive to be more than just an tour. We aim to provide you with a 'home away from home' on your adventures. We thought of no better way of doing this than to welcome you into our own home.
We have owned and operated Fraoch Lodge as our home base and business since 1999. In that time, we have come to embrace our guests as members of our extended Highland family.
We source our meals from locally produced and home grown ingredients to provide you with the most delicious flavours and traditions the area has to offer (while minimising our impact on the environment, too). Our dining room and lounge are shared spaces where we gather with guests and friends to share in the holiday and offer you extensive knowledge of your tour.
No matter the season, the Cairngorms and Fraoch Lodge is a place to relax and explore all its beauty and comforts, and we hope to make you feel as at home as we are.
We have achieved Gold Star Awards from the world's most highly respected green accreditation scheme, Green Tourism, and were awarded Highly Commended in their Green Star Awards 2013 for both Scot Mountain Holidays and Fraoch Lodge. We offer a Green Travel Discount of £15 to any guests who travel to us by public transport. Our primary aim is to minimise the carbon footprint of our holidays, and to this end we donate 1% of the price of our tours to the RSPB's Abernethy Reforestation project.
It is a holistic approach we have to the care of the environment. Andy your adventure guide has a passion for the natural world – whether it's the flora, fauna or fungi. He has a background in geology and a lifelong interest in natural history, as well as being a keen gardener.  He knows a Golden Plover from a Dotterel, a Green Shank and a Dunlin. He also makes no apologies to being very excitable upon spying a Golden Eagle!
For further information, please don't hesitate to check out our Environmental Responsibility page, or contact us directly at info@scotmountainholidays.com.