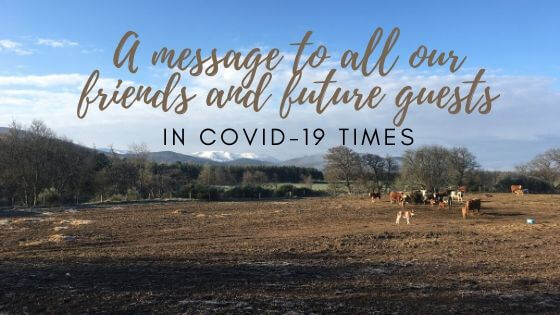 Dear Friends,
We are missing you all, but we are still hopeful that we may be able to catch up with some of you before the end of 2020.
At the moment, as we're sure you are aware we are not receiving any visitors here at Fraoch Lodge or on any of our other trips in the Highlands of Scotland. However as a small business, providing all elements of our tours "in-house" we feel we are in a unique position and we hope to be back with you offering exceptional opportunities to experience the outdoors as soon as possible.
If you have a booking with us this year:
Up Coming Bookings
Firstly, we have received some lovely and very sympathetic messages from our guests and friends. Over 90% of our guests with holiday bookings have chosen to postpone their trips with us. Talking to other Adventure Tour Operators they have experienced a very similar level of goodwill from their own clientele. Thank you.
We have already made contact with all those who have bookings with us to see what they would prefer to do before the end of June 2020. Many of you have booked on a particular trip partly because you know who else is going. Some in the group have partners who fall into the "at risk" category and so understandably are very reluctant to expose themselves to any risk of catching Covid – 19.  In these cases we have simply postponed the trip a full 12 months.
Going Forward …. Trips running after 1st July 2020:
For those of you who don't know us, Scot Mountain Holidays is unique amongst Scottish Adventure Tour Operators in that all increments of our Cairngorm trips; accommodation, guiding and transport, are provided within the same household. This puts us at a big advantage. Not only does it help to limit the risk of transmission but we have full control in the manner in which Covid-19 measures are delivered. Our accommodation, Fraoch Lodge, is small, can operate on low numbers and is easily divided meaning it is easy to give exclusive use of an area to a particular group.
Although we may not be able to offer our full range of Scottish trips straight off we feel the above will allow us to operate some of our privately guided Cairngorm trips relatively early on, though as yet no definite date is set for this which will of course be in line with government advice.
We're creating a page of Covid-19 friendly trips along with some new policies here at Fraoch Lodge and an enhanced cleaning policy. We've also got a new booking policy. We hope you will feel confident to book  a trip with Scot Mountain Holidays for when travel is back on the agenda.
All the best and do stay in touch with us.
Rebecca, Andy, Gregor and the pony team (Foxy and Goldie)