Most popular self-guided hike
Lairig Ghru Logistics: a self guided hiking weekend in the Cairngorms National Park
The Lairig Ghru is the most prominent pass through the centre of the Cairngorms National Park. A road has never been built through the middle of it. It used to be a drovers' pass for taking the cattle to market, but is now a route for walkers and cyclists to pass through the centre of the Cairngorms National Park. It runs roughly north-south from Aviemore to Braemar and is a prominent feature on the mountain skyline from Aviemore.
Photo credit: David Mansell
The main roads all circumnavigate the Cairngorms National Park which means that to drive from one side near Braemar, to the other, near Aviemore, will take close to 2 hours. To access either end of the route you'll need to make a massive diversion on public transport via either Perth or Aberdeen, as there is no longer a bus service from Grantown on Spey to Braemar. (The Council sponsored a bus route from Grantown to Braemar – the Heather Hopper, but when funding ran out no one took the route on.)
The walking route
The route for hikers through the pass is 19 miles from Linn of Dee to Whitewell. However, if you plan to organise your own walk you'll need to arrange for someone else to make the 2 hour diversion to the other end to meet you and take you back to your start point, or allow for the extra walk from Linn of Dee to Braemar, an additional 18 miles and perhaps the additional mile to Coylumbridge (and possibly from there to Aviemore if you miss the bus.
Photo Credit: Scot Mountain Holidays
The hike is 19 miles (minimum) and passes through the main Cairngorm massif under Ben Macdui, Braeriach and Carn Toul. The high point is at approximately 2000ft, so not a mean feat. The high point is within sight of Aviemore and towards the end of the south – north route we advise. You'll finish the hike within sight of the Lairig Ghru itself.
Inclusive package:
Scot Mountain Holidays have put together a package for hikers to make the Lairig Ghru accessible to small groups. We can accommodate up to 8 people in our own transport, but have also arranged the trip for larger groups with additional transport. Max: 14
We offer:
2 nights accommodation at Fraoch Lodge,
all the meals are taken care of by us at Fraoch Lodge,
route advice from Andy who is a qualified Mountain Leader who has often walked the route himself, and
transfers to Linn of Dee
plus pick up from Whitewell.
The trip is very popular with couples, but priced on our website for 4 or more people. Please enquire directly with us if your group is smaller than 4 people. We'll quote you directly.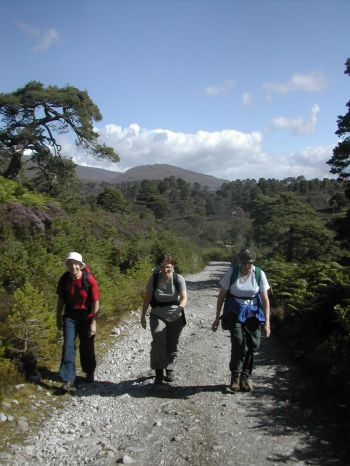 Photo credit: Scot Mountain Holidays
Hiking the Lairig Ghru is a challenge in itself which anyone can complete as a charity challenge. It is a well-known and clearly defined goal familiar to most Scottish hikers, though has less of a reputation south of the border. Some mountain rescue teams already offer the route as an organised challenge event. Please contact us if you are proposing to hike the Lairig Ghru to raise funds for a charity.
Guided hike option:
We can also offer the Lairig Ghru as a guided option which might be a good option if you are on your own as we are not able to combine self-guided groups for insurance reasons. Please phone: 01479 831 331 for full details or visit our contact us page.