Private Guiding:
a review of our holiday at Fraoch Lodge and private guiding with Andy Bateman by Carole Parsons
We had a lovely time and hope you find the comments below useful in terms of creating more great holidays in the future!
What was the most memorable or exciting part of your trip?
We loved the delicious breakfasts and the cosy evenings by the open fire.  Andy was a great guide who used his experience and knowledge of the area plus his reading of the day's weather to provide a great day's walking exactly suited to our needs and experience – and even managed to pull out some blue skies for us!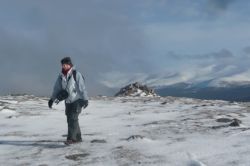 How would you describe your Scot Mountain Holidays experience?
Overall a lovely experience. We found the welcome with tea and cake lovely, and everyone was friendly especially wee Gregor with his gift for us!  The food was lovely, wholesome and tasty, and we had good firm beds.  We did however miss the opportunity to soak tired legs in a hot bath!  We appreciated the thorough briefing we had from Andy our first evening
We also valued the advice and weather readings we got from Andy on the days we were going it alone.  

What tips would you give someone else thinking about booking this trip?
Ask what you might need in advance; don't be worried if you're not an experienced mountaineer as there will still be lots available to do; go for it!
Scot Mountain Holidays is a member of the Green Tourism Business Scheme. We have a gold award. What is your understanding of the significance of this award?
We had never heard of this award before our stay with yourselves but really appreciated the obvious hard work on many levels over the years that have gone into providing such an environmentally friendly place to stay. We admire the lifestyle choices you have made