How to celebrate Hogmanay in the Highlands in style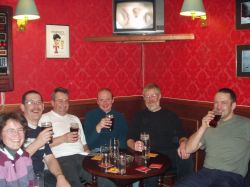 There are a lot of traditions relating to Hogmanay in Scotland. It is a much bigger event here than Christmas, which is mainly for families. Of course, being Scotland, there is a lot of partying associated with the Hogmanay theme. Edinburgh has a huge reputation on that front – massive street party and fireworks to bring in the New Year. However, as it is so much of a holiday event, there are not many companies which remain open providing activities for those who want to bring in the New Year in a different way.

For the past 15 years, Scot Mountain Holidays (formerly Mountain Innovations) have run Hogmanay Winter Skills. We combine great food, fantastic atmosphere (including an open fire in the lounge and log burning stove in the dining room) with a learning experience for walkers keen to try a winter season. Of course, learning the skills this early in a winter season means that you'll have loads of time during the forthcoming season to practice and reinforce the skills you've learnt, giving you the best opportunity to retain what you've learnt for future trips.
Mind you, we don't forget to include some of the Hogmanay traditions. It wouldn't be Hogmanay without a party to bring in the New Year and of course, the traditional rendition of Auld Lang Syne at the end of a great evening of dancing at the village Ceilidh. On the food front, we've always taken a leaf out of the Burns Night tradition and put Haggis on the table for Hogmanay, but in Glasgow a steak pie is more the thing. Maybe this year we'll try a venison pie (with veggie option of course).
Tickets for the Boat of Garten Hogmanay Ceilidhwill be on offer to all our visitors for the holiday period.
Full details of the Hogmanay Winter Skills course.
Check out Katie and Sonia's review of their visit to Boat of Garten for Hogmanay 2012 – turn Hogmanay/New Year winter skills into a family holiday.