Scotland's Winter Conditions: choosing a winter sleeping bag to suit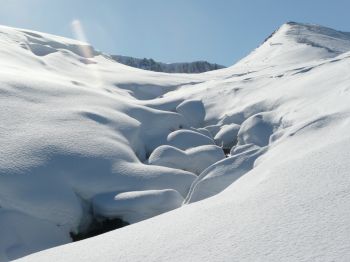 So you're planning a high overnight camp and you're wondering how warm your winter sleeping bag should be?
Likely Ambient Temperature
With a number of recent TV documentaries 'laying it on a bit thick' about how low the temperature can drop in Scotland's Cairngorm Mountains you might be forgiven for thinking you were heading for somewhere akin to the high Arctic! Indeed the temperature in the Scottish Highlands has been recorded approaching -30 deg C (-27.2 to be precise – the official British record) but this has only been on three occasions in 120 years!
Interestingly, Cairngorm summit (1245m) has only ever managed a record minimum of around half of this at – 16.5 deg C (12th Jan 1987) whilst the residents of nearby Nethybridge (210m) at the foot of the mountain claimed the mercury dropped to -31.3 deg C on 10thJanuary 1982, the same night as one of the -27.2's was recorded.  Satellite evidence suggests they were right!
The vital bit of missing information on these – 30ish lows are that they've all been recorded as a result of temperature inversions. That is, cold air has flowed off the mountains and pooled in the valley bottoms where it's cooled further whilst the mountain summits have remained appreciably warmer. These record minima are in no way a reflection of the likely temperature you would find on our mountains, possibly not surprising considering all our mountains are never that far from a relatively warm sea.
So what would be the likely temperature at the main snow-hole sites, let's say, in the Cairngorms at around 1100m? Well, the seasonal minimum for 900m is usually around -8 deg C which could, at a pinch, translate to -10 deg C at 1100m but far more often in winter it's around minus 5 and above. The point is, on our mountains we don't experience anything like the temperatures you might get in e.g.Norway.
Which bag to choose?
These days sleeping bags are graded according to the temperature. There is a wide choice of sleeping bags which will keep you warm in the average temperatures in a snow hole/winter expedition with Scot Mountain Holidays. Some of the choice comes down to your personal preference, but there are some general guidelines below:
Down or synthetic?
Generally down/feathers loose a lot of their thermal potential (i.e. they won't keep you anywhere near as warm as advertised) once they get damp. These days a lot of down is treated with a water-repellent but it may still be advisable to opt for a synthetic bag if you are intending to use your bag for more than one night in damp conditions.
Down is lighter but more expensive.
Be careful when considering which side the bag opens – it makes a difference if you normally sleep on your left or your right!
Be guided by advice of sales staff in the shop who should have some relevant experience. Ask for shop expert if your sales person doesn't demonstrate sufficient knowledge of the range on sale.
Most importatly – buy quality for a sleeping mat. In winter, it is most important to make sure you are insulated from the snow beneath you as you'll lose the majority of your bodyheat this way.
One final piece of advice:
It goes without saying of course you need to be checking the weather forecasts before you head out. A tented high camp in winter needs to be carefully judged. Those who have got it wrong have ended up having their tent destroyed and gear being scatted far and wide by hurricane force winds.
Andy Bateman 14/11/14
USEFUL LINKS
Mountain Weather Information Service
Scottish Avalanche Information Service