Now you may have heard or even believe the rumour floating around that Scotland's mountains aren't considered real mountains. Well we are here to put that rumour to bed once and for all. Scotland is a hikers paradise, and home to some of United Kingdom's best climbs.
From large to small, experience Scotland's mountains
Scotland, the land of mountain and hills truly has something for everyone. No matter what your fitness level, or what kind of challenge you're after you'll find it in Scotland. Scot Mountain Holidays offers hiking trips ranging from easy to challenging and will guide you to the best peaks Scotland has to offer.
Known as the highest peak in the United Kingdom, there is of course Ben Nevis. But in additional to this, there are hundreds of other peaks worthy of a mention. The next highest peaks in Scotland are all in the Cairngorms, making Fraoch Lodge, the home of Scot Mountain Holidays the perfect base. If wanting to explore the Cairngorms there are a number of tours to choose from, for families and individuals. Depending on the duration, season and additional challenges, options include, The Gentle Giants, Easter Snowshoeing in the Cairngorms and Cairgorms discovery. For additional guided walking/hiking option in the Cairngorms check out Scot Mountain Holidays tours.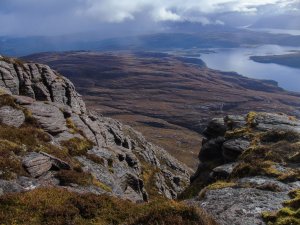 Although the Cairngorms have five of the highest peaks in Scotland you are still rich for choice upon leaving the national park. Skye has a stretch of peaks unlike anything else in the United Kingdom and the views will leave you breathless. Tours such as Superlative Skye are thorough, informative and perfect for the keen hiker. The Munros is another must do hike and a speciality of Scot Mountain Holidays.
So for those who think Scotland doesn't have real mountains, we suggest you come and experience them for yourself. There are a range of options, challenges and seasons that'll suit all walks of life.