Horse welfare: When we conceived the idea of our Highland Wilderness Glamping trips, our primary concern was the welfare of the ponies.
Our Ponies' Welfare
This aspect should quite rightly be a consideration for anyone planning to book an adventure trip involving animals. There've been plenty of examples where animal welfare could have been better on adventure trips, both at home and aboard.
Putting aside our own personal wishes that they should be happy, pony welfare needs to be a top priority if you're going to have a safe and sustainable business. A happy pony is a safe pony.
There is some confusion in terms of what constitutes good practical pony welfare. Our approach is a pragmatic practical one based on experience and not on any idealism.
Annual Vet Inspection
Firstly, our ponies are inspected by the Highland Council appointed Vet as part of a local riding centres yearly inspection. By law there is now a strong animal welfare element to this inspection which is connected to the granting of the licence to operate as a pony trekking centre.
When we started to put these trips together we approached Highland Council to make sure we were on their radar, that they were happy with our plans and comfortable with us being inspected as part of a local riding centre.
We use native breeds.
We use both the Highland and Fell Ponies. Both are British mountain/moorland breeds and are noted for their hardiness, strength and surefootedness. With their relatively short backs both breeds are well adapted to carrying loads. In fact the Fell Pony has a long history of being used as a packhorse, possibly dating back as far back as Viking times. They are good fast walkers.
The Highland Pony has been developed in the Scottish Highlands as a work horse. They are stocky and very strong and are quite able to live outside throughout the harsh Highland winters. Their thick winter coats are so well insulated that it's not unusual for snow to lie on their backs! They are still regularly used to bring culled deer down off the mountains.
They are well adapted to surviving on particularly rough grazing. With this in mind, what they eat does need to be monitored and managed. Leaving them to their own devices in a field of lush grass can be a recipe for disaster. It can quickly lead to them becoming obese and being prone to insulin resistance and laminitis. They do need regular exercise.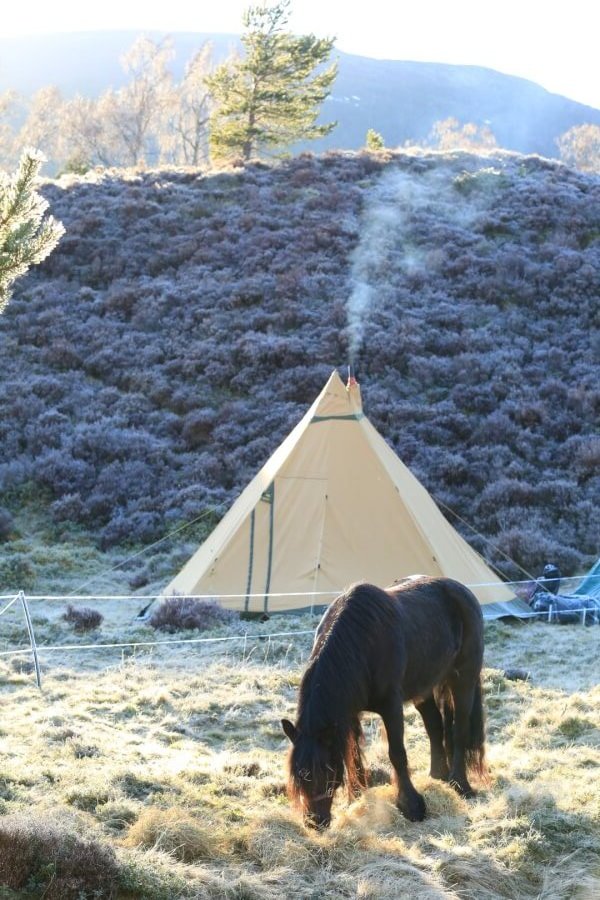 Valuable exercise and mental stimulation
In fact, one of the biggest welfare issues at the moment is overweight ponies due to inadequate exercise. Whether carrying riders or packs, this offers valuable exercise and mental stimulation for the ponies. As with humans, an overweight pony puts added wear and tear on their joints as well as potentially developing other health issues.
Horse welfare: The finest pack saddles that money can buy.
 We use Custom Pack Rigging saddles imported from Canada. They are regarded by many in the horse packing world as the finest pack saddles on the market. They differ from the more traditional pack saddle styles in as much the bars pivot on the end of the arches. It means the bars automatically conform much more closely the ponies back shape.  The bars are also ergonomically shaped as well as having the option of altering the width of the arches so as to ensure the perfect fit.
The pack saddle sits on top of a pack saddle pad. It's a 1 inch (2.5cm) thick dense felted wool pad to provide protection for the pony. Its width is 82 cm, the same dimension of the bags we use. The bags are padded out with foam inserts to provide additional protection.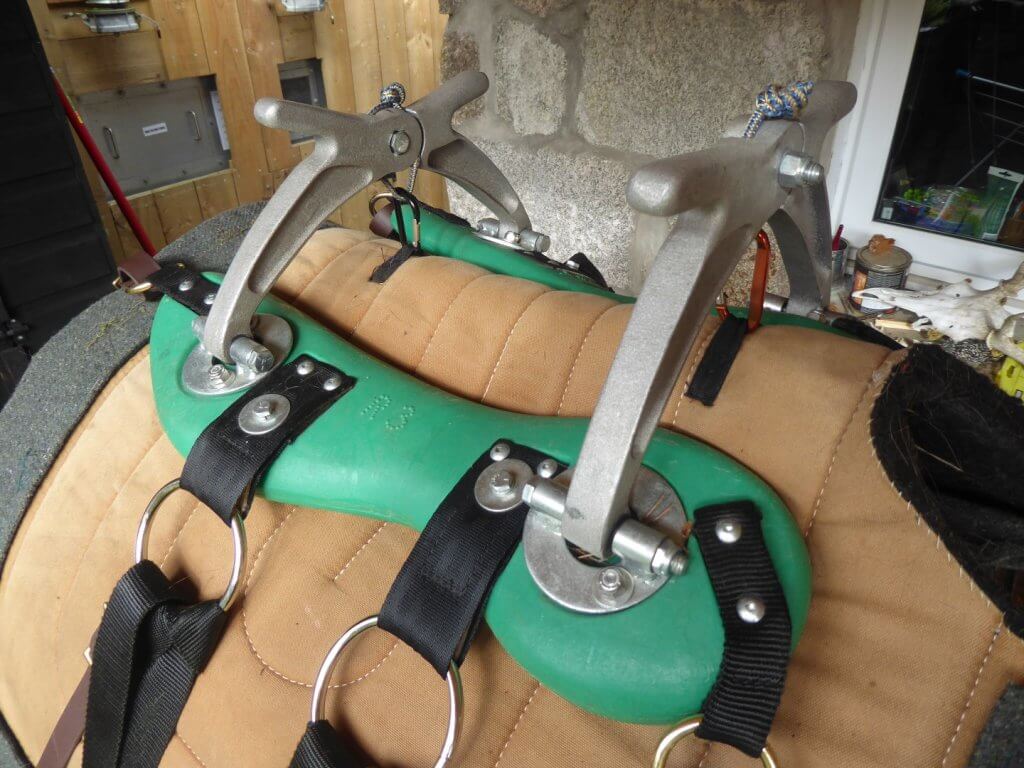 The pad is lined with a wool cover which can be easily removed and cleaned.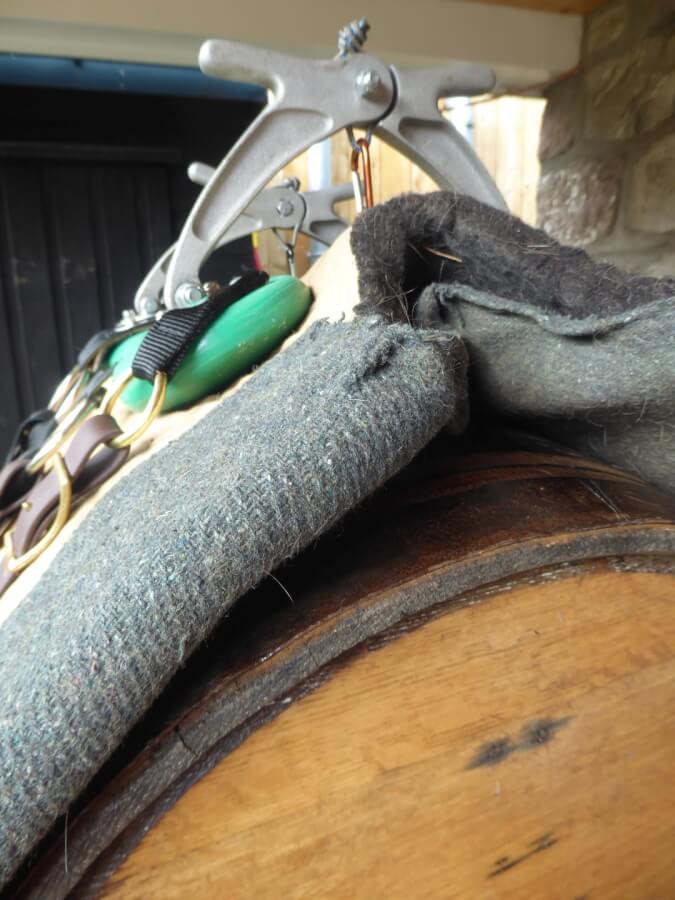 Horse welfare: The weight our ponies carry
The long established golden rule of horse packing is that the ponies carry no more than 15% of the pony's own body weight. By comparison for riding, the figure is 20% is a human is generally a more dynamic load.
Taking the lower end of the Highland Pony weight range to be 500 kg this gives a weight of 75kg (just under 12 stone). Excluding the weight of the pack saddle my Highland Pony carries 64kg (10 stone – the weight of a light human)
Horse welfare: Finely Balanced loads.
It is very important for pony comfort that the loads on either side of the pony are finely balanced. They need to be within 100 grams of each other i.e. just over 0.15 % of what they can carry. 2 people are involved in securing the bags to the pack saddle to make sure the pony isn't uncomfortably unbalanced whilst being loaded. The main bags are a maximum of 20Kg each to both be manageable and to fit in with lifting regulations.
The top load and pannier bags are stabilised using a length of rope and a triple diamond hitch and a second girth.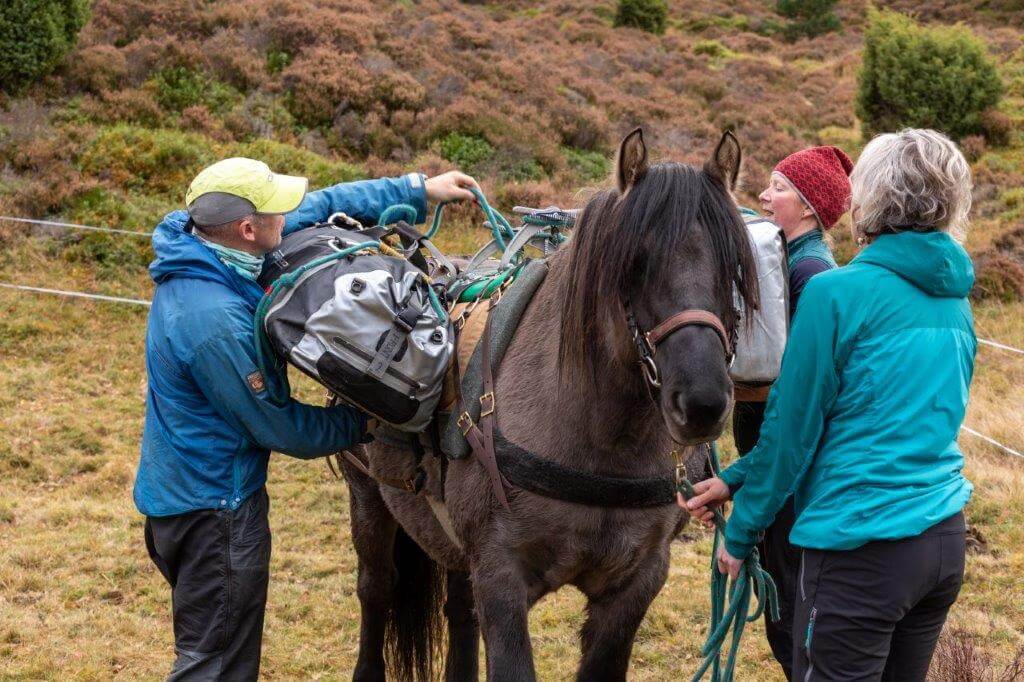 Ponies intelligence!
Common to British mountain/moorland pony breeds, Fell and Highland ponies are intelligent. They have a good sense of self preservation that comes from their ability to survive the harsh upland climate. They are able to convey their feelings and as owners we are able to interpret their behaviour. Highland and Fell ponies are not dumb!
And finally….
If a pony doesn't take well to the pack saddles, we don't use them. It's as simple as that. Goldie is a case in point. We also always take 2 ponies so they have each others company, they are after all a herd animal.