Choosing a walk in the Highlands of Scotland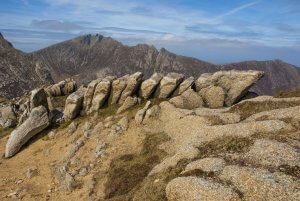 We're spoiled for choice here in the Highlands when it comes to hiking opportunities. This can make choosing a walk even more difficult. Where do you start when you're trying to make a decision on where to go? First you need to decide where your priorities lie:
area

Have you already seen loads of beautiful pictures of a particular area? Are you planning to tour around the majority of the Highlands? If hiking or mountain biking are your main interests you may want to consider reducing the amount of car travel you do during your stay in Scotland. Instead it would be a good idea to concentrate on one area in particular and explore it in more depth. If you enjoy this visit, then perhaps you can be persuaded to come back and explore again; or visit another area and explore this one too. Remember, if you've seen lots of beautiful shots of a particular area, it probably means that loads of other folk have seen them too and this might reduce your enjoyment of the area when you get there and find hoards of people there.

length of walk

Once you've decided on an area (not the easiest thing to do), you'll want to think about how long you plan to walk. Do you want to follow a multi-day, long distance route or would you rather return to a comfortable base at the end of the day? Do you want to walk all day? Would you rather incorporate some attractions into your walk or for a rest between walk days?

circular or linear

Long distance, way-marked paths in the Highlands, like the West Highland Way are really the only way to enjoy linear walks, unless you have 2 vehicles at your disposal. Public transport to most hiking areas is virtually non-existent, so trying to return to the start of the walk to pick up your vehicle can be a nightmare. Unless of course you sign up to a transfer service, like we offer for our self-guided itineraries: Self-guided Cairngorms, Lairig Ghru Logistics or for mountain biking.

quality of habitat

Most people are amazed by the scenery they see when they visit the Highlands of Scotland. What a lot of people don't realise is that much of the scenery they are seeing is heavily influenced by man-management of the land. For example, if you visit the west coast of Scotland, you'll notice a lot of barren hillside. This is the influence of many years of over-grazing by deer. The reason the deer numbers are so high: no predators other than human hunters. Unfortunately though we have the red deer commission to regulate deer numbers, many estates are privately run and maintain relatively high numbers of deer so as to offer the opportunity of shooting a stag to their clients.

Here in the Cairngorms, we have a landscape which offers a wider variety of habitats including Caledonian pine forests, moorland and sub-arctic tundra. The variety of habitat is one of the reasons the area is so popular with bird watchers.

wildlife

You might also want to consider the wildlife watching opportunities when you are choosing a walk. Some coastal walks are great for spotting otters, seals and even dolphins, but you won't see ptarmigan. In the Cairngorms, you'll probably see at least 2 different kinds of deer alongside plenty of birdlife (crested tits, ptarmigan, scottish crossbill, buzzards, red and black grouse and if you're lucky a Capercaillie).

features

Have you come to Scotland with any preconceived ideas? Do you have a tick list of features you want to see? You might be surprised by the opportunities which open up if you let a guide make the choice for you. This works particularly well if you've never been to the area before. It is obviously more expensive than exploring on your own, but you can learn so much with an experienced guide that we can guarantee that your guided day will provide plenty of fodder for chatting about your experiences with your friends.

 crowds

The Highlands of Scotland cover a massive area and there are literally 1000s of routes which could be walked. Some days it feels like everyone and their dog have chosen to visit the same spot as you. This almost always applies if you are choosing a walk in certain honey spot locations: Ben Nevis,the Old Man of Storr, Glenmore or Rothiemurchus, Meall a'Bhuchaille and certain Munros particularly on sunny days.

Fortunately it is possible to walk away from the crowds. You can also avoid the crowds completely by choosing less well-known routes and less well-known areas. For example, the Outer Hebrides are very well-known for glorious white sand beaches – far fewer people venture into the hills of Harris. In the Cairngorms, there are routes up many hills but there is no public transport down Glen Feshie. Far fewer people make it here, but it is one of the most glorious parts of the Cairngorms – don't tell everyone!

views

What will you see when you reach the climax of your route? Do you want to climb a mountain or hill? It's always good if your walk will offer you a change of perspective. It feels so much more rewarding at the end of the day when you have some magnificent photos to show for your efforts.

seascape or not

Fortunately Scotland is small enough that a great number of hill walks will also offer a view over the coast. There is something about the combination of mountains and coastal scenery which is so satisfying for us. This is one of the utter joys of the Assynt area. The hills look stunning and grand, but are actually not too high, and they're right next to the sea. Definitely an area which we love to visit. If you have the time, add it to your bucket list as it is just as stunning as Skye, but receives far fewer visitors because it is north of Inverness.

geology

Don't you ever wonder how the mountains got their shapes? Nature is so intricate that there is always something to provide us with interest and fascination. When children are young they find the outdoors endlessly fascinating. Parents can then be much more relaxed as the outdoors with all the rocks, sticks and water provide entertainment (or education) in and of themselves.
Or book a guide and leave the choice to him/her once you have talked with them.
Another option for choosing a walk: Self-guided hiking itineraries
Of course if you are having trouble balancing all the various factors yourself, or if you don't have a lot of experience choosing a walk in Scotland, you may want to go for a safer option. Let someone else make the choice for you. In 2017, we launched our first week long Cairngorm Self-guided itinerary. It has proved to be very popular, particularly with our French visitors. We've selected a range of walks in the area; we've collated the transfers and we've provided the accommodation, maps, meals etc. You don't even need a car. What could be simpler!
We did of course already offer a logistical package to facilitate the Lairig Ghru This 2 day package includes 2 nights accommodation, transfers and all meals to help access a popular 18 mile hike through the centre of the Cairngorm National Park. If organised by yourself you have the logistical nightmare of hours by public transport to return to your vehicle and a longer walk to access the main road – amongst other problems.
Next: part 2
Choosing a walk in Scotland – which area to visit
Cold Hands? A complementary strategy
Having cold hands should not be potentially fatal, but can make a day out in the hills quite a feat of endurance. Unfortunately this can be a year round problem in the Scottish hills – and in some other places in the world where the summer temperatures in the hills are close to freezing. If you're planning to hike in the hills in Scotland, always be prepared for colder temperatures even in the height of summer. Nothing can turn a walk into an unpleasant experience than being uncomfortable in any way.
It would be nice to say this affliction is only confined to the cooler months but anyone with any degree of Scottish mountain experience will know this is not the case. Even during the height of summer a cool air stream can send mountain top temperatures into single figures. In addition there may be wind-chill.  In winter of course, without adequate protection, frostbite can be a very real risk.
So you have cold hands, so what do you do?
The solution
Well of course you add some insulation to the affected area: liners, gloves, mitts – whatever is appropriate for the conditions.
But there is an additional thing you can do. The body conserves the temperature of the core by restricting the blood flow to the extremities e.g. hands. Cold hands are often a reflection of a cooling core so add an additional warm layer to your torso.
When guiding I often suggest this in response to cold hands. Frequently the reply is "it's just the hands feel cold". Think about it – your torso won't feel cold because your body has compensated by reducing the circulation to the extremities. Just because that area of the body doesn't feel cold it doesn't mean it hasn't cooled, albeit a small amount. It is in fact the cooling of the core that has triggered the response of restricting the circulation to the extremities. By adding an additional layer on your torso you'll make your hands far more resilient to getting cold again. With cold hands and feet don't just treat the affected area.
Two additional bits of kit to consider:
One of the common risk points in the mountain day is when you stop to take a break. With a brief stop it's tempting to not put on an extra warm layer.  This is especially the case when it's wet and/or windy and you have to remove your waterproof layer to do so. Your body rapidly cools and reduces the blood flow to the hands. You start moving again and warming up and then the hot aches begin!
Overlay jackets:
It maybe worth considering purchasing an "Overlay/belay Jacket" e.g. or the . These are insulating jackets that perform in the wet which you just simply put over your wet shell jacket whilst stationary.
Spare gloves/mittens:
It can be quite easy to loose a glove, especially in winter storms. With a unprotected hand the only option may well be to descend a.s.a.p. so it's worth considering carrying an extra pair. Due to their in expense and their ability to perform in wet cold conditions I often carry a pair of what are generically known as "" which are made of felted wool. They're not high tech and may not look great but they do work – possibly no great surprise since wool has evolved on the back of a mountain animal over the last umpteen thousand years.
[amazon_link asins='B002UXQC9I,B004DMYZVG,B073P7SJRS,B01M7UGG61′ template='ProductCarousel' store='1603-8102-0783′ marketplace='UK' link_id='c737f3dd-880b-11e7-86ae-6da03e12863e']
[amazon_link asins='B013HAO5FA' template='ProductCarousel' store='1603-8102-0783′ marketplace='UK' link_id='3c2126e4-880c-11e7-8b82-fbf0304f1d05′]
[amazon_link asins='B001JB08JW' template='ProductCarousel' store='1603-8102-0783′ marketplace='UK' link_id='656fa4e0-880c-11e7-bbff-b97d3ffc65eb']
Why Scotland for your walking holiday?
Walking holidays in Scotland
If you're into walking and hiking you'll probably consider a walking holiday at some point. Once you've decided that you'd like to go hiking, your next consideration will be the destination. Depending on where your home is, walking holidays in Scotland could come quite high up the list of possibilities. Scotland has all the usual hiking advantages. When you add in the reasons for ranking Scotland over and above other destinations around the world, then you may well find yourself visiting Scotland in the near future.
It goes without saying that Scotland is a stunning country and the Highlands in particular are gorgeous, but why pick any of the walking holidays in Scotland? There are so many thousands of other destinations around the world which you could choose.
Access –
Scotland has world beating access legislation. There is no law of trespass here, so long as you are not on someone's grounds or garden. Obviously you need to be responsible. It is not acceptable to disturb livestock or leave rubbish behind you. You are expected to or in other words "Take nothing but photos, leave nothing but footsteps." However, in return you can wonder at will across the landscape and do not need to stick to defined footpaths.
Access to the high hill tops in the UK has developed very differently in Scotland than in Europe. In Europe, there has always been a strong tradition of taking livestock to the high alps for summer pasture, but the land was not privately owned. In Scotland, vast tracts of land belong to private estates but the high land is not considered particularly valuable. It is not good pasture and is not very fertile. Common access has always been taken for granted and until the Land Reform Act was published the lack of a trespass law and the responsibility of landowner and land user were not clearly defined. Now responsible access is everybody's right, but the key to this is to act responsibly.
Private land ownership in Scotland has meant that there are not a lot of waymarked paths across the high hills.
If you are considering  walking holidays in Scotland, bear in mind that freedom of access also means freedom from signage and waymarked paths.
No altitude sickness –
Much as the world may sneer at our mountains, thinking them just bumps on the landscape; while they do not reach the towering heights of Everest, they should still not be taken lightly. The decided advantage to mountains of lesser stature, however, is that though you can have spectacular views and expend a significant amount of energy climbing up them, you will not suffer the detrimental side-effect of altitude sickness.
No large predators –
The bear and the wolf etc have all been extinct in Scotland for some time. If you are very lucky you may encounter a shy adder sun bathing on a mountain slope, but they are rare and not usually deadly. So no poisonous snakes or spiders either. We like to keep our irritating pests small and inconvenient: the tick and the midge!
Compact –
Scotland's hills are nice and compact. You can have an amazing adventure in a day if you so wish. Then you can still return to partake of your home comforts at the end of the day. You can also – if it becomes necessary – travel a relatively short distance (up to 2 hours) and experience a completely different day's weather than you can see from your kitchen/lounge window.
For example, Andy once had a private guiding booking from a group of ladies staying in a cottage in Glen Feshie. When the day dawned, it was raining steadily. Andy drove over to meet the clients – who were showing a distinct lack of enthusiasm for heading out. He persuaded them to give the walk a try and drove from Glen Feshie round to Ben Vraikie, near Pitlochry. On Ben Vraikie there was no rain and the hill top was clear. It may even have been sunny. Whereas back at home base it was one of those dreich days of rain and grey light all day. Know your weather patterns and you can still have a good day out.
Plenty of options
– 
There are such a wide range of options in Scotland, even if you only visit the Highlands, that you're spoilt for choice. Before you start to choose your hike, you need to decide which parameters are most important to you.
There are famous viewpoints to discover; lochs to circumnavigate; historic sights to see; Munros (282 in total) to climb; Corbetts to climb, Grahams to ascend and Marilyns to collate. Where do you start to choose?
Reminder of risk
Remember though that hiking and mountaineering are hazardous activities by their nature and you have to accept an element of risk yourself if you choose to enter the mountain environment without a guide. The weather in Scotland changes in an instant. Even if the day looks calm and sunny when you set out, it could end up a completely different season by the end of the day. Please make sure you are well-equipped (see our suggested kit list for ideas). Check out our blog on gearing up for the autumn
Always check yourself over for ticks at the end of the day, particularly if you have been walking through rough undergrowth.
Make sure you pack some Smidge.
Still – there is nothing more exhilarating, relaxing and refreshing than a day out in the hills
Check out our walking holidays in Scotland
What keeps you going while out hiking?
The thing with hiking is that you have lots of time with your own thoughts. You can solve the problems of the world, to the satisfaction of your own mind, while out hiking. You can discuss all kinds of problems without coming to blows.
Here are some of the things we've been told our hikers have dreamt of to keep themselves going:
Lots of people have a target when they set out on their walk.
For some it is the chance to "tick" a Munro.
Others like to claim the highest peak in the area they are visiting.
For some it is the opportunity to be the first to do a route.
Then again it could be something else. The point is that many have a target and they don't just hike aimlessly. They set a plan before they go. The hard part of the plan though is the return section. Always bear in mind that the day is not over until you're home again.

Packed lunch treats
– everyone has different top treats to keep them going while they're out on the trail hiking, biking or running. We like to keep our treats varied and home-baked alongside our trailmix. You'll find some examples of the treats we include in the packed lunches on our recipe blog from gingerbread to raspberry pine nut bars or vanilla streusel squares
What's for dinner tonight?
I'm always tossing up whether it's a good idea to tell people what is planned for dinner or to leave it as a surprise. Sometimes people take the decision out of my hands and ask; other times people some of their time out trying to guess. More often than not we manage to hit on someone's favourite during the course of the week.
Unsurprisingly a great number of our guests are keen to hit the pub/off-licence when they finish a day's hike. For some, this is mirage which keeps them going in the tough bit at the end of the day. Amazing how much faster you can finish the route if it allows you time to have a beer before dinner. Andy is often keen to highlight those walks which will finish with a trip right past the front door of one of his favourite watering holes.
– highly rejuvenating after being out hiking (or a long day at work for that matter). Some people will even forfeit tea and cake in favour of dashing to the shower when they get back.
– if you've been out hiking; a walk in winter; a windy walk etc, you'll really appreciate coming in to the warmth of the house, but it will be so much more relaxing if that warmth is generated by an open fire.
– how British are you?
– always high on the list of motivators and indeed one of the reasons for continuing when out hiking is that you'll still be able to eat guilt-free cake as you'll have worked off the calories during the day – you only have to check your fitbit/smart watch to know that! Low calorie cakes and biscuits are not high on the list of requests for our guests.
Conclusion:
You'll notice that all these motivators are related to our primitive needs: food, shelter and warmth – but then hiking is a very basic activity. It's amazing how simple life can become if you spend a great deal of time out walking.
Don't forget
If you decide to come hiking in Scotland, we offer a wide range of hiking vacations and walking holidays both based in the Cairngorms and across the Highlands of Scotland. Please contact us for full details.
Why go on a walking holiday?
A walking holiday can mean any kind of walking. It doesn't have to include mountains – it could be along canal paths, across moorland, along beaches, but what the majority of walking holidays have in common is that they take place in the countryside. You can get your fix of fresh air, exercise and views of trees and greenery. You will probably find it  is much easier to exercise when you are enjoying some fabulous scenery. In fact, there are now movements in the gym industry to try and replicate the outdoor experience with virtual reality, but they're not quite there yet.
What motivates you to go hiking or walking in the first place?
scenery/views
– you're spoilt for choice here in Scotland – from gorgeous sandy beaches, to towering mountain peaks – there's plenty to record on your camera
exercise
– We are being constantly encouraged to burn the calories and combat obesity and age. Walking is touted as one of the best ways to lose weight. It outranks both running and gym visits by a long way.
company
– there are many opportunities for joining groups from rambling clubs to organised hiking companies. Alternatively you can take the opportunity to enjoy communing with nature and your own company. There are more than enough trails in Scotland to explore. Often you'll rarely see another hiker, if you are prepared to get away from the honeypots. If you want to tick off the sights you have seen publicised on social media, you might find you're joining a queue of other visitors. Certain spots are inundated with tourists particularly in the peak summer season. It is often difficult to park by the Old Man of Storr on Skye these days. Try joining a specialist hiking company who know all the secret highlights and can safely take you away from the crowds.
wildlife
– You don't have to hike up mountains to see wildlife. There's plenty to see in the forests, on the moorlands, around the lochs.  However, if you're wanting to spot some of the more elusive species it could well be useful to book a guide familiar with the local area. They will probably know a lot about the best spots to see all the local wildlife highlights.
outdoors
– There's a fascination to the outdoors that draws a huge number of people to explore their natural surroundings. We can be inspired by all sorts of things from TV (David Attenborough, or ) to movies to flower shows. Nature is endlessly fascinating and when you go walking you get to be up close and personal with it. You can study all kinds of wierd and wonderful plants and landscapes. You'll constantly wonder how they came to be shaped the way they are – there's usually a logical reason.
doctor
– We're probably all hoping that this one doesn't apply to us, but there are cases where doctors actually recommend that their clients take up walking for the benefit of their health.
Conclusion:
There are many reasons to go on a walking holiday, not least of which is that it is fun! A walking break of any kind can be completely rejuvenating. It will send you back to work feeling like you have had twice as much holiday time as you actually had.