This tour has expired
Winter Kintail Munros
Tour Type:
Guided Walking holiday
£890.00
Guided winter walking in Scotland: Kintail
Kintail itself is famed for its classic mountain ridge walks. Guided winter walking in Scotland is one of our most treasured experiences. We always experience a secret thrill with the first snow of the season as it means winter is on its way. The clarity of the air produces the most fantastic views.
Enjoy the stillness and isolation of one of the last pockets of truly unspoilt Scotland.
Look out for red deer on the lower slopes and golden eagles soaring up high.
Seek out Cill Fhearchair, a 2,000-year-old standing stone and burial ground, and the nearby site of the Battle of Glenshiel.
HIGHLIGHTS
7 nights accommodation at Woodlands, Glenshiel
5 days guided munro bagging walks
day off to explore the local area
all meals, including one night out at a local restaurant
transport to the walks
pick up/drop off from Aviemore or Inverness airport station
basic winter skills training
PROPOSED MUNROS
Sgurr na Sgine: 7:10 walking time excluding breaks, etc: 660m of ascent: 9.7km
Ciste Dubh: 5:35 walking time excluding breaks, etc: 804m of ascent: 13.5km
A' Chralaig: 4:50 walking time excluding breaks, etc: 909m of ascent: 10.3km
A' Ghlas-bheinn: 6:30 walking time excluding breaks etc: 960m of ascent: 15.6km
Beinn Fhada: 7:20 walking time excluding breaks, etc: 1207m of ascent: 16.7km
NB Do be aware that hillwalking in winter has its pitfalls not least of which is that it can be considerably more effort due to the additional weight of the boots on their own let alone the weight of the crampons on top. Contact us if you'd like more details of how to prepare for a winter walking week.
Hire of winter boots, crampons and ice axe is not included in the price of the trip but we can organise this for you.
PLEASE ENQUIRE FOR A PRICE BASED ON THE NUMBER OF PEOPLE IN YOUR GROUP.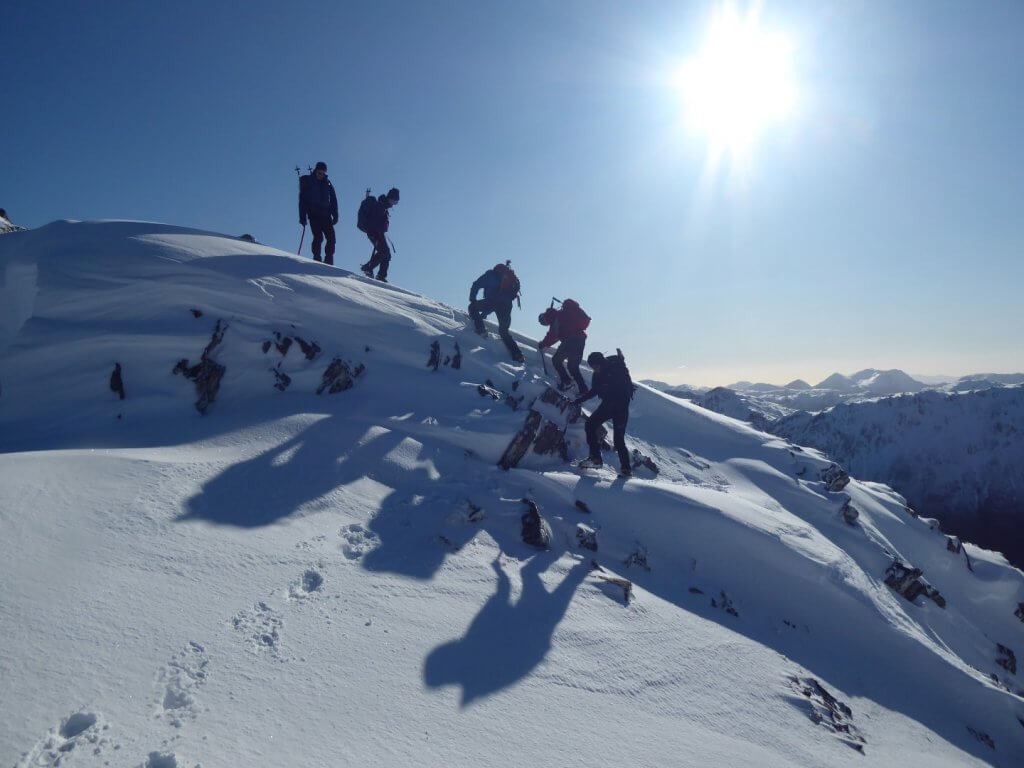 RELATED BLOGS
I love walking in winter but I'd rather do it with a group. What would you reccommend?
Enquire about this tour

Arrive: Try to aim to join the group by 7.30pm so you have the opportunity to relax, unpack and join the group for a brief introduction to the week.
Day 1 Sgurr na Sgine neighbours the Saddle, which forms part of the classic view down Glen Sheil from the battle site of 1719. The south east face is very steep but hidden from view behind Faochag (the whelk) when viewed from Glen Sheil.
7:10 walking time excluding breaks, etc: 660m of ascent: 9.7km
Day 2 Ciste Dubh: The south ridge is a lovely narrow arete which leads to the steep rocky summit of the main peak. We will ascend along a narrow ridge on Am Bathach which provides a fabulous undulating ridge walk up to the summit.
5:35 walking time excluding breaks, etc: 804m of ascent: 13.5km
Day 3 A' Chralaig forms one of the high points on an 8km long ridge between the west end of Loch Cluanie and Glen Affric. A'Chralaig can give the impression of being a massive mountain. The initial ascent will be steep before it evens out on the south ridge before the summit.
4:50 walking time excluding breaks, etc: 909m of ascent: 10.3km
Day 4 is a bit of a rest day giving you time to explore the local area. there are countless mid and low level walks. Ramble through forests and isolated glens, wander alongside tumbling burns and cascading waterfalls, stroll along the banks of tranquil mountain lochs, or explore the miles of coastline the North West is famous for – all virtually on the doorstep! Woodlands is also extremely well-placed for touring the Highlands and Islands. Enjoy the peace and tranquility of Applecross or take a cruise along Loch Ness and visit Urquhart Castle. Closer to home there is the dramatic Eilean Donan Castle, the glorious Glenelg peninsular with its Iron Age brochs, the delightful Plockton or you may fancy going over the sea to Skye. (Activities subject to availability. Not all activities and attractions will be open during the winter season.)
Day 5 A' Ghlas-bheinn is a rough and rocky little mountain of great character. Its ascent can easily be combined with a visit to the famous Falls of Glomach. From the summit we should be treated by stunning views across to the coast and the isle of Skye. There is a stream crossing on this route which may be difficult if in spate.
6:30 walking time excluding breaks etc: 960m of ascent: 15.6km
Day 6 Beinn Fhada has a sprawling summit plateau with steep, craggy sides and several grand corries. It sprawls between Glen Affric and the head of Loch Duich and occupies an area equal to all the Five Sisters.
7:20 walking time excluding breaks, etc: 1207m of ascent: 16.7km
Depart: after breakfast on the final morning. We hope you have enjoyed your trip and look forward to catching up with you again next time.
Accommodation will be at Woodlands.
Woodlands is nestled at the foot of The Five Sisters of Kintail and round the corner from Loch Duich. Please note, it is not possible to see the loch from the house although it is very close (2 – 3 minute walk). There are 5 bedrooms, 4 bathrooms.
Woodlands has often been called 'The Tardis' because its exterior belies the huge interior. Its size and layout accommodates large groups with ease. It is warm, spacious and extremely comfortable.
Full details at: http://woodlands-glenshiel.co.uk/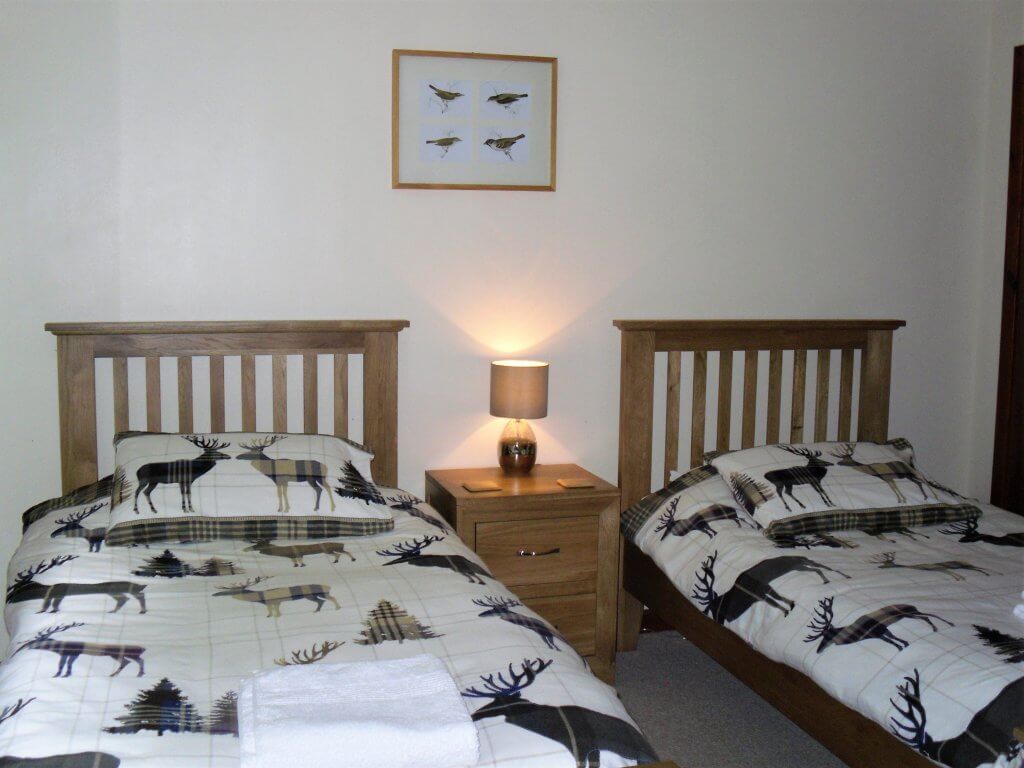 We have achieved Gold Star Awards from the world's most highly respected green accreditation scheme, Green Tourism, and were awarded Highly Commended in their Green Star Awards 2013 for both Scot Mountain Holidays and Fraoch Lodge. We offer a Green Travel Discount of £15 to any guests who travel to us by public transport. Our primary aim is to minimise the carbon footprint of our holidays, and to this end we donate 1% of the price of our tours to the RSPB's Abernethy Reforestation project.
It is a holistic approach we have to the care of the environment. Andy your adventure guide has a passion for the natural world – whether it's the flora, fauna or fungi. He has a background in geology and a lifelong interest in natural history, as well as being a keen gardener.  He knows a Golden Plover from a Dotterel, a Green Shank and a Dunlin. He also makes no apologies to being very excitable upon spying a Golden Eagle!
For further information, please don't hesitate to check out our Environmental Responsibility page, or contact us directly at info@scotmountainholidays.com.