Magical Mull
Duration:
5 days, 6 nights
Tour Type:
Private guided walking tour
£1,125.00
From the colourful harbour town of Tobermory in the north, to the wild wonderful landscapes of the south. A varied coastline never too far away, the Isle of Mull, offers walkers a dream destination. Absolutely unique isle of Mull guided walking experiences.
The five-day Magical Mull guided walking trip explores a different location each day. Ιncluding remote trails over beautiful and rugged mountains. Also a spectacular route to the top of the island's only Munro, Ben More and a shoreline path rich in geology, flora and fauna.
For many people, it's the colourful harbour of Tobermory, Mull's northern "capital" the Mull. This welcoming town is a fabulous countryside that hides attractions like spanning history, geology, flora and fauna.
Our Magical Mull walking holiday is the perfect opportunity to kick back and allow your guide, Andy, who is also the founder of Scot Mountain Holidays, to personally lead you on five separate walking trips over the six-day holiday.
Based in a beautiful self-catering house on the southerly Ross of Mull peninsula, all transport for the daily walks it included.You will enjoy a variety of hikes from lesser-known trails over atmospheric mountains, to the majestic heights of the island's only Munro, Ben More, and along a shoreline path rich in geology, flora and fauna.
During a rest day, you can take the opportunity to enjoy a boat trip to the mystical islands of Iona and Staffa.
The moderately graded hikes are between six miles and 12 miles and include a total ascent of no more than 1075m.
PLEASE PHONE/EMAIL US OR USE CONTACT FORM TO CONFIRM AVAILABILITY
HIGHLIGHTS
6 nights accommodation on the Isle of Mull
4 days guided day walks
1 day "off" visiting Iona or Tireragan Estate and Traigh Gheal beach
1 dinner out at a top restaurant on Mull
all meals included
ferry to Mull, if with Scot Mountain Holidays on the crossing
pick up from Aviemore station or Inverness airport
chances to view both Golden Eagles and Sea Eagles
ROUTES
Ben More
Cruachan Dearg & Corra-bheinn
Isle of Ulva and Beinn Chreagach
Ben Buie or Calgary Bay and Caliach Point
RELATED BLOGS
5 reasons to go hiking in Scotland
Enquire about this tour

Day of Arrival:
We'll be departing Aviemore about midday and picking up from Inverness airport, if necessary, by 1pm before travelling down the road to journey over to Mull. Please let us know your travel plans as soon as possible.
Day 1: Cruachan Dearg & Corra-bheinn, 
754m of ascent & 8.6km) mainly either mountain paths with some steep gradients and rough terrain. Approx walking time excluding breaks, etc: 5:45
Day 2: Many walkers come to Mull just to walk Ben More, one of the most remote Munros in Scotland. While only eight miles in distance the hike includes an airy rock scramble. Rest assured that guide Andy will be on hand to support all walkers on this highly rewarding hike to the highest point, at 966m, on the island.
1027m of ascent & 11 km on mountain paths with some steep ascents and rough terrain. Approx walking time excluding breaks, etc: 5:15
Day 3: Ben Buie
730m of ascent & 9.7km) on mountain paths with some steep gradients and rough terrain. Approx walking time excluding breaks, etc: 4:16
Day 4: Calgary Bay and Caliach Point
300m of ascent & 11.5km) mainly on tracks, paths, quiet roads and a little rough terrain. Approx walking time excluding breaks, etc: 4: 00
Day 5: Isle of Ulva and Beinn Chreagach
585m of ascent & 14km mainly on good tracks & mountain paths with a small amount of steep ascent. Approx walking time excluding breaks, etc: 5:30
Day of Departure: For those travelling from Oban it'll be an early departure to make it to the ferry from Craignure back to Oban to pick up the train/bus and/or flight back home
You get a lot for your 870m of total climb on a 12-mile hike through atmospheric Glen Forsa to the summit of Beinn Talaidh, including fabulous vistas of land and sea and another Graham ticked off. Right from the start, the views are breath-taking with the symmetrical cone shaped mountain of 761m dominating the skyline.
A rest days allows you the chance to put your feet up or take a highly rated trip to the neighbouring islands of Iona and/or Staffa. Iona is acclaimed for its religious heritage, beauty and tranquillity. Staffa is a National Nature Reserve and an island famed for its magnificent basalt columns and spectacular sea caves. A group evening meal is arranged for you at a top restaurant on Mull, like the Fish Cafe in Tobermory.
From the tiny green glen of Carsaig Bay on the southern coast of Mull, a delightful shoreline walk of eight miles – and only 350m of total ascent – reveals fantastic views, plentiful wildlife and some amazing geological features. The turning place on this out and back hike is Malcolm's Point where you will be wowed by several impressive sea arches.
We'll book a cottage on the island suitable for the group.
In the past we have stayed at Torlochan Farm, near Salen. The house has views of the sea from the upper rooms looking out to Loch Na Keal. The tranquil country setting offers peace and quiet surrounded by trees and fields and only a mile from the coast line.
The house has one double, one twin and 2 x single rooms so this is one of the few trips we run on the west coast of Scotland where we are able to offer a limited number of single occupancy rooms on a first come, first served basis.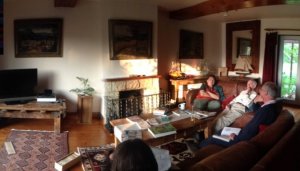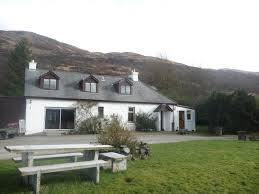 We have achieved Gold Star Awards from the world's most highly respected green accreditation scheme, Green Tourism, and were awarded Highly Commended in their Green Star Awards 2013 for both Scot Mountain Holidays and Fraoch Lodge. We offer a Green Travel Discount of £15 to any guests who travel to us by public transport. Our primary aim is to minimise the carbon footprint of our holidays, and to this end we donate 1% of the price of our tours to the RSPB's Abernethy Reforestation project.
It is a holistic approach we have to the care of the environment. Andy your adventure guide has a passion for the natural world – whether it's the flora, fauna or fungi. He has a background in geology and a lifelong interest in natural history, as well as being a keen gardener.  He knows a Golden Plover from a Dotterel, a Green Shank and a Dunlin. He also makes no apologies to being very excitable upon spying a Golden Eagle!
For further information, please don't hesitate to check out our Environmental Responsibility page, or contact us directly at info@scotmountainholidays.com.