This tour has expired
Knoydart Winter Wilderness
Duration:
6 days, 7 nights
Tour Type:
Guided Expedition
Winter walking Expedition
One of the least accessible parts of mainland Britain, the wild bounds of Knoydart in summer are remote enough but in winter the sense is magnified several times over. Bound by sea lochs to the north and south, this deeply glaciated peninsular is a labyrinth of hidden valleys, coires and distinct mountain ridges. The seaward setting and the rugged mountain scenery are the epitome of west Highland magnificence. This trip gives the prospect of some of the UK's most sensational winter mountain scenery.
Hot-Tenting:
Winter camping in Scotland is invariably an endured experience. At no risk of exaggeration, a wood burner fitted to a breathable tipi is a COMPLETE GAME CHANGER! It is quite possible to be in t-shirts and have 25 Deg C inside the tent whilst the outside temperature is hovering around freezing! Our Tentipi is fitted with drying rails and lines meaning your gear will dry out overnight.  The pervasive damp normally associated with winter camping is banished!
On this trip we ascend a 4000er, a Munro (over 3000ft), a Corbett (over 2500ft) and a Graham (over 2000ft) all of them providing very fine outings.
HIGHLIGHTS
basic winter skills training in the Cairngorms National Park
7 nights accommodation (3 at Fraoch Lodge, 4 in a heated tentipi in Inverie)
all food
transport to Knoydart
pick up/drop off from Aviemore station or Inverness airport
4 guided walking days/2 transfer days
qualified, experienced, local guide
PROPOSED ROUTES
Cairngorm (4000'er Munro, 1245m)
Sgurr Coire Choinichean (Corbett, 796m)
Ladhar Bhenn (Munro, 1020m),
Meall Bhuidhe (Munro, 942m) or Roinn na Beinne & Druim na Chuain-airighe (498m)
RELATED BLOGS
Top 10 tips: preparing for a walking challenge
5 top tips: preparing for winter
Tabled as the least accessible part of mainland Britain, the wild bounds of Knoydart in summer feel remote enough, but in winter the sense is magnified several times over. Taking a ferry boat in to the little community of Inverie from Mallaig just underlines the feeling of isolation and solitude. Knoydart is justifiably regarded by some as the epitome of West Highland magnificence. Bound by fjord like sea lochs to the north and south, this peninsular is a labyrinth of deeply glaciated valleys, hidden coires and distinct mountain ridges. Combining this with the seaward views out across the Small Isles and Skye's Black Cuillin, Knoydart can hold a candle to the most sensational winter mountain scenery, anywhere.
Day 1: Arrival
The holiday starts by rendezvousing at our easy to reach and comfortable base of Fraoch Lodge in the Cairngorm National Park. Try to aim for between 5 and 7pm so that you have time to settle in and meet the other members of the group over dinner at 7:30pm. We will happily pick you up from either Aviemore rail station or Inverness Airport should that be your point of arrival. Over teas and coffees, Andy will give you a welcome talk so you know what to expect as well as check the fit of your crampons to your winter boots in preparation for the following day. If you are hiring winter boots they will be here ready for you to try on.
Day 2: Winter Skills Training/Refreshment
We start the week with a day of personal winter skills training/refreshment on Cairngorm (1245m) in the beautiful Cairngorms National Park. The aim is to climb high onto Cairngorm's sheltered eastern flanks to work through the various skills using your boots, ice axe and crampons. Approaching from the perspective of prevention rather than cure, we work our way through a series of techniques from good foot placement through to arresting a sliding fall using the ice axe. It's all delivered in a fun manner that progressively builds confidence.
We finish the day by donning the crampons to practise our general crampon walking technique. With ever expanding horizons we climb the last 150m to the summit of Cairngorm (1245m) and stunning views west, hopefully! After admiring the ice encrusted automatic weather station and  "bagging" the Munro we complete the circuit.  Descending back down to the plateau, we pick up a ridge which takes us back down to our start point at 600m. It's time to head back to Fraoch Lodge to the prospect of a warm shower, cake O'clock in front of a roaring fire and one of Rebecca's delicious evening meals.
.
2200ft (670m) of ascent and 4.5 miles (7 km) on snow and footpaths with mainly moderate but with some steeper gradients. Approx walking time excluding breaks and training: 3:30
Day 3: Transfer to Knoydart
We begin with a relatively early start for the two and a half hour but beautiful journey over to Mallaig for the ferry into Knoydart.  We quickly unload our luggage from the bus onto the ferry for the approximate 30 minute journey into to Inverie. It's a spectacular approach as we enter Loch Nevis and head for Inverie Bay, the huge bulk of Ladhar Bheinn dominates the sky line to the north, gleaming white. As the eye traces around to the east, the distant skyline maintains its lofty existence as it skips from one peak to the next. The glacial U's of the deep valleys draw the eye deep into the peninsula's mountainous interior. It is without doubt a stunning location.
As were draw closer, Ladhar Bheinn drops out of sight and the superb peak of Sgurr Coire Coinnichean (796m) takes its place. Sitting high, a string of white washed buildings can be made out at its shoreline foot. This is the tiny village of Inverie, home to a community of around 100 people and the The Old Forge, Britain's remotest pub! As I speak the pub is in the process of being brought into community ownership to the delight of residents and visitors alike. It has in the past been at the centre of communities life on the peninsular and I'm in no doubt it will quickly return to it's former glory: live music, great beer and delicious seafood.
On disembarking on the pier we make the 2 km to the Long Beach campsite with our Hot tenting gear! Now normally, camping in winter in Scotland is a grim affair. At no risk of exaggeration though, having wood burner fitted to your breathable tent is a COMPLETE GAME CHANGER! It is quite possible to be in t-shirts and have 25 Deg C inside the tent whilst the outside temperature is hovering around freezing! Our Tentipi is fitted with drying rails and lines meaning your gear will dry out over night.  The pervasive damp normally associated with winter camping is banished!
A maximum of 6km, between the pier, pub and campsite!  Approx walking time excluding breaks: minimal!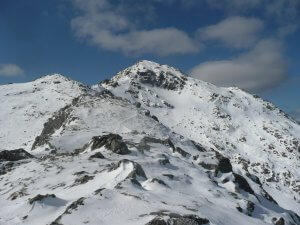 Day 4: Mountain Walk
Our aim is the superb Corbett of Sgurr Coire Choinnichean (796m). Our route takes us back through Inverie and up over Mam Uidhe to begin the climb in ernest. As we climb above the woodland the flooded glacial basin that holds of Loch Nevis and Inverie bay is revealed in full. Fringed by mountains and high moorland, the eye is drawn across the seascape and out towards the open ocean and the inner Hebridean islands. After the initial climb the ground levels briefly as we skirt around the head of an impressive glacial outwash ravine. The ground now rises again in the form of a well defined and increasingly dramatic ridge. Briefly narrow in places it leads to a wonderfully elevated summit with stunning views onto the flanks of the peninsula's highest, Ladhar Bheinn.
Continuing on from the summit the ridge broadens and divides as we drop to a high saddle. All around is winter mountain splendour.  From here we start our main descent to the glen floor and the prospect of seeing Red Deer. The return loop takes us back along the glen towards our beach campsite and the prospect of encountering some of the most impressive Stags to be seen in the Highlands.  This hill makes a fine introduction to Knoydart's mountain scenery.
2950ft (900m) of ascent and 8 miles (13 km) on good footpaths and snow covered mountain terrain with mainly moderate gradients. Approx walking time excluding breaks, etc: 6:00
Day 5: Mountain Walk
It's the biggy today; Ladhar Bhenn (1020m), the most westerly Munro on the Scottish mainland and for some the most attractive mountain in the British Isles!  The day starts with us retracing our steps back through Inverie and up to Mam Uidhe. This time though, we continue along the track to Folach Gate and then the gentle descent through woodland to Folach itself. The glen is wide and open passing by old pine plantations and then into new regenerating woodland. The effect of excluding the deer is plain to see.  The route in looks long but ground is covered with surprising efficiency and by the time we have our first break we have already begun the first main climb on the mountain. On gaining the main summit ridge, the views to the north suddenly open up. They are the some of the finest anywhere in the Western Highlands. On the western horizon the serrated outline of Skye's Black Cuillin can be seen in its entirety. To the north across the dark waters of Loch Hourn the very fine peak of Beinn Sgritheall towers above the tiny village of Arnisdale, gleaming in the winter sun.
Broad and steep at first, the ridge shallows and then narrows to the first of the mountains two summits. The highest point is at the far end of a sharp but gently undulating ridge. Although narrow there isn't a great sense of exposure. The views from this point are just stunning, arguably the best, This is especially the case viewing east across Coire Dhorricail and down towards the white sands of Barisdale Bay and the deep serpent like defile of Loch Hoarn.
If time permits we will continue along the ridge to Bealach Dhorricail for views down into the Coire of the same name. We then head south and descend to a stalkers track back to Folach and then out via the same way as we walked in and back to Inverie and its pub!
3900ft (1200m) of ascent and 13.5 miles (22 km) on vehicle tracks and mountain paths with some steep ascents over snow covered mountain terrain. Approx walking time excluding breaks: 8:00
Day 6: Mountain Walk
Our aim today is the Munro of Meall Bhuidhe (942m). The day starts with a walk in on gentle gradients to ease those muscles. Initially following the Inverie River we cross above the rapids and make for the hidden Gleann Meadail. It's both beautiful and spectacular, The narrow entrance abruptly opens out into lovely meadows before our route starts to make the steady climb up to Mam Meadail pass. The craggy hillsides on either side rise steep and unrelenting to the peaks of Meall Bhuidh and Beinn Bhuidh. Just shy of the saddle our route steepens appreciably as we head directly for the mountain's SE ridgeline. On gaining the ridge apex the view suddenly opens up as you look across onto the peninsulars mountainous heart. It really is remote, rocky and wild. The "rough bounds" couldn't be a more apt descrption. Climbing steeply the mountain tales on a classic pyramidal shape as we converge with it's NE ridge. With the gradient easing the summit now broadens as we make the last few hundred meters to the mountains loft top. Looking NE the view stretches for near enough 100km across a continuous series of snowy ridges and peaks. Turning west we are presented with a lovely ridge walk dropping to a narrow saddle before rising again to another top. Now the ridge broadens as it descends more gently leaving you to appreciate the seaward views down into Inverie Bay and our towards the Altlantic beyond. You would be hard pushes to find a more attractive descent. We eventually drop to rejoin our inward route and the walk out.
3800ft (1180m) of ascent and 12 miles (20 km) on vehicle tracks, mountain paths with some steep ascents over snow covered rough mountain terrain. Approx walking time excluding breaks: 7:30
A gentler alternative should the legs be protesting from the previous days exertion, is to take Knoydart's only road out towards the western end of the peninsular. It provides a gentle rising route up onto mountain moorland for spectacular views out over Loch Nevis. Leaving the road and climbing along a path-less disused leat, the route rises more steeply to for a grandstand view from the summit of Roinn na Beinne & Druim na Chuain-airighe (498m) out across the Inner Hebridean Islands as well as back onto the hills of the previous days. A fitting end to a fantastic trip!
2050ft (624m) of ascent and 8 miles (13 km) on road and vehicle tracks, with some steep ascents over snow covered rough mountain terrain. Approx walking time excluding breaks: 5:30
Day 7: Transfer back to Fraoch Lodge, Cairngorms National Park.
After a bit of a lie-in and a good breakfast it's time to strike camp, pack everything up, head for the pier and the ferry back to Mallaig, It's always slightly sad to have to leave Knoydart but there is always another time and it keeps it special. After 3 challenging days in Knoydarts winter hills the legs are happy for a rest and so we reverse the beautiful drive back tdrive, back to Faoch Lodge, a warm shower and one of Rebecca's delicious meals to round off a womnderful trip.
Day 8: Departure
Most guests head off after breakfast but should you need to depart earlier we will get you to you train or plane, whatever the time. Alternatively you might fancy staying on for a few days at Fraoch Lodge and exploring the Cairngorms National Park further. Please enquire for availability.
Fraoch Lodge is our home base in the Cairngorms National Park. You'll stay here at the beginning and end of your trip. Our lodge has twin rooms each of which has its own hand basin or they have en suite bathrooms.
The Stable is a private bothy comprised of one main room incorporating kitchen (including gas cooker, fridge, eating and cooking utensils ), sitting /dining area and sleeping quarters ( 1 double , 3 singles ). A coal stove is provided for heating and hot water. Outwith the main room is a bathroom and entrance area with room to hang wet clothes etc! Lighting is by either water turbine, diesel generator or candles.
We have achieved Gold Star Awards from the world's most highly respected green accreditation scheme, Green Tourism, and were awarded Highly Commended in their Green Star Awards 2013 for both Scot Mountain Holidays and Fraoch Lodge. We offer a Green Travel Discount of £15 to any guests who travel to us by public transport. Our primary aim is to minimise the carbon footprint of our holidays, and to this end we donate 1% of the price of our tours to the RSPB's Abernethy Reforestation project.
It is a holistic approach we have to the care of the environment. Andy your adventure guide has a passion for the natural world – whether it's the flora, fauna or fungi. He has a background in geology and a lifelong interest in natural history, as well as being a keen gardener.  He knows a Golden Plover from a Dotterel, a Green Shank and a Dunlin. He also makes no apologies to being very excitable upon spying a Golden Eagle!
For further information, please don't hesitate to check out our Environmental Responsibility page, or contact us directly at info@scotmountainholidays.com.