This tour has expired
Highland Munros
Duration:
6 days, 7 nights
Tour Type:
Guided Walking holiday
£953.00
Highland Munros: this is an introduction to Munro walking in the Highlands of Scotland, to the challenges of Scotland's high mountains. We head north, south, east and west into the big mountain groups. Coires and ridges abound giving you unending interest amongst some of the Highlands' finest mountain scenery.
HIGHLIGHTS
Fully inclusive of guiding, accommodation, meals and transport
Transfers to/from Inverness airport or Aviemore station
Experienced local guide
All meals at Fraoch Lodge including from the evening of arrival to the morning of departure
7 nights accommodation at Fraoch Lodge
HIGHLAND MUNROS ROUTES INCLUDE
Geal Charn (926m) – Monadh Liath
Stob Coire Sgriodain
Chno Dearg
 Sgor Gaoith
Ben Macdui – Cairngorms
Creag Pitridh
MEETING POINTS
We'll pick up from Aviemore station or Inverness airport. One airport pick up per trip.
RELATED BLOGS
What to do without the funicular.
Enquire about this tour

Day 1: Geal Charn (926m) provides us with a very enjoyable horseshoe. It is the realm of the Golden Eagle, Golden Plover and Britain's only native rabbit, the Snow Hare. The hike above and around its dark lochan provides views into the unending wilderness of the Monadh Liath Mountains
780m (2500ft) of ascent involving easy and moderate gradients. 12 miles (19 km) of walking on tracks, mountain paths and over open mountain moorland terrain. Approx walking time excluding breaks: 6 hrs 53min
Day 2: Takes us over the watershed and to the West Highland Munros of Stob Coire Sgriodain & Chno Dearg.
930m (3050ft) of ascent involving moderate and steep gradients. 8.5 miles (14km) of walking on mountain paths and over open mountain moorland terrain. Approx walking time excluding breaks, photo stops, etc: 5 hrs 45 min
Day 3: After a short challenging climb the gradient eases and you are able to enjoy the scenary. As we approach the summit of Sgor Gaoithe we are presented with one of the Cairngorms most dramatic sights, the 2000ft precipitous drop into the colossal glacial trench that holds Loch Einich.
990m (3230ft) of ascent involving moderate and steep gradients. 11 miles (17km) of walking on tracks and mainly over open mountain moorland terrain. Approx walking time excluding breaks: 5 hrs
Day 4: This is a day off for all of us from breakfast onwards – a chance for you to explore the area on your own; browse the gear shops in Aviemore; pop up to Inverness for the day; or simply relax. We top the day off with a fantastic meal out at our local restaurant, Anderson's, a few doors up the road.
Day 5: The aim is Ben Macdui 1309m, Britain's second highest. Starting at 630 m and with ever expanding views, the route up makes a steady climb for the first 90 minutes.
890m (2900ft) of ascent involving moderate and gentle gradients. 10 miles (16km) of walking on mountain paths and over open, sometimes rocky mountain terrain. Approx walking time excluding breaks: 6 hrs 20min
Day 6: We venture into "Monarch of the Glen" and "Outlander" country and onto the Ardverikie Estate itself where we climb Creag Pitridh (924m). You are eased into the day by a gentle but long walk into the base of the mountain.
710m (2970ft) of ascent involving gentle and moderate gradients. 13 miles (18km) of walking on tracks, mountain paths and over open mountain moorland terrain. Approx walking time excluding breaks: 6 hrs 43min
Day of Departure: after breakfast. We'll be sorry to see you go but hope that you'll be back to sample one of our other itineraries in the future.
We asked our guests what sets Scot Mountain Holidays apart, why they return year after year:
"the social aspect" – "the camaraderie, food and conversation" –
"the company of the hosts" – "so warm and welcoming" –
"a profound sense of belonging" – "the welcome of Rebecca's home cooked meal" – "Andy's skills as a guide, naturalist and leader" – "stewardship, sustainability and a small footprint" – "in harmony with the land" – "a slice of rural Scottish life"Scot Mountain Holidays is the ONLY adventure tour operator in Highlands of Scotland with a combined home and guest lodge. We strive to be more than just an tour. We aim to provide you with a 'home away from home' on your adventures. We thought of no better way of doing this than to welcome you into our own home.
We have owned and operated Fraoch Lodge as our home base and business since 1999. In that time, we have come to embrace our guests as members of our extended Highland family.
We source our meals from locally produced and home grown ingredients to provide you with the most delicious flavours and traditions the area has to offer (while minimising our impact on the environment, too). Our dining room and lounge are shared spaces where we gather with guests and friends to share in the holiday and offer you extensive knowledge of your tour.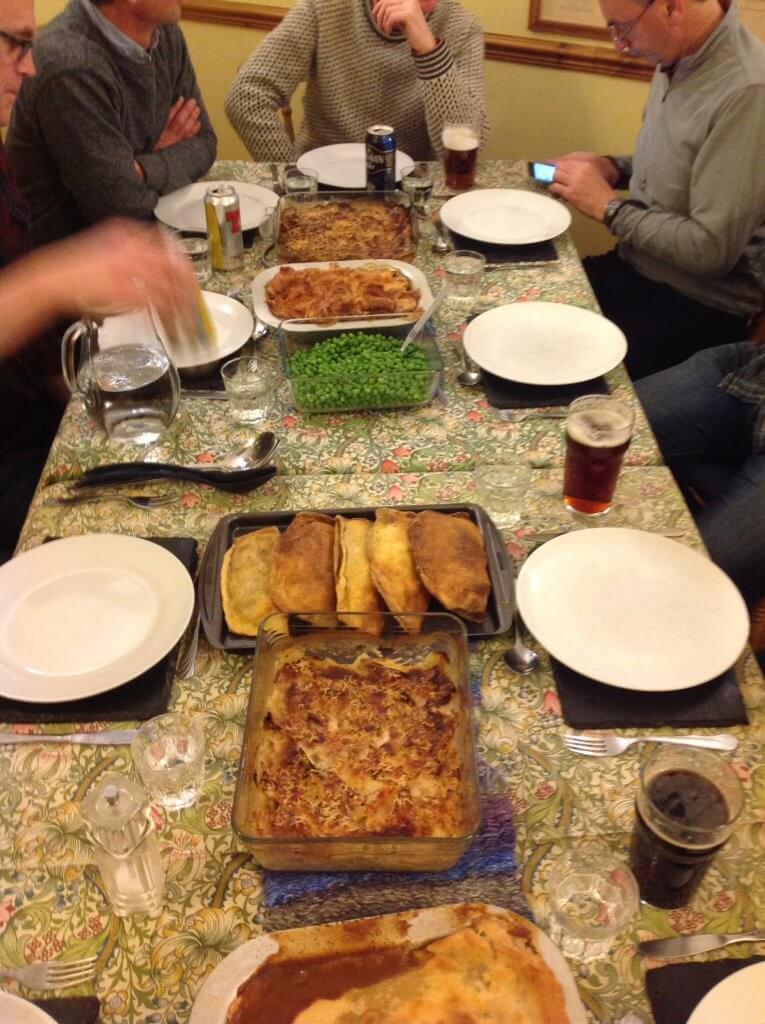 No matter the season, the Cairngorms and Fraoch Lodge is a place to relax and explore all its beauty and comforts, and we hope to make you feel as at home as we are.
We have achieved Gold Star Awards from the world's most highly respected green accreditation scheme, Green Tourism, and were awarded Highly Commended in their Green Star Awards 2013 for both Scot Mountain Holidays and Fraoch Lodge. We offer a Green Travel Discount of £15 to any guests who travel to us by public transport. Our primary aim is to minimise the carbon footprint of our holidays, and to this end we donate 1% of the price of our tours to the RSPB's Abernethy Reforestation project.
It is a holistic approach we have to the care of the environment. Andy your adventure guide has a passion for the natural world – whether it's the flora, fauna or fungi. He has a background in geology and a lifelong interest in natural history, as well as being a keen gardener. He knows a Golden Plover from a Dotterel, a Green Shank and a Dunlin. He also makes no apologies to being very excitable upon spying a Golden Eagle!
For further information, please don't hesitate to check out our Environmental Responsibility page, or contact us directly at info@scotmountainholidays.com.