Guided hiking: Remote Munros
Duration:
6 days, 7 nights
Tour Type:
Guided Walking holiday
 Strathfarrar & Loch Mullardoch – a series of remote munros
These remote munros are situated in very wild country where access is controlled to some extent. The road to get closer to some of the routes is locked at certain times and sometimes you need to book a boat.
We've arranged logistics to bag all the munros listed (providing the weather plays ball).
This trip is fully inclusive of accommodation, transport to the routes, pick up from Aviemore station or Inverness airport, guiding and meals throughout. There are no exclusions. Once you arrive we will be looking after you throughout.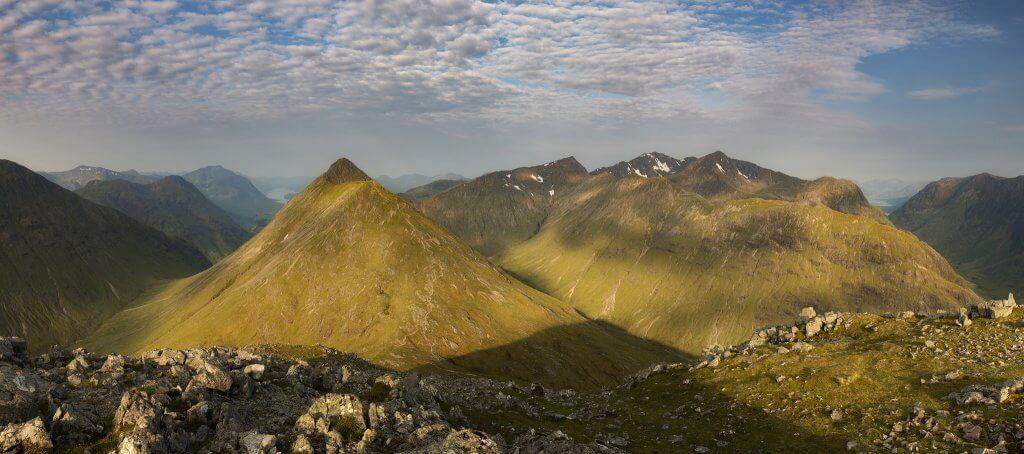 HIGHLIGHTS included
7 nights accommodation at Cherry Cottage

All meals from the evening meals on arrival through to breakfast on the morning of departure

5 Days Guiding

Transport

Airport and rail station transfers

& 3 x Loch Mullardoch pick – ups/drop offs
ROUTES: the remote munros of Strathfarrar
PLEASE CONTACT US FOR A PRICE BASED ON THE NUMBER OF PEOPLE IN YOUR GROUP
USEFUL LINKS – RESEARCH
More information about Strathfarrar 
More information about Strathglass
Route in Strathfarrar from OS Maps
10 wildest and least climbed Munros in Scotland
RECOMMENDED MAPS
OS Explorer map: 431: Glen Urquhart & Strathglass
OS Explorer map: 430: Loch Monar, Blen Cannich and Glen Strathfarrar
Landranger map from Ordnance Survey: no 25
RELATED BLOGS
Why go munro bagging in the autumn?
How to bag all the 12 Skye Munros?
Enquire about this tour

Day 1: Arrive. 
Proposed pick-ups: 4:30pm Aviemore Station and 5:15pm Inverness Airport (tbc)
Day 2: Carn nan Gobhar and Sgurr na Ruaidhe
We ease ourselves into the week with a relatively easy day. The route heads along the floor of the glen before taking on the broad SW shoulder of Carn nan Gobhar. Steep at first, the gradient then eases for a very gentle summit approach. To the west, repeating mountains and ridgelines stretch away as far as the eye can see. South east of this is the rounded form of Sgurr na Ruaidhe our next target. The distance is relatively short but unavoidably we have to loose height to then regain it. At the other side of the summit we are met with an abrupt descent before the ground eases and a more steady incline.
Approximately 6hrs of walking (excluding breaks, photo stops, etc) with 1144m of ascent over 13km on tracks, mountain paths and over rough mountain terrain.
Day 3: Sgurr Fuar-Thuill and Sgurr a Choire Ghlais
A long gentle walk-in eases you in to this extended day. Firstly along the beautiful and wooded Strathfarra before heading up a stalkers path for the steady ascent all the way to the summit of shapely Sgurr Fuar – Thuill. The scenary gets increasingly dramatic as we approach the watershed. Tracing a line between the headwalls of glaciated corries we head over two more summits to complete the second munro of the day. From here on the descent steepens before becoming almost flat to then steeping again and the welcoming site of the minibus.
Approximately 7hrs 40min of walking (excluding breaks, photo stops, etc) with 1267m of ascent over 18km on tracks, mountain paths and over rough mountain terrain.
Day 4: An Socach and An Riabhachan
Our ferry boat takes us half way along moody Loch Mullardoch for a grand horseshoe route around a complex series of corries. Following a good stalkers path at first we then gain the broad but steep SE shoulder of sprawling An Riabhachan. Steep and unrelenting at first, as we approach the summit ridge the gradient abruptly eases leaving you to enjoy typical West Highland magnificence. The ridge gently snakes its way towards An Socach before suddenly dropping away and taking on a more familiar undulating form. A sharp climb back up sees us at the top of our second munro before a relatively gentle descent high above precipitous slopes and cliffs. Time to catch the ferry back and welcoming "cake o'clock."
Approximately 6hrs 30mins of walking (excluding breaks, photo stops, etc) with 1167m of ascent over 14.5km on mountain paths and over rough mountain terrain.
Day 5: Rest day
Day 6: Beinn Fhionnlaidh, Mam Sodhail and Carn Eighe
The ferry boat takes us down dark Loch Mullardoch to our starting point. Above a wooded burn and it's waterfalls we gain the board NE shoulder of Beinn Fhionnlaidh. The ascent is steady at first before steepening with the ridge more defined. As we approach the summit the gradient easies and you are left to enjoy the stunning views. Heading south the twin giants of Carn Eighe and Mam Sodhail dominate the view with their attractive ridges radiating from their pyramidal summits. Once bagged we then begin a long undulating descent to the head of a stalkers path and our rendezvous point with the ferry home and cake!. 
Approximately 6hrs 25min of walking (excluding breaks, photo stops, etc) with 1363m of ascent over 13km on tracks, mountain paths and over rough mountain terrain.
Day 7: Mullach na Dheiragain, 928m.
The day starts with us taking the Loch Mullardoch ferry again but this time to the far end of the loch. The nearest road is a full day's hard hike away. Of typical West Highland mountain splendour, it's one of the wildest and remotest locations in the Highlands. We start with a short hike along the glen before ascending a steep ridge above a stream gully. With waterfalls and rapids cascading beneath us we gain the airy NW ridge. With ever expanding horizons and the great U of the adjacent glen our objective is revealed. A short drop to a saddle and re-ascent via a fine ridge sees us atop the munro. The descent via the NE ridge is no less entertaining as we head for the ferry boat and the prospect of some of Rebecca's delicious home cooking.
Approximately 4hrs 5mins of walking (excluding breaks, photo stops, etc) with 808m of ascent over 8.5 km on mountain paths and over rough mountain terrain.
Day 8: Depart. 
Proposed drop offs: Inverness Airport 9:00am onwards, Aviemore Station 9:45am onwards
Cherry Cottage on the Culligran Estate
The cottage is a traditional stone built cottage in Strathfarrar. It has 3 bedrooms and there are also a couple of chalets nearby if we have a larger group.
This beautiful, unspoilt, magical glen has it all – mountain scenery, lochs and river, Caledonian pinewood and breathtaking views of the unspoilt wild Highlands of Scotland.
Staying here provides the visitor with unique access to Culligran estate in Glen Strathfarrar – it's magic, come for a spell and you will feel compelled to return….year after year.
For full information use this link
We have achieved Gold Star Awards from the world's most highly respected green accreditation scheme, Green Tourism, and were awarded Highly Commended in their Green Star Awards 2013 for both Scot Mountain Holidays and Fraoch Lodge. We offer a Green Travel Discount of £15 to any guests who travel to us by public transport. Our primary aim is to minimise the carbon footprint of our holidays, and to this end we donate 1% of the price of our tours to the RSPB's Abernethy Reforestation project.
It is a holistic approach we have to the care of the environment. Andy your adventure guide has a passion for the natural world – whether it's the flora, fauna or fungi. He has a background in geology and a lifelong interest in natural history, as well as being a keen gardener.  He knows a Golden Plover from a Dotterel, a Green Shank and a Dunlin. He also makes no apologies to being very excitable upon spying a Golden Eagle!
For further information, please don't hesitate to check out our Environmental Responsibility page, or contact us directly at info@scotmountainholidays.com.