Far North Exploring: guided hiking in Scotland
Duration:
6 days, 7 nights
Tour Type:
Guided Walking holiday
WALKING TRIPS IN SCOTLAND: EXPLORING THE FAR NORTH WEST
Walking trips in Scotland take place across the country. The most northerly reaches of mainland Scotland are still remote and under-developed even though the NC500 passes through the area. We plan to discover more of the secrets of the area during a week exploring. We'll be doing hill walking and will make attempts to take in the views from the summits of Ben Hope, Ben Klibreck, Foinaven and Arckle if the weather allows. So bagging the most northerly Munros this week. All walks will be guided hiking in Scotland.
We have a lighter day scheduled. If you want we'll head in to have a look at Sandwood Bay or alternatively for a complete day or relaxation we could head into Durness Craft village, visit Smoo Cave or similar.
There are so many options for hikes in the area it is difficult to select the few we'll be able to do during this week.
On this trip there will be some long days out but the rewards will be stunning.
HIGHLIGHTS
5 days guided hiking
7 nights accommodation: 6 nights in Oldshoremore, final night at Fraoch Lodge
1 day to rest or enjoy the local area including a visit to Sandwood Bay for those interested
Arkle
Ben Hope
Foinaven
Ben Klibreck
Ben Hee
RELATED BLOGS
How to choose a hiking vacation in Scotland
How to get the most out of your trip to Scotland
Enquire about this tour

Day of Arrival: Aim to be in Boat of Garten by 2pm or Inverness by 2.30pm for pick up on the way to our accommodation in Oldshoremore. It's a long drive of approximately 3 – 4 hours to get up there (who knew there was so much of Scotland north of us).
If you can't arrange transport on the day, those travelling by train or car may find this an issue, you can travel up the day before and stop over with us at Fraoch Lodge. Please contact us in advance to arrange this. Then you'll at least have the chance to stretch your legs on some local walks after breakfast before the drive north.
Day 1: Arkle
Arkle is a magnificent mountain: a shattered, curving ridge of quartzite. Second only to Foinaven for interest amongst the peaks of this region, it gives an excellent ascent with one narrow
section of ridge.
1130m (3700m) of ascent and 11miles (17km) on tracks, footpaths and mountain paths with some steep ascent over rough grassy and rocky ground. The walk involves a traverse along a magnificent curved but narrow ridge. Approx walking time excluding breaks 6h 33m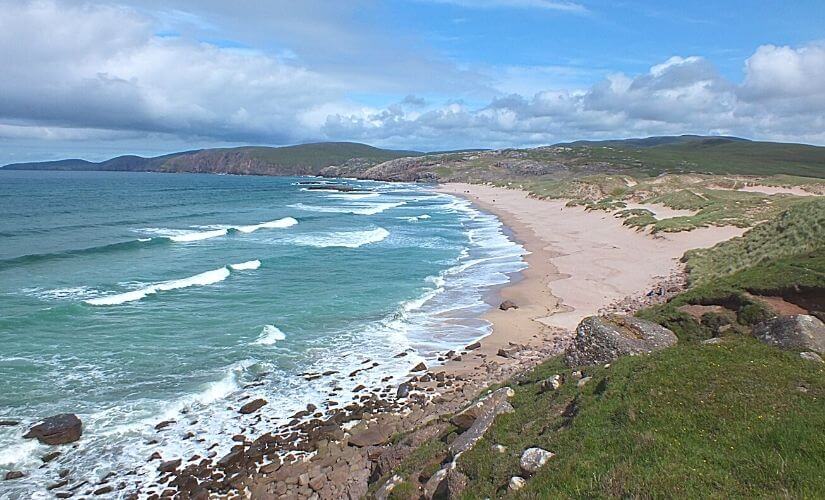 Day 3: Ben Hope
Day 4: Almost a Munro, Foinaven is – regardless of status – a truly magnificent mountain. A complex massive of narrow, shattered quartzite ridges, Foinaven gives a memorable expedition.
1100m (3500ft) of ascent and 11 miles (18km) involving traversing boggy moorland, steep grassy ascents, followed by a more gentle descent with a long gentle walk out on a good track. Approx walking time excluding breaks: 6h 50m
Day 5: Day off – Sandwood Bay
Reputedly the most beautiful beach in Britain, the wild and spectacular Sandwood Bay in Kinlochbervie is backed by huge sand dunes and a loch. Facing straight into the teeth of the North Atlantic, the beach has nearly 1.5 miles of wide pink sand which is flanked by cliffs. To the south stands the impressive sea stack of Am Buachaille, while behind the bay's large dunes stretches Sandwood Loch – a freshwater loch full of brown trout. The beach is considered to be one of the most unspoilt beaches in the whole of mainland Britain.
405m (1330ft) of ascent and 13 miles (21km) on tracks, footpaths with some pathless grassy rough ground. One notable moderate ascent of 50m, but otherwise very gentle gradients. Approx walking time, excluding breaks 6h10m
Day 6: Ben Klibreck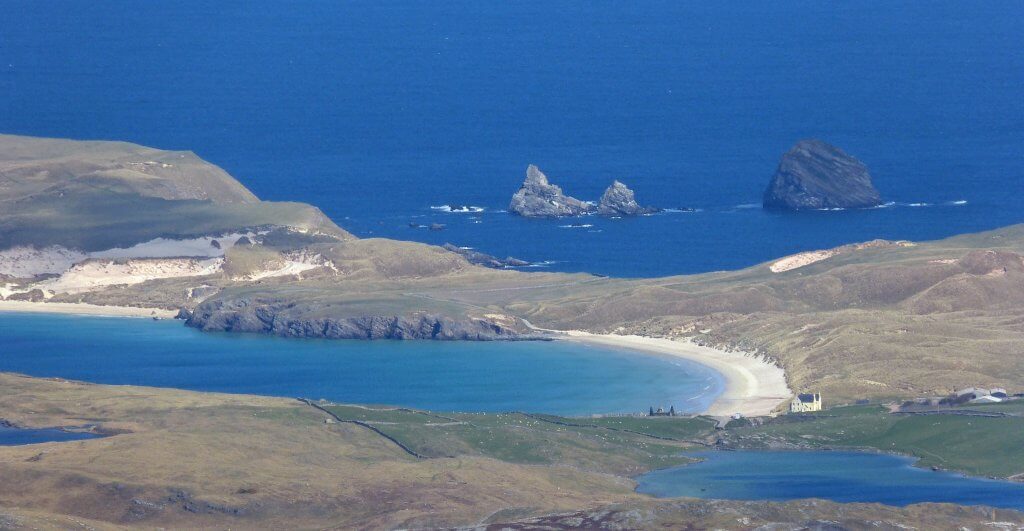 Day 7: Ben Hee
Day of Departure: breakfast with us at Fraoch Lodge before we transfer you on to your train/flight/bus to return home with best wishes for a pleasant journey. Hoping to see you again on a return visit to Scotland.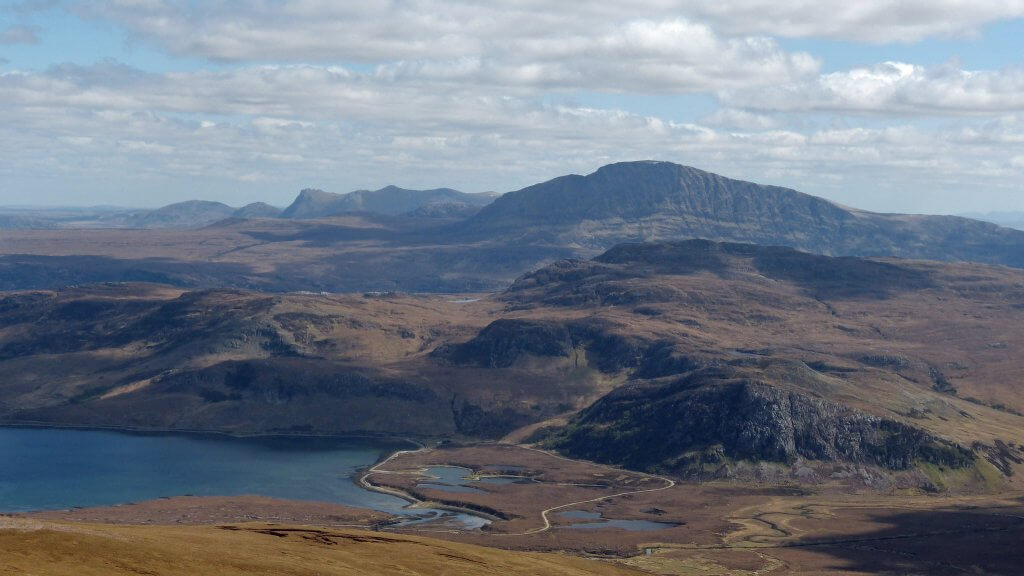 Photography credits to Andrew
Scot Mountain Holidays reserves the right to alter routes and move the order of the walks to give you the best walks for the weather and group ambitions on the day.