Far North Exploring: guided hiking in Scotland
Duration:
6 days, 7 nights
Tour Type:
Guided Walking holiday
£1,125.00
WALKING TRIPS IN SCOTLAND: EXPLORING THE FAR NORTH WEST
Walking trips in Scotland take place across the country. The most northerly reaches of mainland Scotland are still remote and under-developed even though the NC500 passes through the area. We plan to discover more of the secrets of the area during a week exploring. We'll be doing a mixture of coastal and hill walking and will make attempts to take in the views from the summits of Foinaven and Arckle if the weather allows. All walks will be guided hiking in Scotland.
We'll take a day off from pure hiking to visit Handa Island where there are huge bird colonies nesting on the cliffs, including the iconic puffin. If you're a seafood fan, we hope to round off the visit to Handa Island with a visit to the wee cafe at the pier and fresh crab salad. This is a highlight of any trip to Handa (though there are of course other options on the menu.
There are so many options for hikes in the area it is difficult to select the few we'll be able to do during this week.
On this trip we won't be able to do the Munro summits of Ben Hope and Ben Klibreck but we plan to offer an extension or perhaps to some a separate trip to do these Munros from the comfort of our Tentipi.
HIGHLIGHTS
5 days guided hiking
7 nights accommodation: 6 nights in Oldshoremore, final night at Fraoch Lodge
1 day to rest or enjoy the local area including a visit to Handa Island for those interested
Visit to Smoo Cave
Sandwood Bay
Cape Wrath
Durness and Balnakeil Craft Village
Delicious home cooked meals making the most of local produce
RELATED BLOGS
How to choose a hiking vacation in Scotland
How to get the most out of your trip to Scotland
Day of Arrival: Aim to be in Boat of Garten by 2pm or Inverness by 2.30pm for pick up on the way to our accommodation in Oldshoremore. It's a long drive of approximately 3 – 4 hours to get up there (who knew there was so much of Scotland north of us).
If you can't arrange transport on the day, those travelling by train or car may find this an issue, you can travel up the day before and stop over with us at Fraoch Lodge. Please contact us in advance to arrange this. Then you'll at least have the chance to stretch your legs on some local walks after breakfast before the drive north.
Day 2: Sandwood Bay and Strath Shinary
405m (1330ft) of ascent and 13 miles (21km) on tracks, footpaths with some pathless grassy rough ground. One notalbe moderate ascent of 50m, but otherwise very gentle gradients. Approx walking time, excluding breaks 6h10m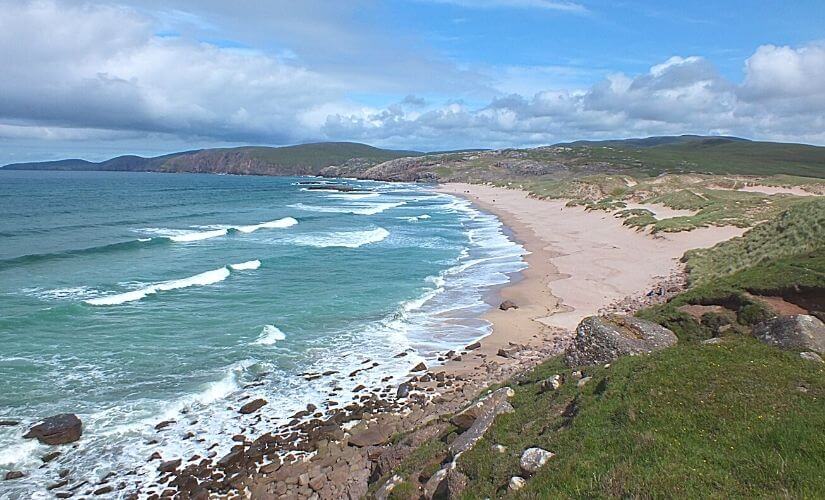 Day 3: Foinaven (911m) traverse
1100m (3500ft) of ascent and 11 miles (18km) involving traversing boggy moorland, steep grassy ascents, followed by a more gentle descent with a long gentle walk out on a good track. Appros walking time excluding breaks: 6h 50m
Day 4: Visit to Handa Island
Day 5: Arkle
1130m (3700m) of ascent and 11miles (17km) on tracks, footpaths and mountain paths with some steep ascent over rough grassy and rocky ground. The walk involves a traverse along a magnificent curved but narrow ridge. Approx walking time excluding breaks 6h 33m
Day 6: Cranstackie (801m) & Beinn Spionnaidh (773m) traverse
1005m (3300ft) of total ascent and 8 miles (12km) including crossing rough mountain terrain (including block fields) with some steep gradients. Mainly moderate gradients in descent. Approx walking time, excluding breaks: 5h 45m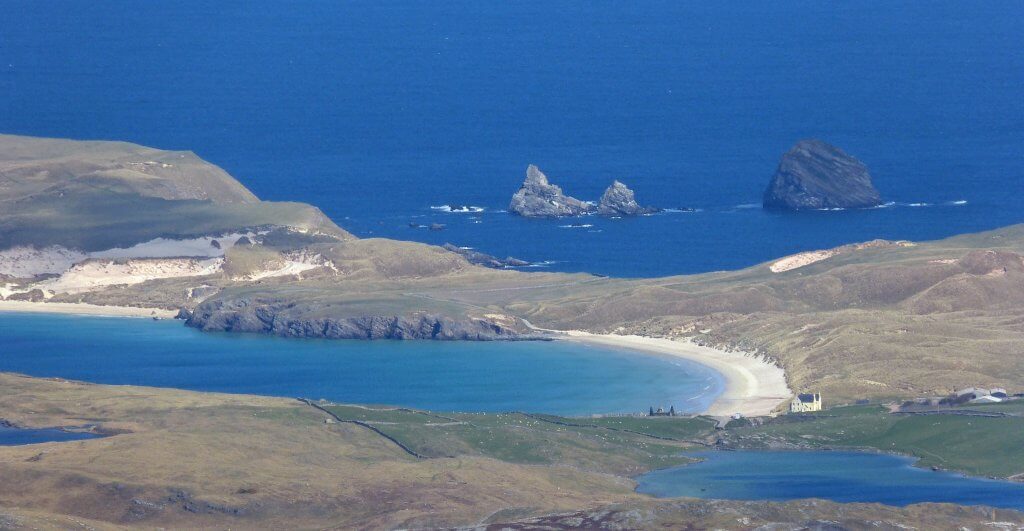 Day 7: Ben Stack (720m) and transfer to Fraoch Lodge
600m (2260ft) of ascent and 4 miles (6km) on a track but mainly over grassy mountain terrain: 250m of steep ascent: 150m of steep descent. Approx walking time, excluding breaks 3h
Day of Departure: breakfast with us at Fraoch Lodge before we transfer you on to your train/flight/bus to return home with best wishes for a pleasant journey. Hoping to see you again on a return visit to Scotland.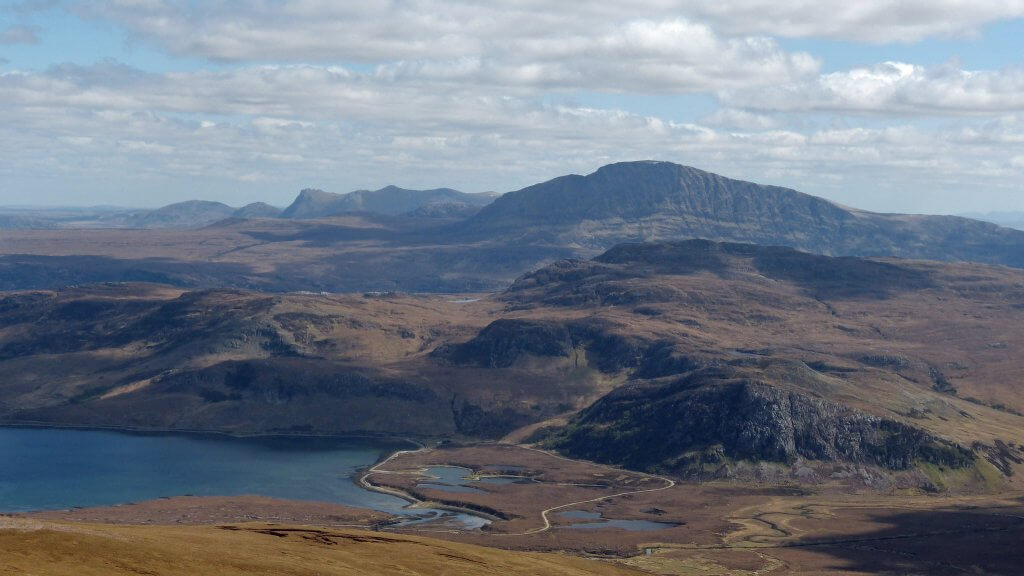 Photography credits to Andrew
Scot Mountain Holidays reserves the right to alter routes and move the order of the walks to give you the best walks for the weather and group ambitions on the day.