2 Day Mountain Navigation Course
Duration:
2 days, 2 nights
The mountain navigation course takes place over 2 days, usually a weekend, and involves mostly practical work out on the moors and hills of the Cairngorms National Park.
On the evening of arrival we will run through some housekeeping and let you know what to expect during the course: when meals will be available and what time you'll be heading out for the day, how long any indoor sessions will be, the skills you'll be learning and the order they'll be taught. You'll get to know your instructor a wee bit over dinner and afterwards he'll chat about your gear and give you some tips and pointers for taking care of it when you're out in potentially windy or cold conditions.
The course does not cover the use of GPS as we believe it is essential that a hillwalker should have a proficient level of old-fashioned navigation techniques before ever picking up a GPS. You must be able to read and interpret a map and use a compass before your GPS can help you.
HIGHLIGHTS
Of all the skills for the hills, navigation is the most important – no surprise when you consider that up to 80% of mountain rescue call-outs stem from navigational errors. This course provides a firm grounding in the essential skills as well as developing the right tactical approach to good mountain navigation. It's ideal for both those who are starting from scratch, as well as those who have some navigating experience but would like to become more proficient and increase their repertoire of skills
SKILLS COVERED
Aspects and techniques covered in the course include:
• Feature recognition
• Map interpretation and relating the map to the ground
• Slope and contour feature interpretation
• Navigation with map alone
• Compass bearings
• Time and pace (distance)estimations
• Tactical Navigation techniques incl. aiming off, doglegging, attack points, etc.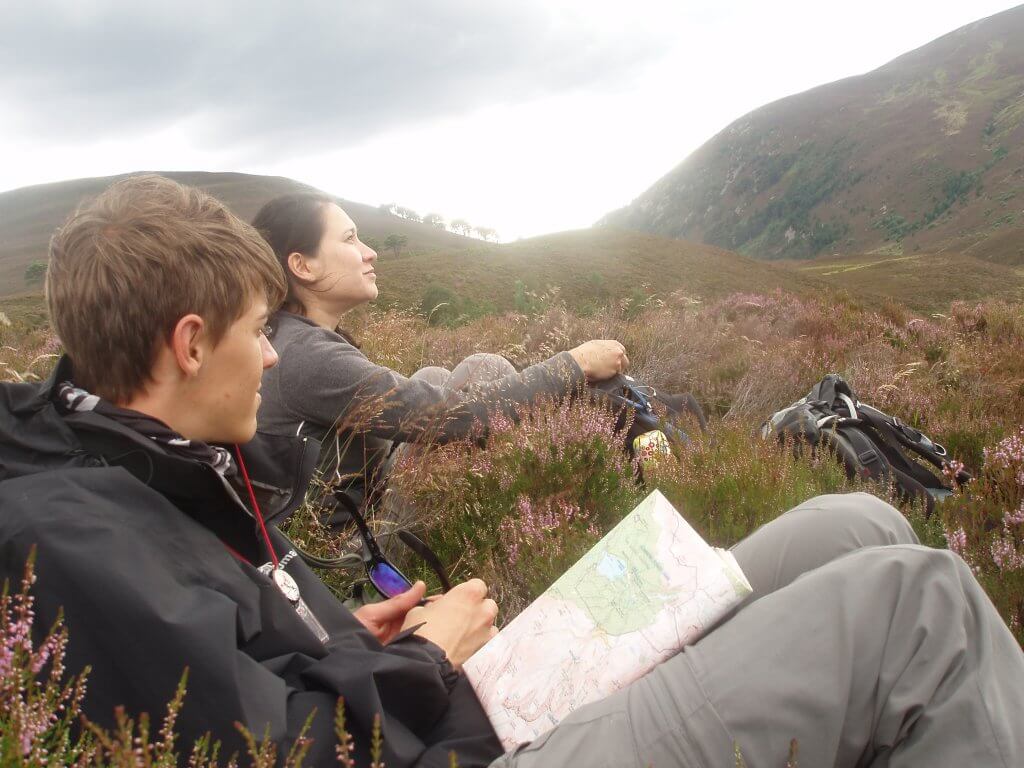 RELEVANT BLOGS
Of all the mountain skills, navigation is arguably the most important. This course is 2 practical days out on the moors and mountains in the beautiful Cairngorms National Park. The ability to accurately navigate in the mountains is achieved on 2 levels: firstly through a firm grounding in an array of skills and techniques, and secondly in developing a tactical approach that negates or minimizes the effect of error on your overall accuracy.
The course quickly establishes the importance of the skill of contour interpretation and so is ideal for both those who are starting from scratch, as well as those who have some navigating experience but would like to become more proficient.
Importantly the various skills are not taught in isolation but are related to each other by the 3 main elements of mountain terrain: features (often contour features), gradient (contours), aspect of slope (contours), so as to ascertain your distance and direction. This is then reinforced with compass (direction) and timing and pacing (distance) techniques.
On the first day of the course there will be a short classroom session (max 1 hour) before you head out. This is a relatively low level day out on moorland giving us the opportunity to cover a whole load of different skills and techniques. After lunch in a bothy we then concentrate on developing those all important contour interpretation skills.
Cake O'Clock will be laid on at Fraoch Lodge for your return to rejuvenate you body and brain and you'll have a chance to shower and relax before dinner.
After dinner, you'll possibly have another brief map session to plan a route under your instructor's guidance for the following day.
Day 2 is a full day out on the hill navigating according to the route you have as a group discussed the night before. You'll learn new techniques for avoiding potential hazards as well as repeatedly practising the necessary skills to give you that firm grounding and confidence in your own navigational ability. Don't worry if you don't know how to take a compass bearing, you will by the end of the course!
We asked our guests what sets Scot Mountain Holidays apart, why they return year after year:
"the social aspect"  –  "the camaraderie, food and conversation"   –
"the company of the hosts"  –  "so warm and welcoming"  –  
 "a profound sense of belonging"  –  "the welcome of Rebecca's home cooked meal"  –  "Andy's skills as a guide, naturalist and leader"  –  "stewardship, sustainability and a small footprint"  –  "in harmony with the land"  –  "a slice of rural Scottish life"
Scot Mountain Holidays is the ONLY adventure tour operator in Highlands of Scotland with a combined home and guest lodge. We strive to be more than just an tour. We aim to provide you with a 'home away from home' on your adventures. We thought of no better way of doing this than to welcome you into our own home.
We have owned and operated Fraoch Lodge as our home base and business since 1999. In that time, we have come to embrace our guests as members of our extended Highland family.
We source our meals from locally produced and home grown ingredients to provide you with the most delicious flavours and traditions the area has to offer (while minimising our impact on the environment, too). Our dining room and lounge are shared spaces where we gather with guests and friends to share in the holiday and offer you extensive knowledge of your tour.
No matter the season, the Cairngorms and Fraoch Lodge is a place to relax and explore all its beauty and comforts, and we hope to make you feel as at home as we are.
We have achieved Gold Star Awards from the world's most highly respected green accreditation scheme, Green Tourism, and were awarded Highly Commended in their Green Star Awards 2013 for both Scot Mountain Holidays and Fraoch Lodge. We offer a Green Travel Discount of £15 to any guests who travel to us by public transport. Our primary aim is to minimise the carbon footprint of our holidays, and to this end we donate 1% of the price of our tours to the RSPB's Abernethy Reforestation project.
It is a holistic approach we have to the care of the environment. Andy your adventure guide has a passion for the natural world – whether it's the flora, fauna or fungi. He has a background in geology and a lifelong interest in natural history, as well as being a keen gardener.  He knows a Golden Plover from a Dotterel, a Green Shank and a Dunlin. He also makes no apologies to being very excitable upon spying a Golden Eagle!
For further information, please don't hesitate to check out our Environmental Responsibility page, or contact us directly at info@scotmountainholidays.com.
You might also be interested in these tours:
Special offer