With the newspapers declaring that the UK is going to be hit by -yet another- coldest winter in a hundred years, it's probably best for the winter adventurers to get kitted up the right way.
I write this because I was a tourist once, and now I'm a local and thus can now see the foolishness in some tourists' choice of clothing when it comes to tackling the Scottish weather. And let me tell you, some can be truly foolish indeed.
Now, I'm not saying that you'll do any of these foolish things, but I only write about it because I've actually seen some people do it, so I can only hope and pray that no one else will have to ruin their holiday to this magnificent part of the world because they weren't dressed right.
So if you're planning a trip up here in the winter, whatever you may end up doing, I hope these tips will prove useful to you.
Hats
As a relatively young person, I'm one to appreciate good fashion that the aspect of 'looking good' sometimes trumps being practical. But trust me when I say that there are both fashionable and practical headwear out there that won't intrude on your 'image' and keep your ears warm at the same time.
I myself had this winter hat, the branded kind that I cannot name here, but it had a fairly big tick on it. It was fairly pricey too and was a nice colour. However, the colour nor the tick did anything to keep my head warm. In fact, the thing was probably using my body warmth to keep itself warm.
The Scottish winds can be truly penetrating you see, and you only find out just how much when you wear a hat you wished would do more than just say you're very much a city person.
There are plenty of outdoor shops where we are where you can buy hats for a price, yes it's also labelled with a brand, but at least you know that it's a brand that works towards practical solutions as well as looking sweet.
I, for one, haven't looked back.
Scarves
I get given one of these at least once every year, and it's usually Christmas, from a distant relative who got me for Secret Santa and doesn't really know me well enough to get me something a little bit more personal.
Don't get me wrong, I love scarves, but I personally have way too many of them and to be honest, I find wearing them just gets in the way.
Let's say you come up here and you and your family decide to go for a walk around the forest or even up the Cairngorms if you're feeling lucky. You have your scarf on and every single second, the wind is blowing it off your neck and onto your face, sticking to your thickly lip-balmed lips. I have seen way too many pictures of people standing on the mountainside with their scarves taking up half the picture.
Think something more practical and use a buff! I can say it has truly changed my life. There's no more wrapping in special ways, no more having my head buried in breezy fabrics, I've actually got something closer to my body keeping it warm with no risk of it being blown away.
Footwear
This one was kind of relates to the whole fashion thing already mentioned about the hats, but this one is a bit of a bigger topic, especially to the younger ones.
My husband is an outdoor instructor and will sometimes, if not most of the time, take a group of young'uns up on the hill for a walk, get their bodies working. Sometimes he encounters a 'mare of a child where they had worn a very expensive and fashionable pair of shoes up the hill and has it end up in the slightest bit of bog en route to the top.
Let me tell you something about the Scottish marshes and trails, bogs are almost always guaranteed. So please, wear something appropriate!
Waterproofs
If there's anything Scotland is known for, it's the weather. We don't really shut up about it here and for good reason. It's pretty 'dreich' all the time, which brings me to the point of waterproofs.
I've had 3 just being here, and the reason I've had three is that the Scottish rain managed to whet out the previous two and ruin it forever. They were the better makes too! It just goes to show that there is really no going against the elements up here. And as a tourist, it is better for you to just accept this and be more prepared to tackle it because it'll be you getting the last laugh.
There was a couple I saw once un Cairngorm skiing, with jeans on. JEANS! Needless to say, I shook my head at them, inwardly, of course, I'm not a monster. But at the bottom, both their bottoms were drenched and their legs were aching not because of the skiing but because they had to roll up their already tight jeans up their legs to put the skiing boots on. Please, don't be like them.
The drier the better.
Emergency Clothing
Since you're already going to be bringing a bag with you, why not just add a clean and dry pair of socks in there, maybe an umbrella, a few plastic bags, a buff and anything that could potentially save your day from being miserable.
If, say, you did step into a bog and your feet are now wet and muddy, there's nothing more comforting than knowing you've got a spare and then slip on the plastic bag so as to not re-enter the dirty shoes with your clean socks. It was most definitely one of my saving graces when a small outing turned into an epic.
There you have it, most of those things you should already know, of course, this wasn't meant to make you feel dumb, just as a wee reminder. And please, do enjoy the Highlands, it's a one of a kind.
6 questions to ask yourself when planning a hiking vacation in the Highlands of Scotland
The trouble with planning a hiking vacation in Scotland is that you are almost spoiled for choice. There's no way you will be able to fit everything in to one vacation.
1. Do you cherry pick? Head for Skye, Ben Nevis and Glen Coe? You'll have to gamble on the weather?
The scenery on Skye and around the west coast of Scotland is remarkable from the road. It has inspired movies such as "Brave". The draw is understandable but the disadvantage is that for Scotland it can be "touristy". It will be unusually busy with other visitors. If you're looking for a quiet experience of Skye when you have a chance to enjoy the scenery without the crowds, you'll need to consider taking the time to explore there out of the main tourist season. April, May and September are the best times to head over there. You have a high chance of good weather and a low to non-existent chance of encountering the dreaded midges.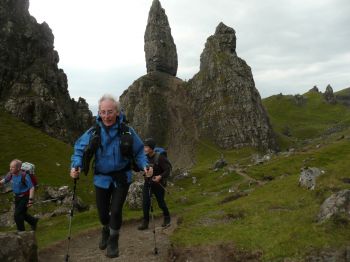 2. Can you afford the time to explore one of the waymarked long distance routes?
In recent years, particularly since the Land Reform Act (2003), there has been public money available to develop paths across Scotland. This has resulted in a proliferation of way marked long distance routes. The Land Reform Act (2003) formalised the right of access to all land in Scotland, whether privately or publicly owned. Access rights are for outdoor recreation, for crossing land and water, and for some educational and commercial purposes. Exercising access rights, and managing access land, must be done responsibly.
The most well-known of the long distance routes is the the West Highland Way, but there are many others like the Speyside Way (the one to do if you're in to whisky). Another recently mapped route which is less formally organised is the Cape Wrath Trail. This trail is described by Cameron McNeish as: "It's the sort of long distance route that most keen walkers dream of. A long tough trek through some of the most majestic, remote and stunningly beautiful landscape you could dare imagine." You can research more details here: There is also a recently published map by Harvey maps covering the area involved.
A full list of long distance paths across Scotland is available here: They range in length from 338km to 38km. Some can be linked together to make a longer route.
The disadvantage, depending on your point of view, of most long distance paths in Scotland is though they go through mountainous areas most if not all of these routes do not go up the mountains so if you stick to the waymarked route you'll only be admiring the peaks from afar.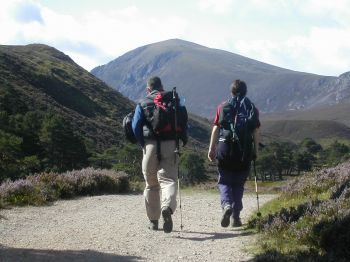 Photo Caption: Long distance path walking in Scotland
3. Do you want to dabble in short walks along a driving tour through the Highlands?
There has been quite a lot of investment in path construction and signage in Scotland since the development of the Outdoor Access Code in 2002. There are opportunities virtually everywhere to get out of the car and explore a wee bit to a viewpoint or through spectacular woodlands or around a loch etc. The difficulty is in knowing which option to choose.
WalkHighlands can help with this in that all the walks they list are graded and have an estimated length in distance and time. However, possibly the best way of choosing is to ask your hosts at your accommodation for their recommendation of the best walk to choose and if you have a wee bit more time available take advantage of a guided walk as you will gain so much more insight into the area from the guide's knowledge. There are ranger guided walks in most areas, particularly in the National Parks like the Cairngorms and the Trossachs which will reduce the cost. Some of these walks are even free. has it's own ranger service offering guided walks around the woods behind the village. The RSPB also offer guided walks on the .
4. Would you like a guide?
The advantage of booking a walk with a guide is that you'll be able to get off the beaten track with confidence. You might even be able to do a longer walk or go higher than you would be confident doing on your own.
A guide will also have extensive knowledge of the local folklore, the environment, the flora and fauna as well as the terrain through which you are hiking. There really is nothing better for bringing the area alive to you. As a student or cash strapped tourist you may consider the cost relatively high. However when you look at the cost of eating in a restaurant or your accommodation for the night, you'll realise that on an hourly rate your guide is not charging a lot of money. A qualified mountain leader will have invested years of training into his qualification not to mention the cost of the training course itself.
A qualified mountain leader (or accompagnateur) will charge from £150 – £200 for a day out. This fee will be split across the clients in the group. The larger your group of family the less the cost per individual. The rewards of going out with a guide for the day are however beyond price as you will learn so much more about the area which you won't find in the guidebooks.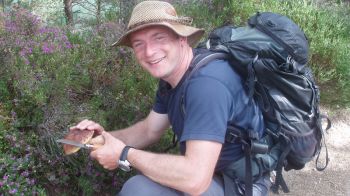 5. Do you want to stick to one part of the Highlands and really get to know that area well?
Most organised hiking tours will explore only one area in depth. While this approach is not for everyone (many people visit a country with a tick list of sights they want to visit – which are inevitably the same spots 90% of visitors also want to see, resulting in overcrowding), if you go on an organised vacation you are often more likely to have a more genuine and authentic experience of the country you are visiting.
It is worth checking that the company you book with has a philosophy which appeals to you. Also that the structure of the trip suits your priorities. For example, if you are thinking of booking with Scot Mountain Holidays but it is important to you to have 5 star hotel style accommodation, rather than a home away from home, you will probably look elsewhere for your trip. The philosophy behind our vacations is that our guests stay within our home. They immerse themselves in the atmosphere and feel comfortable discussing all aspects of life in Scotland.
Of course, if you have enough time you could consider a shorter, organised trip as part of your vacation and tour the rest of the country by car/bus.
6. How will you get to your area of choice and how long will it take?
Think about access – a major consideration as part of the planning. Some areas of the Highlands are more difficult to reach than others. For our organised vacations we have tried to make it as easy as possible for our guest to access them. We offer pick ups from Aviemore station and Inverness airport. In the Cairngorms, we are lucky enough to be near the major route north from Edinburgh – the A9, which makes it very efficient to get here.
It may look like it isn't far to reach some areas of the Highlands but travelling on narrow, sometimes single track roads, will take longer than anticipated.
When planning your trip bear in mind that reaching some areas by public transport can be time-consuming. Many of the routes used have to go around rather than through the mountains.
How to forecast snow
Understand Thickness and get an Advanced Snow Forecast.
Whatever winter sport is your passion, getting the most out of the UK winter season is inevitably about being opportunistic. You need to jump to it when the conditions are right. Getting into the hills requires some degree of planning. You need to learn all the tips you can on about how to forecast snow. When forecasters tend only to predict 3 days in advance, it doesn't give much time to get organised. 
Understanding weather forecasts: how to forecast snow
This changes though when you understand atmospheric thickness and how it relates to the 5 day . Have you ever noticed those numbered dashed lines hiding behind the isobars? (see below – on Bracknell charts predicting 36 hrs or more ahead)  Well they represent the thickness of the atmosphere and this directly relates to the temperature of the air-mass. Bear with me, here's the techie bit.
Air pressure at sea level tends to equalise at around 1000mb. The colder the air, the greater the density and hence you need less of it volume wise to create that 1000mb pressure. Therefore the atmosphere is thinner at the poles than it is at the equator. Meteorologists have realised that by measuring the altitude at which the air pressure halves (i.e. is 500mb) they can plot the movement of cold air from the polar regions towards the equator. In the northern hemisphere these thickness lines represent the southern limit of cold air moving down from the north.
How to forecast snow
As far as wintry weather in the UK's mountains is concerned it's the 528 line (equates to 5280m) you want to watch out for. When it crosses the UK you can expect snow on the hills at least. They are a bit like contour lines. The closer together they are the more the marked the temperature change but if, lets say, the 528 line is 300 miles out to the west over the Atlantic you might be at least be expecting snow on the highest tops in Scotland. If the 510 line approaches the UK wrap up warm, very warm! The charts predicting the arrival of the "Beast from the East" had the whole of the UK enveloped beneath the 510 line!
For those of you who can jump to it and might be in need of accommodation in the Northern Cairngorms area check out Fraoch Lodge.