Glenlivet Mountain Bike Centre
A visit to Glenlivet Mountain Bike Centre will take at least half a day, especially if you treat yourself to a bite to eat at the Coffee Still. Let the kids loose on the practice track while you wait for your food as then you can relax and they'll be happy whizzing round and round.
Distance from Fraoch Lodge: 30 minutes drive
Routes: Red (22km) and Blue (9km)
Cafe: Yes
Toilets: Yes
Showers: No
Bike Wash: Free
Bike hire available: yes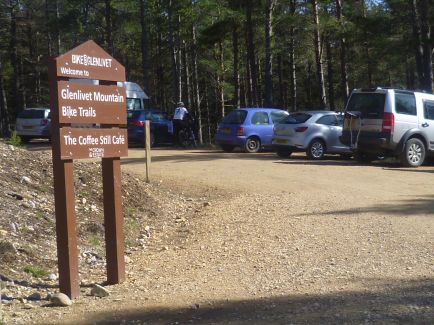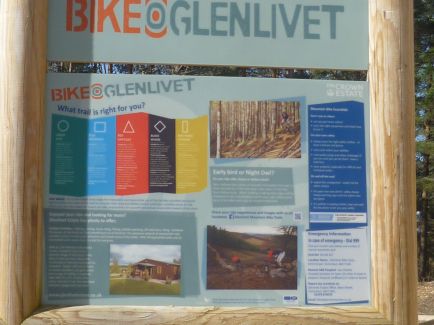 Blue route is ideal for families and even has the unusual feature of starting on a downhill section, followed by a zig-zag climb which is not too difficult to manage before more free flowing downhill track which seems to go on forever. There is one wee steep climbing section in the middle, but you know you'll be rewarded with even more great cross country downhill track afterwards.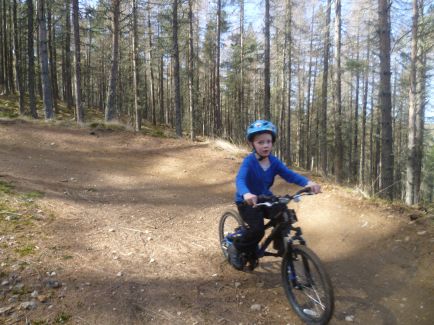 Photo caption: Blue trail, Glenlivet: free flowing downhill on very well made tracks area  delight for younger riders. Very few roots to negotiate and few if any areas prone to sticky mud.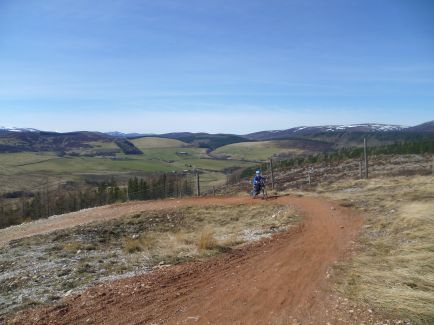 Photo caption: The uphill section on the zig zag section of the blue route which offers spectacular views over the wider Glenlivet area.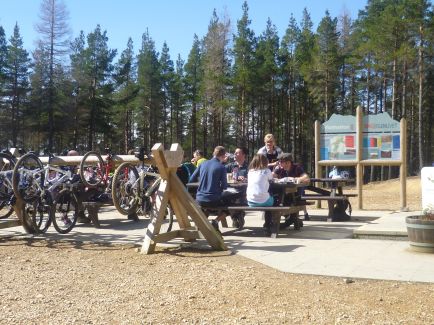 Photo caption: the Coffee Still is a purpose built cafe and wee store supplying a small selection of emergency biking products. You can purchase coffee, cake and a small selection of very good hot food snacks and light meals from chicken fillet buns to pizzas. The menu is not hugely extensive but what is on offer is extremely well-done and very high quality, using as much local produce as possible.
Practice track
A trail map is available to or you can purchase an A3 foldable version from the cafe when you are on site.
Afterwards:
Treat yourself to a stop in Tomintoul which is a stone's throw from the bridge where you turn to head over to the bike tracks.
In Tomintoul you can:
go for an ice cream at the Whisky Castle's associated gift shop, the Highland Market
browse the 100s of whiskys for sale, and maybe even taste a wee nip or two
take a photo of yourself next to the world's largest bottle of whisky
visit the gallery and see some of excellent batik prints of scenes around the Cairngorms and across Scotland
use up any excess energy at the adventure playground at the top of Tomintoul


Useful links for planning your trip to Scotland

Email us if you think we can help plan your vacation in Scotland – we can hit all the Highland hotspots and include some off the beaten track surprises you might not know about.

For inspiration check out our  and our  account.