Are you planning to visit Scotland for self guided walking holidays? There are some important factors which should influence your planning.
Treat the hills with respect
Just because you don't consider the hills in Scotland to be mountains by the standards of your country, doesn't mean that you shouldn't treat the routes with respect. Remember when you do your planning that a lot of routes are not way marked. Our experience of hiking in Europe is that most of the routes are signposted and marked with paint on the rocks and/or trees. Don't expect this to be the case in Scotland, unless you are following an official long distance path like the West Highland Way.
2. Listen to the advice of the locals –
The locals are the ones who will know if bridges have been washed away; if the streams are running high and you need to be careful with the river crossings; when there is tree felling going on; if the paths have been diverted; or in winter, particular avalanche hazards
3. Make sure your map reading skills are good
– if not, then be sure to take a refresher before you head into the higher level terrain.
Our maps are very good but you will need a proper map for hill/mountain hiking. Look for either or Harvey's maps. You can use Viewranger to plan your routes but do not expect to navigate by digital maps in the hills. Your battery could die and the screen is not big enough. Don't worry though – if you're based at Fraoch Lodge and haven't had time to pick up a local map, we do stock them. We also have mountain bike specialised maps for select routes around the Cairngorms.
If you're not sure of your navigational skills
4. Pay attention to the weather forecast
There is a reason why Scottish people talk about the weather so much and if you hear someone talk about 3 or 4 seasons in one day – that means that the weather will be changeable on a daily/minute-by-minute basis.
When we say you should have a water/wind proof jacket, we don't mean a cape. In our windy conditions you need a jacket which fits your body and won't catch in the wind. If you're looking for a new jacket or waterproof pants/trousers, we highly recommend the following Scottish companies: – for made to measure nikwax analog outer layers or – for quality, eco-friendly outdoor clothing
Advice from our in-house guide
– which is also shared with our guests on the organised self-guided walks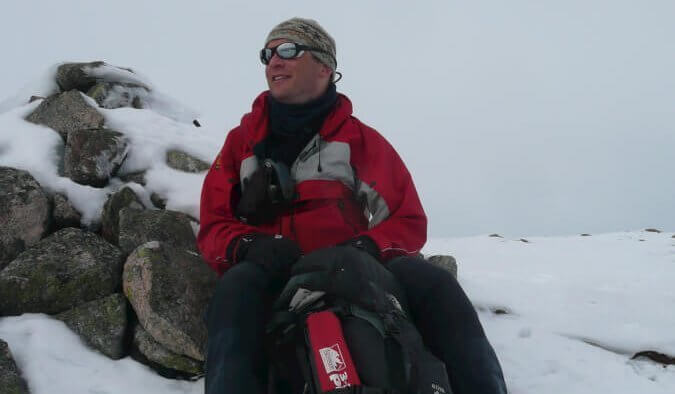 Take care of your feet
It is really important to make sure that your feet are comfortable. The smallest blister or hotspot can ruin your hiking plans. You've probably brought over your normal comfortable hiking shoes/boots but haven't made allowances for the rough terrain you could be walking through. Just make sure you keep an eye on your feet. Pamper them if necessary. There are now plenty of excellent artisan soaps and hand/body creams available throughout Scotland. We highly recommend Highland Soaps, Arran aromatics or the Soap Bothy. Highland Soaps do a bog mrytle scented lotion/soap which has the added bonus of being repellent to midges!
2. Take regular breaks and use them to refuel and drink
This is particularly important if you are attempting a long hike like the Lairig Ghru
If you take long, undisciplined breaks then the end of the day is just going to keep disappearing into the distance. If you don't take enough breaks, then you'll become more tired than you should be and might find the walk very disheartening.
Our recommendation is to walk for about 80 minutes before taking a 10 minute break when you make sure to eat some of your picnic/snacks and take a healthy drink. Be disciplined with your breaks on longer hikes. At the end of the day it will make for a much more enjoyable experience.
3. Many thin layers are better than one thick one
This relates to the 4 seasons in one day weather we have here in the Highlands. You never quite know what you're going to encounter during the day, even if you have religiously checked the forecast. Andy recommends: in summer, dress cool (relatively – light trousers/pants rather than shorts) on the legs), and warmer on top, as it is easier to regulate your temperature by putting on or taking off a fleece/jacket than removing long johns when you get too hot. In winter, dress warm on the legs.
10 Easter holiday ideas
Have you had any Easter holiday ideas yet? Thinking about the Easter holidays this year, it's a wee bit of an awkward time – so early in the Spring season. It's still an opportunity for some winter sports, but spring is on its way. If you're travelling up to the Cairngorms National Park for this Easter holiday in 2018 here are some ideas you might want to consider:
Adventures in the Cairngorms
Sample a range of the best experiences the Cairngorms have to offer bringing to life not only the scenery but also a more simple way of life relying on natural resources. Make your own bowl; process a sheep's fleece into wool & weave a wee sample; explore the outdoors on foot and by bike. Get away from the pressures of modern day life on this trip and get outside with your kids. A mix of guided and self-guided, supported activities with all your accommodation and meals included. A perfect compliment to the Easter holidays.
Safely experience a night out in the winter hills. Construct your own snow shelter (not an igloo) with the Cairngorms most experienced snow hole builder. Andy has constructed 3 – 5 snow holes every year for nearly 20 years. He has refined his technique to such an extent that he has never had a single one collapse on him, and he's never had to retreat due to lack of snow. He's only once ever had to retreat, and that was due to the strength of the wind.
Contact Andy for a private quotation
3. Join Scot Mountain Holidays on a summit hike
For the first time Scot Mountain Holidays are offering scheduled day hikes over the Easter weekend to the summit of both or either of Cairngorm and Ben Macdui. See full event details on our
4. Meet the locals –
a Highland Coo, a reindeer, a pine marten or a red deer. What a choice of wildlife experiences. If there are any Young Wildlife explorers in your family, then they'll be spoilt for choice. Let us put together a full range of choices for you from sheep dog trials to the Wildlife Park or dusk wildlife watching opportunities. Feed the deer/the reindeer of the Coos. Spot the red squirrels in the forest. Get the binoculars out to see the Ospreys or the cute, wee crested tits with their tiny punk hairdos.
5. Total whisky experience –
visit and a distillery of your choice. If you're up a wee bit early you might catch the free distillery tour at . If you'd like a full-on whisky experience tour, including the intricacies of producing a malt whisky and where to go if you're a whisky expert. Read our blogs
Scot Mountain Holidays can also offer a whisky day out or a tour based on Mountains and Malts if you want.
6. Climb a Munro – Easter holiday ideas for the grown-ups
There are a huge number of Munros accessible from Fraoch Lodge. There are Munros to climb almost from the doorstep in the Cairngorms National Park. You can also use Fraoch Lodge as your base and venture further afield. However, with Ben Macdui (2nd highest in Scotland) and Braeriach (3rd highest in Scotland), you shouldn't need to travel far for a good workout. Do make sure you put your safety first though. This year (2018) with Easter being so early and a good covering of snow remaining, it would be a good idea to either take a local guide or make sure you have refreshed your snow skills before you venture into the hills. Contact us for a private guiding or instruction booking.
7. Take the kids on an outdoor treasure hunt (geocaching) – Easter holiday ideas for the kids
you could extend this by setting up your own cache or trail. The Easter egg hunt is always the favourite part of Easter for us in our household; far above the egg consumption. We have been known to hide the eggs more than once! FREE ACTIVITY
8. Check out the canoeing and kayaking
on Loch Morlich or Loch Insh, providing the ice has melted
9. Go skiing
10. Enjoy an adrenaline rush
on the amazing Zip Line operated by G2 outside Aviemore (transfers available if required).
Contact us for any further details of things to do in the area or to plan your own trip, based from Fraoch Lodge, book your accommodation here.
You've probably heard that the Funicular Railway on Cairngorm Mountain is closed for now and will probably remain closed for the whole of 2019. Not to worry though, there are ways around it.
You can still access Cairngorm Mountain;
you can still see views;
or if you'd rather, you can still go and spot birds.
Really it shouldn't impact on your stay in the Cairngorms at all, but you might need to postpone your plans for a wedding at the Ptarmigan restaurant.
How to access without the funicular?
The funicular is just a train. It has allowed people to get up near the top of Cairngorm i.e. to the Ptarmigan restaurant. However, there has always been a visitor management plan in place. The plan means that if you use the train to go up on the mountain, then you are restricted to the Ptarmigan centre at the top. You are not permitted to get out and explore the greater mountain area. The only way of accessing the mountain at all was to book a guided walk to the top.
This summer (2019) these options won't be open to you – but you can plan around this. Here are some possible alternatives:
Buy a walker's map of the area (either the OS maps 1:50,000 or 1:25,000 or ). We sell the Landranger OS Map (sheet 36) here at Fraoch Lodge. If you are a strong navigator, you can take yourself to the top of Cairngorm. You'll start at the ski car park. There are many different routes you can take – some more interesting than others, but you can head get up to the summit in about 2 hours. However, the most direct is likely to be the least interesting and have the fewest number of wildlife spotting possibilities.
Book a guided walk with the Cairngorm Ranger Service.
Book a private guide.
Join Scot Mountain Holidays on Easter Saturday on a guided walk to Cairngorm Summit and if you're feeling really fit we're also heading over to Ben Macdui on Sunday. This is the first time that we're opening up the opportunity to join Andy to a wider audience. Pre-booking is essential and we're offering transport from Aviemore so if you've come up by train, this might be your most convenient option to do a long hike on Cairngorm. There are only a few places available. Please enquire
Why access Cairngorm Mountain now the funicular isn't running?
There are still many reasons to go to Cairngorm when you're in the area. Just because there's no train or restaurant at the top, doesn't mean that there aren't still compelling reasons to include it in your list of things to do.
There is still a cafe at the car park from which you can get amazing views as it is at 800m.
The views from the car park at 800m are still spectacular across Loch Morlich and Aviemore.
You can walk to the top of a Munro with minimal effort. Cairngorm is the 6th highest mountain in the UK. It would be a great achievement for many to make it to the summit under their own steam, even when starting at car park level.
If you're interested in birdwatching, Cairngorm is one of the best places to go to see ptarmigan, snow bunting, and ringed ouzel
Search for a Cairngorm stone. These are pretty rare these days. A Cairngorm stone is a semi-precious crystal popular in Victorian times as the centre piece for a brooch or to decorate a skein do. Andy has found quite a few over our 20 years here, but he keeps his find sites a closely guarded secret!
We look forward to seeing you out in the Cairngorms. Remember not having the train up is not necessarily a bad thing. Making your own way to the top will give you a far greater sense of achievement and well-being.