It's daunting trying to decide where to hike in Scotland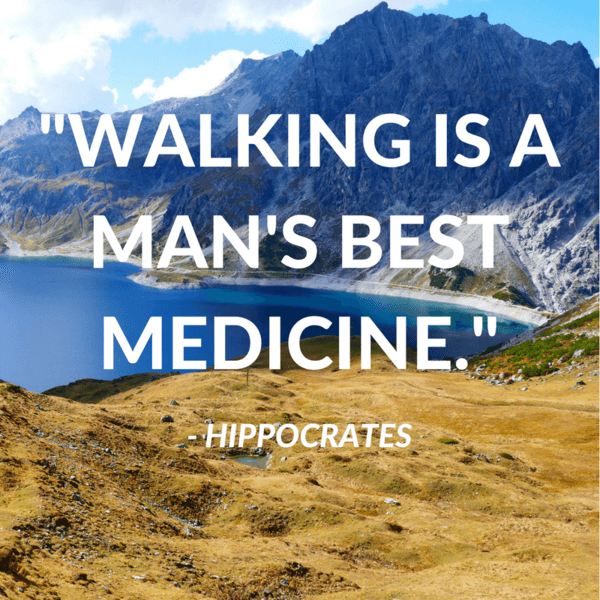 Researching where to hike in Scotland is not necessarily an easy task You probably have access to such sites as WalkHighlands. We've recently come back from New Zealand. While there we toured the North Island (but not the south, despite frequent recommendations to go there). We didn't take a campervan (despite recommendations) but we did hike the Tongariro Crossing. However, even though we speak English, we found it much more difficult to get an idea of where to go to hike on the North Island and what to expect when we got there.
What you have to bear in mind when you're planning your trip, is who is giving you recommendations. Are their priorities are similar to yours or not? Just because someone else thought it was great to isolate themselves in a campervan, doesn't mean that it will be your thing – nor that it will be within your budget. Equally when someone recommends a hike to you – this doesn't always mean that it is the best the area has to offer.
The first step
What are your priorities?
Is time going to be an issue? Can you afford to be relatively spontaneous? Remember sometimes it's the experiences you haven't planned which end up being some of the most memorable parts of your trip. For example, before we went to New Zealand we knew we would spend most of our time on the North Island. We knew we'd be spending the first week in Taranaki, visiting family. We thought we'd like to go on through Taupo, Rotorua and the Coromandel peninsula including the Tongariro Crossing along the way.
In the end, we only passed through Rotorua and diverted to Lake Waikaremoana. This is one of the North Island's few "Great Walks" (as designated by the Department of Conservation). The walk was stunning and not popular at all. Around 90% of visitors are Kiwis. We loved the whole experience because it was remote. The few people we met were extremely friendly, the views were amazing and we were surrounded by nature. We saw more wildlife on this hike than on all the others put together.
Next consider …
Are you using images on social media to influence your choice?
The problem with using social media to help you decide where to go is that 1000s of other people are seeing the same images. When you get there you might be disappointed when the reality doesn't match up with the (probably) enhanced image you've seen. You will also probably find that the place is much more popular than you anticipated. If you, as a first time visitor to the area, have found information about this place, and seen it more than once, the likelihood is that many other travellers have too.
When making your choice of where to hike in Scotland, bear in mind that you are likely to meet many other people on the shorter hikes on Skye, but many of the other Hebridean islands will be just as beautiful and much less crowded (except during HebFest).
If you choice where to hike in Scotland includes the West Highland Way, this is the most popular long distance hike in Scotland – try to go off season if you can. It will be much less crowded in October than July. NB High season on the West Highland Way also co-incides with high season for midges.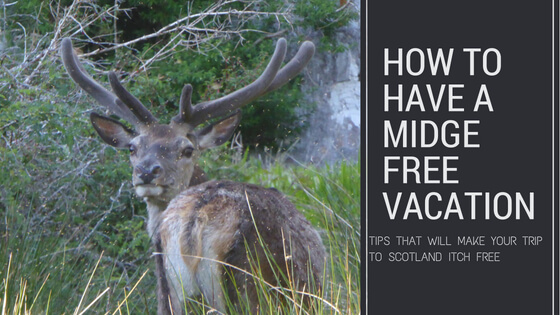 How to mitigate the effects of "over-tourism"?
Speak to local people about alternative options. Ask experts for advice or take a knowledgeable, local guide. Most hiking guides will avoid popular hotspots. They endeavour to take you to places you wouldn't otherwise reach.
Is the chance to see wildlife high on your list?
Sometimes the highlight of a hike in Scotland is a chance encounter with reindeer, red deer, red squirrels, ptarmigan, … there's quite an extensive list. Your chances of seeing wildlife during your hike in Scotland are greatly reduced if you choose a popular route. Wildlife in almost all circumstances will avoid areas where there are a lot of people.
Top tips for wildlife sightings
avoid busy areas
include the Cairngorms National Park on your hit list for your tour
book a local, experienced guide
ask your host for tips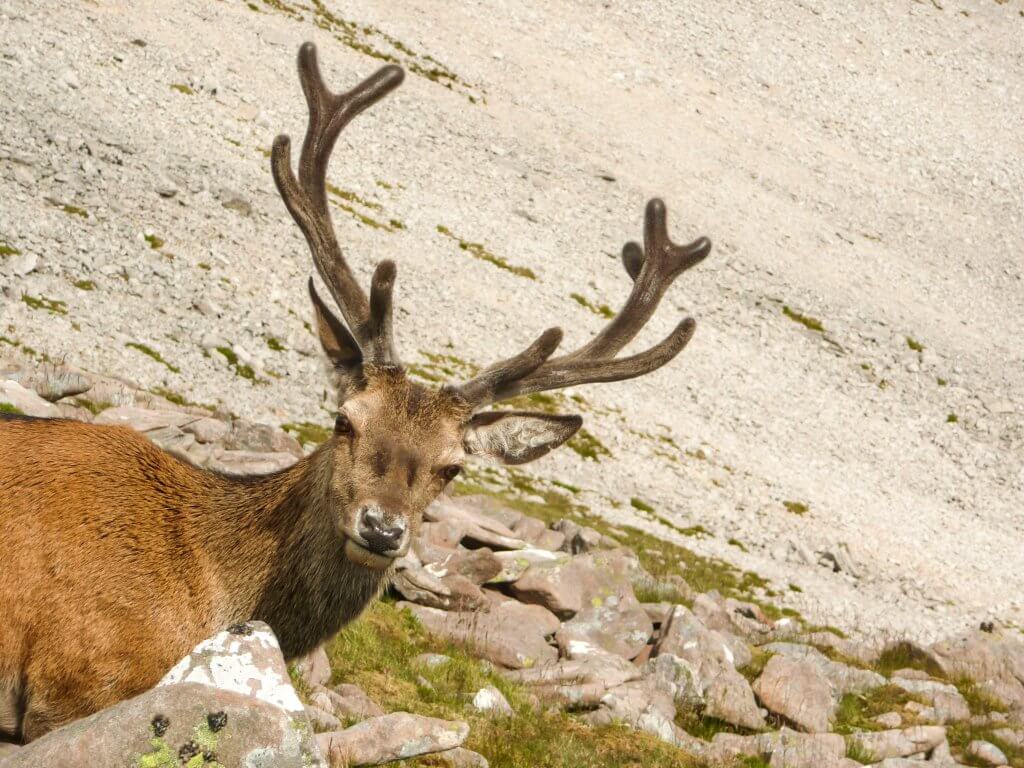 All the best when it comes round to your turn to choose a hike in Scotland. There are some great books, but if you can afford it we would highly recommend booking a guide for your first walk. You'd get a much better feel for the country and probably learn some unexpected trivia!
5 reasons to go hiking in Scotland
Scotland is an amazing destination renowned for many things: castles, golf, kilts, haggis and it's amazing scenery. Scotland is also promoted as an adventure destination. However, there are thousands of people who visit Scotland every year but have no idea of the opportunities they can experience. Your experience is greatly enhanced if you invest a wee bit in expert guidance. Many people list our scenery as one of the motivating factors for a visit to Scotland. It also ranks highly as one of the reasons to go hiking.
Choosing a holiday destination is not always easy. There are a lot of considerations which come in to play. How much time do you have available? How much money do you have available? Do you have a short list to choose from? What images are influencing you? And these days, of course, you have your friends images and reviews to peruse via social media. If you're a keen hiker, you probably already know, that Scotland has amazing scenery. Maybe you're putting Scotland on your short list. In our experience running accommodation and adventure holidays in Scotland, it's still got untapped potential and a lot of advantages as an adventure destination which most people don't know about.
1. Scotland has world beating access rights.
Photo credit: Scot Mountain Holidays
Photo description: A guided hiking vacation in the Cairngorms, Scotland – off the beaten track thanks to our excellent, world-beating access legislation.
Everyone has a right of responsible access in Scotland due to The Outdoor Access. You are legally allowed to walk/bike/canoe anywhere they wish. You do need to avoid the immediate grounds of a building. So you don't have the right to walk across someone's manicured garden. You do have the right to roam the hills at will without sticking to what few paths there are.
Do be careful when out on the high ground though because there is not a system of well-maintained way marked paths across the hills, unlike other European countries. In fact, if you have not been out hiking in Scotland before it would be advisable to book a local guide for the first time you go out. You will have a more in-depth appreciation for the countryside you're walking through with your guide.
The guide would have extensive knowledge of:
local folklore,
the flora and fauna you could expect to see,
the geology,
the culture,
the paths and local terrain
which you as a visitor would never be able to glean during your short visit to the area without his/her presence.
2. Scotland has some amazing wildlife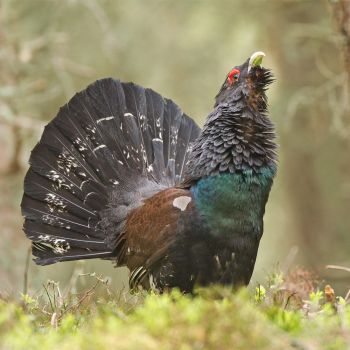 Photo credit: Jamie MacArthur ()
Photo description: A Capercaillie in the Cairngorms
Scotland has celebrated the Year of Natural (2013) and the Year of Adventure (2012). The Golden Eagle was voted Scotland's most iconic species. The attraction of the wildlife is a growing sector of tourism in Scotland, particularly to the Highlands and Islands. You could expect to see red squirrels, red deer, reindeer, roe deer, eagles, otters and a multitude of other animals throughout the Highlands. Most of these iconic animals are frequently found in the Cairngorms. The Cairngorms feature heavily in all the BBC Spring, Autumn and Winter Watch programmes. However, you don't need to worry about bear or wolf attacks. There are no large animal predators in the wild. Camping is a relatively safe experience; the main concern being a biting fly known as the midge (which will not trouble you on a windy day and is only around in the main summer months).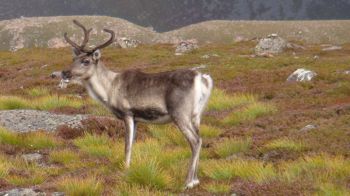 Photo credit: Scot Mountain Holidays
Photo description: Part of the Cairngorm Reindeer Herd which roam free in the hills during the summer months.
3. Scotland has stunning scenery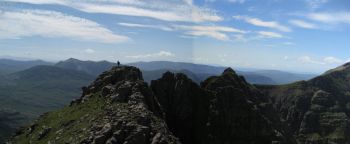 Photo credit: David Webster
Photo description: Ridge walking on Liathach, Torridon, Highlands of Scotland with Scot Mountain Holidays
Scotland has ancient mountain scenery full of mystique and history, which draws thousands of tourists every year. Most visitors only experience the views from the road. There are plenty of views to be seen from the roadside, but the best of the landscape can only be experienced by immersing yourself. Exploring the Highlands without a car has its trials but hiking, canoeing, adventure biking etc here in the Highlands is the way to go.
The beauty of Scotland speaks for itself in many images and has formed inspiration for movies and art worldwide:
Batman was filmed in the Cairngorms,
Brave was based around the scenery of Skye and the traditions of Scotland.
Braveheart was inspired by the historic figure, William Wallace;
the Outlander saga featuring Jamie Fraser (a Higlander) was inspired by the landscape and traditions of Scotland.
There are several long distance paths which are waymarked across Scotland, but the high hills are not waymarked. There are paths which crisscross the high mountains but a knowledge of map reading and compass work are necessary to deal with the changeable weather conditions and wild scenery.
Photo description: Viewpoint obove Loch Aan in the Cairngorms showing the cliffs by shelter stone. Some of the stunning features of the Cairngorms which can't be seen from the road.
4. There is no need for altitude training and adjustment in Scotland's hills.
Scotland's highest peak is Ben Nevis at 1,344m. To many Europeans this seems merely a bump, but when you consider that the route up the mountain starts at sea level, it becomes a decent mountain day. Most people take about 8 hours to complete the route up and down Ben Nevis, even by the regular "tourist" route; but for all that it is not an 8000m peak it should still not be under-estimated.
The changeable weather conditions, our maritime climate, in the UK make an ascent of any of the hills challenging, except in the most stable of weather conditions. People do die in our mountains every year. You don't need to worry about altitude sickness or having to carry oxygen to summit the mountain and most summits can be reached without any need for ropes. All risks in the mountains can be limited by employing a guide with the relevant training and experience.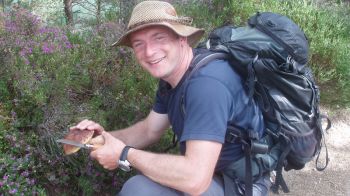 5. Scotland is accessible
There are international flights to Scotland through Edinburgh and Glasgow with onward flights or good public connections through bus and train onwards to the Highlands. However, to make the most of your time in the Highlands your best transport option is still either to hire a car or to book a suitable tour with a guiding company which will take in the routes at the top of your list or allow them to pick to routes best suited to your ambitions, taking account of the prevailing weather and terrain conditions.
You can reach most of the hills in Scotland on a day walk, within the capabilities of most hikers. There are more extensive routes – which take several days to complete, but you can reach the summit of most individual peaks in a day.
If you do choose to undertake any of the long distance routes you will find that with the exception of the West Highland Way and possibly the Great Glen Way, you are unlikely to see many other people during your walk. So far, Scotland is accessible without being crowded.
The following companies are expert at arranging walking tours and hiking holidays of various kinds:
Scot Mountain Holidays – an adventure tour operator specialising in providing an authentic experience of Scotland from a family base
WalkWild Scotland
About Argyll
CnDoScotland – walking holidays and courses throughout Scotland, mainly from hostel accommodation
Wilderness Scotland – an adventure tour operator running all kinds of acitivities across Scotland from hotel and guest house accommodation.
Macs Adventure – specialising in arranging the logistics for guests walking the long distance paths around Scotland, especially the West Highland Way
Walkabout Scotland
Links for further information:
: A comprehensive resource for any independent hikers planning to visit Scotland:
Check out the mention in the top list of walks in Scotland
info about walking in Scotland
Related blog posts:
About Scotland:
What is Burns Night and why is it celebrated in Scotland? –
What is Hogmanay?
Hiking in Scotland reviewed:
Reviews of hiking trips with Scot Mountain Holidays:
Walking on Harris (Western Isles), a guided trip with Scot Mountain Holidays
About Knoydart: Britain's most remote mainland hiking venue, about Knoydart
For comprehensive details and the full range of our walking holidays, please return to the home page.
The first 10 gift ideas for hikers and walkers
Stuck for gift ideas for hikers? What to get the hiker in your life? Read on. We've come up with a list we've organised into a couple of blogs to make it easier for you to find something which will fit your budget and your giftee.
Gift ideas for hikers: Clothing
1. Cioch Direct – made to measure water proofs
If your short in the leg, or long in the body, sometimes it can be a nightmare to get gear which fits you pefectly which can be frustrating and irritating when your out and about, particularly for legwear. Cioch Direct use Nikwax Analog material (also used by Paramo) to create waterproof clothing tailored to fit your measurements and the cost is very little more than off-the-peg jackets and trousers.
Jackets start at £200
Waterproof trousers start at £195
2. Down jacket
Down jackets have come a long way from the times when they were alternatively known as "puffer" jackets. There are so many different options you can choose from now and also different weights of jacket; differing sizes of ribbing, hydrophobic or regular down; down/wool combination?
Rab have always lead the way in down but there are a huge number of other outdoor clothing/gear manufacturers now making inroads into their market.
I found a couple of reviews of alternatives on Fiona Russell's blog which you might want to take a look at.
– or 
NB Down jackets are often not the best for Scottish weather conditions as they loose a lot of their thermal potential if they get wet. Hydradown does halp a wee bit with this but the mid to light weight jackets can still leave the wearer feeling chilly in Scotland. Generally speaking many thin layers and fleeces under a windproof, waterproof shell jacket provide the best thermal protection. Down jackets are better in alpine conditions.
3. Base layer
You can't really go wrong with gifting a base layer, so long as you get the sizing right. It's always useful to have an extra layer for the winter weather. All outdoor stores will offer a range of "base" layers. The main choice is between synthetic or natural fibres. The complaint in the past has always been that synthetic fibres can start to whiff after quite a short length of time, hence the nickname "smelly helly" for a Helly Hansen top. Things have of course moved on quite a lot but natural fibres like merino wool or bamboo would definitely be preferable. You can sometime pick these up for nominal sums in Aldis or Lidls if you are there when they have the right offer on.
For further inspiration try reading through this review: – l
4. Silk liner gloves or Dachstein Mitts
It is vitally important particularly in winter conditions to protect your extremities.
You can pick up a pair of silk liner gloves for next to nothing and they'll always come in useful either for hiking or climbing or even cycling. They'll protect your hands and give an added layer of warmth under your thick winter outer gloves which mean that you can manipulate delicate pieces of equipment, push buttons, change batteries etc without having to expose your skin to the colder winter temperatures. They could even be a useful stocking filler.
Delicate and dexterous are not adjectives which apply to Dachstein Mitts. Made of pre-shrunk wool, they are not items of high fashion. But when it comes to beating the cold they just can't be beaten. No fancy designed mountaineering gloves beat them for building heat back up in the fingers. If your friend/partner suffers from cold fingers, they'll be so grateful for a pair of these, even if they live in the bottom of the pack most of the time.
5. Socks
Last but not least on the clothing front – that old fail safe on the present front – a pair of socks! For a hiker though, the right pair of socks could be something to get excited about. After all it can ruin a good day out if you feet are not comfortable.
Other people have already written at great length reviewing several brands of hiking socks so I won't add more except to say, that good socks may well be expensive – but they are worth their weight in gold and wool is definitely the way to go as natural fibres reduce the smell of sweaty feet.
Check out the lists/reviews below.
Gift ideas for hikers: Gear
6. An ice axe
We've written about ice axes several times on our blog and also in our FAQ section so we won't go into reems of detail about ice axe models and choices. Only really a gift for someone you know is about to venture out into some winter challenge/adventure. Possibly not something you're likely to give as a surprise gift and if you are at all uncertain it's possibly better to go with a voucher for an outdoor store. Remember if you book a course or holiday with Scot Mountain Holidays, as a bonus you and anyone else on the course will receive a discount code for 15% off any future purchases with .
7. Crampons
Probably an item that will be specifically requested if you or someone you know if looking to do some winter skills traning or move into ice climbing. Whichever activity you are thinking of, you'll probably be taking slightly different kinds of crampons into consideration. The important thing is not to get too tempted by cheap versions for sale on ebay, as they really don't pass the quality mark on the safety front when you present them to your instructor.
Check out our top winter skills tips and our FAQ section for more knowledge.
8. Winter boots
Definitely something which shouldn't be a surprise. If you're looking for some advice for something which would be suitable for winter walking in Scotland, check this out and don't necesarily listen to the advice of a shop assistant down in the south of the country.
9. Headtorch
There are a confusing array of headtorches on the market but in order to choose the best one to add to your list or to buy for a friend, you need to know the primary purpose for which you're buying it. Fortunately UKClimbing have done a comprehensive review of several options on the market. Take a read here:
If you'd also like to take the opinions of users into account then check out the recommendations on the following forums.
10. Trekking Poles
I'm in the market for new trekking poles myself. I have to admit that I'm in the never-walk-without-them group. Ever since I started using them, I have found them invaluable. I tend to use them right from departing the car park to returning at the end of a hike, but I have to admit that many of the men I know who hike, have always denigrated poles as they consider themselves srong and experienced enough to go without. However, once taught to use them correctly, they have been known to convert.
I have no idea which pair of poles I'll end up with, even though I've read the reviews listed below. My personal preference is for a click-lock system of extending the pole as I've seen the twist action ones fail repeatedly.
Weight is a consideration too, but not to the extent that I'm prepared to pay a huge amount more for my poles.
As I do travel as well, it is useful to have a pole which will collapse to a relatively short length to attach to the rucksack. It is not usually possible to fit the poles inside the pack when it is packed for a week's holiday and if poles can't fit inside your pack on a flight, you run the risk of damaging them.
Top tip for pole care: always take your poles apart at the end of the day and make sure that all sections are thoroughly dry before reassembling.
http://www.ukclimbing.com/gear/review.php?id=3454
http://www.outdoorgearlab.com/Trekking-Poles-Reviews
THE FINAL OPTION
Of course, if they already have all the gear, or are extremely particular, there is another option. It is possible to buy a course or holiday voucher.  You don't even need to specify which trip you wish to purchase; you can just purchase a fixed value voucher to be used at a future date against any trip/holiday. Scot Mountain Holidays offer this option as do most other holiday companies. You  have the "gift" ready to give in your email inbox within minutes of clicking "Buy now". Your gift will be individual with a personally designed voucher specific to you/your friend.