Winter Gear: time to dust off the winter gear (maybe)
Andy Bateman a qualified Winter Mountain Leader of 20yrs experience gives his winter gear thoughts relative to the forecast for the Cairngorms  Fri 27 Oct  – Thu 2 Nov, 2017.
We are now approaching the end of October and the first bout of proper wintry weather has swept across our hills. There should be another one later this week.
Up to this point, there has been a notable lack of frosts so the ground is going to be relatively warm. Forecast precipitation doesn't look as if it is going to amount to much. It looks unlikely you will be facing full on conditions. Having said this they are predicting high winds, blizzards and a wind-chill down to -10 deg C for the highest tops so it's most definitely time to review the kit in your rucksack.
It's worth noting also: a forecast is only a forecast. Things can change and so in turn can my thoughts below. It is of course imperative that an updated forecast is sort on the evening or morning prior to setting out.
Footwear
At this point in time the crampons are unlikely to be much benefit. They might make it into the boot of the car just in case but there could well be a chance of fresh dusting of lying snow so proper winter boots are most definitely a consideration (B2 or B3). Where you have the ground covered in a thin layer of fresh snow stiff winter boots rather flexible boot with a flexible crampon would be the most likely the preferred choice.
Although no substitute for proper crampon in full winter conditions in these conditions [amazon_textlink asin='B0172G4S7U' text='Kahtoola microspikes' template='ProductLink' store='1603-8102-0783′ marketplace='UK' link_id='e836781c-bd95-11e7-b79a-19be9ad20467′] might be an idea.
Clothing
As is the case at any time of the year but especially now, the body is likely to chill pretty quickly once you come to a stop. That extra thick fleece or an overlay jacket for when you're not active most definitely can justify its place in the rucksack now.
Hand could also benefit from gloves being thicker. It's time to be swapping the summer gloves for the winter ones. Another thing to bear in mind is to make sure the rest of your body is adequately insulated. If your torso is warm you will be far more resistant to getting cold hands. Think how the body conserves the core temperature – it restricts the circulation to the extremities e.g. hands. Often folks say it's just their hands that feel cold and only deal with the affected area. You torso won't feel cold because the body has compensated but that's not to say hands won't benefit from an added layer to the torso.
Warmer leg ware is also a consideration. It might be a case of wearing leggings/long johns
Eye Protection
To state the obvious, eyesight is vitally import in the mountains. Trying to navigate directly into a blizzard can be at best purgatory, at worst nigh impossible. Even relatively light winds can cause snow to hit you directly on the eye ball. It's not nice. In our damp cold mountain climate condensation is an issue so make sure you equip yourself with some proper anti fog (double lenses) ski goggles. A pair of safety goggles out of a workshop just doesn't 'cut the mustard'.
Waterproofs
You of course you should be carrying these at any time of the year but now you maybe wearing them for their windproof as much as their waterproof qualities. A jacket with an integral hood is also a must.
Head Torch
It's now getting dark at around 5:30pm and the clocks are about to go back. The days are now a lot shorter than they were a few months ago. Possibly an earlier start and less ambitious plans are the order of the hill day but most certainly a head torch with fresh batteries should be part of your kit. It should also be one that's strong enough to navigate in the dark. A powerful beam makes a massive difference.
Ice axe
If I'm not taking proper crampons I may well at least be thinking about having at least one axe in the party just in case. The forecast is for 2 periods of sub-zero temperatures both lasting around 24hrs so there could be some ice build up where there is seepage emerging from the ground.
We hope to see you out in the hills soon getting ready for the full on winter conditions. If you're signed up for our newsletter you'll shortly be invited to join us to bring in the New Year. See you then – hopefully with plenty of the white stuff on the hill!
We run winter skills courses and winter walking holidays in the Cairngorms and across Scotland. We are also specialists in winter expeditions, especially the snowhole. Please see our video below to entice you to join us … some dates only limited availability.
A hiking tour in Scotland: To hike or to tour – that is the question?
When you have a very limited amount of holiday time, it's very difficult to make choices for your time in Scotland without spending a lot of time in a car/bus/train as you'll no doubt want to do everything the guide book recommends. Every different district in Scotland is busy promoting itself as "THE must-see destination". No doubt you'll want to spend some time in Edinburgh. A lot of people put Skye very high up the list. If you're American, St. Andrew's will no doubt be up there near the top of the list too and if you're a first time visitor Loch Ness will probably be somewhere near the top too. How on earth are you going to fit it all in to your schedule?
Option 1: Minibus tours
Your first option of course is to consider one of the many minibus tours of Scotland, which will promise to take you to all the top sites and also deliver "off-the-beaten" track extras. They'll reserve accommodation for you and suggest places to eat, but watch out. The quoted price is usually just for the bus tour and doesn't include accommodation, meals or entry fees into the various places of interest. When you're budgeting for one of these tours, make sure you take into account the extra expenses you will have to incur.
Many of these tours, particularly Rabbies, will also promise you some opportunities to get out of the bus and walk a wee bit. Most of these walks are very short (around 2 hours) and are generally in very scenic but popular places like Loch an Eilean (in the Cairngorms) or the Fairy Pools (on Skye).
Option 2: Self-drive tours
Do you truly want to be part of a crowd? Another option is to hire a car and research an efficient route around the places you want to see. Try not to double back on yourself. See if you can find a suitable circular route. have developed quite a few suggested itineraries on their site which are free to download and usually follow various themes so you should be able to find one which fits in with your interests.
We can offer self-drive itineraries. Please bear in mind that we are always going to recommend that you spend some time with us here in the Cairngorms National Park. We believe it is by far and away the best area to base yourself when exploring the Highlands.
Self-drive tours are a great way to go as you can be completely independent. You are able to get to all those out of the way places which are inaccessible on public transport. The disadvantage is that they can be very time-consuming to plan and if you don't know the country you could make mistakes which cost you time-wise. Don't forget to allow a relatively significant budget for fuel on top of the hire and activities you've planned.
Option 3: Join a hiking adventure or design an Off-the-Beaten Track tailor made adventure 
Off the beaten track:
A tailor-made itinerary with Scot Mountain Holidays doesn't have to be too expensive. Don't forget if you're making comparisons that we provide a complete service. You won't have to allow extra in your budget for additional meals or accommodation or activities. We'll look after everything for you. Usually our prices include everything except alcohol from when we pick you up to when we drop you off. We can make adaptations to suit you and your party but our trips aim to provide you with a unique experience of Scotland not a package off the shelf.
Sometimes we do take our guests to the more popular tourist sights, like Loch Ness. If we didn't include places like this, we wouldn't get any enquiries. Usually however, these visits are not the most memorable parts of the visit. Sometimes guests are marginally disappointed by their day out with the rest of the tourists. One couple we worked with spent a week with us: they went hiking with Andy; they went out on mountain bikes exploring the forest and picking mushrooms; they went on the Zip wire in Aviemore and they went to Loch Ness (as on their itinerary). Their visit to Loch Ness was nowhere near as high on their list of memories as their day out with Andy in whisky country where they didn't see another tourist all day.
Guided and self-guided hiking adventures
Our hiking adventures are also aimed at providing all our guests with unique experiences so we avoid the hotspots other companies list as "off-the-beaten track" or as the French say "hors de sentiers battus" as in our opinion Glen Coe and the Old Man of Storr on Skye are not off the beaten track at all. We'd take you to places you've probably not heard of as below.
Hiking will be the focus of the trip and not visiting the popular tourist sights. You'll certainly go home with a unique experience which will have involved all your senses: taste, touch, smell, hearing and sight. Memories created involving all your senses last longer and create more stories to share with your friends. No queues and no crowds!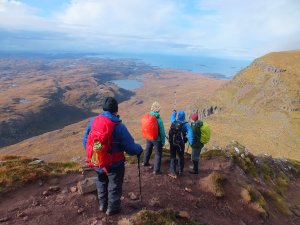 Hikers descending from a long day's hike in the Assynt area (Scotland)
Conclusion
There are lots of ways to explore Scotland from minibus or coach tours to hiking adventures. The method you choose will depend on your own personal priorities and who's to say that you can't come back and try another kind of experience the next time. We've certainly had some guests whose first experience of Scotland was a minibus tour round the highlights, but they've chosen to return and explore in greater depth with us as the bus tour merely whetted their appetite to see more.
Further Reading
Planning a hiking holiday in Scotland (but not the West Highland Way)
Where to walk in the Highlands