Travel experiences play one of the most important roles in why so many of us continue to explore the world. Although this age of technology allows us to document almost every part of our day, nothing compares with experiencing something firsthand.
So what makes travel experiences so much more special compared to our normal day-to-day experiences?
Open Mind
Visiting somewhere you're not familiar with already means you have an open mind. But exposing yourself to the unexpected when travelling often allows you to broaden your mind so much further. This includes with culture, religion, food and people. Having an open mind and being willing to dive head first into an experience will make travel experiences exceptional.
Stretch your Boundaries
One of the best things you can do when travelling is get out of your comfort zone. Pushing yourself mentally, physically and emotional often yields the most wonderful of rewards. Scott Mountain Holidays will stretch your boundaries through both tailor made and structured group trips. But not to worry. Your boundaries may be stretched, but with Andy as your guide you'll be well looked after.
Embrace and interact
Creating a special travel experience means you need to be willing to embrace interacting with locals, nature and culture alike. This will provide you with a well-rounded experience of a place and the opportunity to interact with likeminded individuals from across the world. Completing a tour with Scot Mountain Holidays will also allow you the rare opportunity to really embrace Scotland.
Be present in the moment
Photos and videos are such a wonderful way to capture the very best moments of a trip. However travelling is also a wonderful opportunity to take a step away from technology. When travelling, you can be present in the moment rather than experience it through the lens of your phone. So make your travel experience extra special and take the opportunity to really appreciate the place you're in and what you're exposed to. Scot Mountain Holidays hiking and walking trips allow you the chance to do this with plenty of opportunities to whip out your camera.
Scot Mountain Holidays is all about the experiences. Participate in walking, hiking or mountain biking holidays in a stunning Scotland, and you'll go home with travel memories and experiences that will stay with you forever.
Do you agree? Is there anything you would add about your own travel experiences? For us, what has always made the best memories are those experiences we have had involving local people and unusual active experiences. What has given you the most memorable travel experience?
Be prepared – the additional gear for winter walking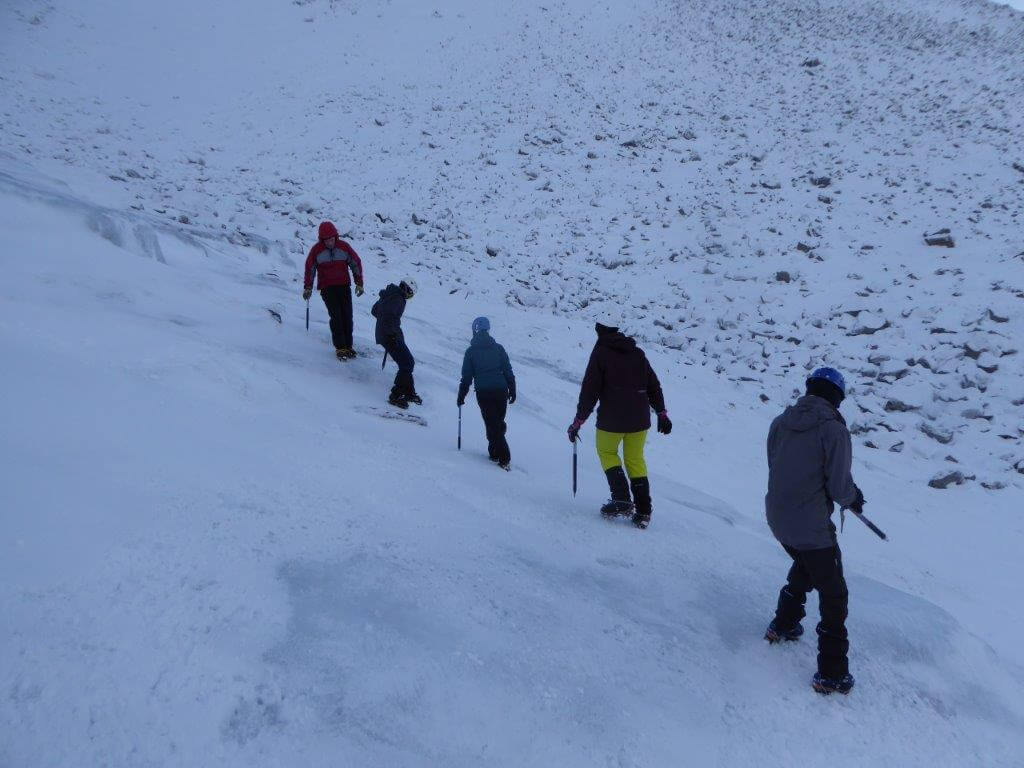 It's now middle of November and winter in our mountains is knocking at our door. As the Atlantic storms pass our area the arctic air is drawn into their wake. With each passing front, the weather can be extremely changeable. It may be weeks yet before winter conditions are in full nick for full on winter walking, but sudden blizzards on the high tops are now common place – meaning the ill prepared can be easily caught out. Scot Mountain Holidays guide and instructor Andy Bateman takes us through some of the considerations over and above the essentials of ice axe and crampons in transitioning from autumn in winter trekking conditions.
1. Head torch
It is prudent to carry a head torch at most times of year, but especially in the case of winter. The days are short and even a minor delay can make the difference between coming off the hill in the daylight and dark. Don't go without!
In addition, make sure the batteries are fresh so your torch is working at full power.  Carry spares too but try to avoid fumbling about to change batteries in a blizzard!
Consider upgrading your head torch to a more powerful model . Remember you may be trying to discern navigational features both in the dark and in the fog.
2. Winter boots
The stiffness of the winter boot is an integral part of ensuring crampons can be securely attached to your feet. This being said, bunging crampons  is not a "fix all" and the winter boot is as much a tool on your foot as the ice axe is in your hand. You need adequate stiffness to kick steps comfortably and efficiently into hard snow. Without it, it will be difficult to execute the technique of front pointing safely.
Proper winter boots are also better insulated. If you're thinking about buying a boot for the winter go for at least a B2. A B1 boot may be fine for a serious summer glacier trek in the Himalayas, but they don't come up to the mark when it comes to winter in the Scottish mountains.
Check the state of your soles. It's those sharp right angled edges that help to prevent slipping and allow you to kick steps.
3. Snow goggles
These are an absolute must and in our damp mountain climate they need to be anti-fog (double lenses). It may be uncomfortable – but not impossible – navigating into driving rain, but don't underestimate how painful this is once precipitation turns solid. It can be literally impossible to see. Your sight is of vital importance so don't skimp on the goggles and head torch.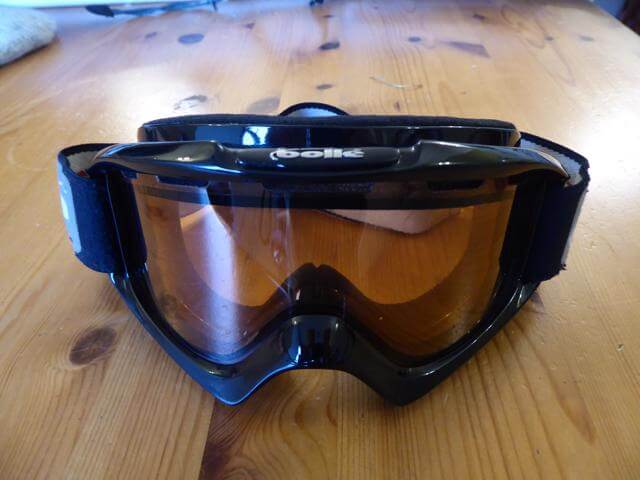 4. Extra-warm clothing
Pack that extra warm layer. The ambient temperature at 1000m rarely drops below -10 degrees C but don't underestimate how cold it can feel. A weak winter sun, the damp air and often a high wind chill all conspire to make the British mountains one of the worst places for hypothermia. You can chill quickly when you stop moving. A really thick fleece or over layering jacket is ideal. Be cautious about wearing duvets jackets under other garments – they can loose their loft and hence insulation.
5. Gloves
Make sure you gloves are warm enough for winter walking … i.e. they must be proper thick gloves. Not only do your hands have a very large surface area compared with their volume but also the body will reduce the circulation to them to conserve the core temperature – no wonder they get cold! So if you do have cold hands don't just think of putting on warmer gloves, but also an extra layer on your body.
Also remember if you do particularly suffer from cold hands, mitts are better at giving you the option of adding heat pads.
Winter in the Cairngorms
If you're coming on a winter skills course or winter walking holiday with Scot Mountain Holidays please don't hesitate to contact Andy if you have any further questions, an expert in optimal gear.
Andy will be publishing further blogs on the subject of preparing for winter over the forthcoming weeks. Keep your eyes open!
You can also take a look at our Winter walking holidays, Winter Skills courses and Full moon Snow-hole Expedition.
The thought of snow brings visions of skiing and snowboarding to the forefront of many minds. But for those of us who don't enjoy the slopes or perhaps want another option, Scotland is the right place to come. There are thankfully still many exciting activities that can be enjoyed in the snow.
Here are Scot Mountain Holidays top four snow options for non-skiers.
Snowshoeing
For those who aren't familiar with the sport of snowshoeing, it's a lot of fun and needs little skill to master. Essentially, snowshoeing is strapping tennis racket like objects to your feet and walking/sliding over snow and ice. It's a fantastic way to explore an area and Scot Mountain Holidays offers an all inclusive guided snowshoe tour for your convenience.
Winter Hiking
Hiking is a fantastic activity most popular in the peak season, but winter hiking is no different. While coming with some additional challenges, the rewards are fantastic and you'll quickly discover the hiking trails have a magical like quality to them. You'll also find the hiking traffic is much less; giving you opportunities for fully appreciate where you are.
Snow skill course
Scot Mountain Holidays offer a range of snow skill courses for your choosing. With the opportunity to learn about and have first hand experience on ice axes, building ice holes, winter navigation and more, the choices are endless. Not only are these courses a fantastic alternative from the slopes, but they are brilliant life skills to have.
Light hearted fun in the snow
Whilst all of our snow options for non-skiers are fun, exciting activities. It's always nice to relax and have a little fun in the snow, especially for those travelling with children. So, take an afternoon to build a snowman, or have a snow fight. Make snow angels or bobsled. You'll appreciate an open fire and a good book so much more once you're back in the warmth.
Autumn in Assynt
2016 heralded the return of our Empty Quarter hiking vacation, this year based from Ullapool. It was also our second visit to the area in 2 months (September was our month for Torridon). If you were ever in any doubt for reasons to head north of Inverness, check these out as inspiration for 2017 and beyond. Perhaps the North Coast 500 is beckoning you or would you rather explore on foot…
It's easy for us to take this kind of scenery and the opportunity to get out and explore it for granted. One of the advantages of living where we do, only 30 minutes south of Inverness, is that it is possible for us to pop up north for a weekend and feast our eyes on such refreshing vistas as these. If you're coming from further afield you probably want to consider spending longer in the area, in which case the Empty Quarter trip could be better suited to you. (If you don't want to take our word for it, read our reviews.)
Top 20 images from a trip full of amazing views and fabulous people:
The Empty Quarter 2017 – walking in Assynt
(currently a group only itinerary)
If you've been inspired by the photos, why not join us next year all you need is a couple of other friends (min. group of 4) then give us a call to settle on dates. The sooner you can get organised, the sooner we can get something set for you. We will guarantee the price on our website for your group, except for dates in high summer (mid July to end August).
Scotland is a beautiful country and one that has unique points of interest for each season. Although summer soars in popularity for visitors', winter is severely overlooked for its raw beauty, clear winter days and hiking. So for those of you that have any doubts, here are five reasons to hike in winter and join Scot Mountain Holidays on a trip of a lifetime.
1. Amazing views
The peaks of Scotland offer spectacular views all year round. But for those of you willing to bear the brisk wind, winter arguably offers the most rewarding view of all. There is something truly magical about winter, especially if there's snow. Winter can produce some of the most clear beautiful skies all year round and with the added bonus of snowy peaks the view will be worth the extra layers of clothing.
2. Fewer People
It's no secret that the chilly offseason discourages a lot of people from hiking. But for those of you undeterred you'll find yourself in a breathtakingly sparse space, with very few people about. This means fewer distractions for you, the chance to reflect and really appreciate where you are.
3. Terrain visuals
Winter offers a visually compelling unique point of view. The lack of leaves, greenery and wildlife will give you the opportunity to fully appreciate the raw rugged beauty of the mountains, the incredible rock formations and the sparse world that the season creates. If you're lucky enough to get snow you'll enjoy a separate, but equally compelling visually changed terrain.
4. Burn more calories
This one's for the fitness enthusiast out there. While hiking at any time is great exercise, hiking in colder weather actually burns more calories then hiking in the heat. Another fantastic benefit to winter hiking.
5. New exciting challenges
Winter demands a different style of hiking and naturally comes with some added challenges. While it is slightly more strenuous you'll be exposed to something you've never done before. The challenges of winter hiking will also make your success so much more rewarding.
So, to experience something new, to challenge yourself, and enjoy some of the most spectacular terrain and views you'll ever see. Join Scot Mountain Holidays on a winter hiking holiday and reap the rewards for years to come.