The Cairngorms National Park is home to some of Scotland's most prominent and famous peaks, the Cairngorms. For those visiting Scotland, the national park is a must see destination to experience the essence of Scotland. Below we've picked out some highlights which present the Cairngorms in a nutshell.
The Cairngorms in a nutshell
The Cairngorms are home to four of the five highest mountains in the UK. Their namesake Cairn Gorm stands as the fourth highest peak in the national park.
Ben Macui – 1309 metres
Braeriach – 1296 metres
Cairn Toul – 1291 metres
Cairn Gorm – 1244 metres
Along with the four most notable mountains, the Cairngorms also boast 52 summits over just 900 metres on land. Breaking it down even further, 10% of the park in over 800 metres. A whopping 68% is over 400 metres above sea level. Finally, the area above 600 metres is known as the montane zone. This zone, is the largest area of artic mountain landscape in Britain. Located in the montane zone, the high plateua is likened to the artic, and snow can be found there all year long.
These mountains and hills are what make the Cairngorms so fantastic. The walking/hiking options are so different in terms of difficulty and all levels of fitness can participate. But, for those wishing to explore the main peaks, Scot Mountain Holidays have a range of walking/hiking tours to choose from.
The Cairngorms National Park in a nutshell
The park that the Cairngorms belong to is 4528 square kilometres in area. Surrounding the mountain with beautiful lochs, countryside walks, and ancient forest it adds an unmeasurable amount of beauty to the package. In addition, The Cairngorms National Park is considered Wild Land and 49% of the park is marked as international importance for nature. This means European law protects the woods and their surroundings. And for good reason, the park has the largest area of native woodland in Britain, including Caledonian Pine, Juniper, Birch, Rowan plus many more. But, it wouldn't be Scotland without the Lochs. There are many lochs, large and small throughout the Cairngorms, and all incredibly beautiful. There are also three monumental rivers, the Dee, the Don and the Spey flowing through the park.
The Cairngorms National Park is the base of Scot Mountain Holidays, Fraoch Lodge. Located with easy access to the all that the park has to offer it's the perfect location to see Scotland's best.
A snow hole expedition in the Cairngorms National Park – a most varied group

In February we ran a snow hole expedition, the second of the year, in the Cairngorms.
The group
The group was small but unusual.
Ian – our most frequent flier on the snow hole. This was his third snow hole trip. Ian first joined us in 2006 to attempt an overnight snow hole in the Cairngorms National park. The weather was against them on that trip and they had to turn back without reaching the snow hole site. The ski area wasn't open and though the group attempted to ascend the hill they eventually had to turn back after being blown around a wee bit too much. There is video footage from their endeavours which makes for interesting viewing just to see the effect of nature, if nothing else. Ian returned again in 2007 with 90% of his group to try again – successfully
Andy – our oldest client to date on this trip – a celebration of his imminent 70th birthday.
Hui – our first guest from Singapore. A lone female traveller spending a few months in the UK on a sabbatical from her studies.
Andy's Review
Read all about their experience in Andy's words:

Late last year whilst at David Lloyd's (gym), I said to my friend, Ian Thorpe, an experienced walker and climber, that I fancied carrying out some serious winter walking, but not climbing. Ian replied "Let me take you to the Cairngorms National Park, Scotland." This was duly arranged by ian and off we set on 21st February at 10am, arriving at Fraoch Lodge in Boat of Garten, in the Cairngorms, at 16.15.
Rebecca, Andy and wee Gregor made us extremely welcome; dinner was baked salmon with a rich and wonderful sauce, followed by home made trifle containing shortbread and blackcurrants, wonderful.
Day 1
Next morning, along with fellow trekker, Hui, a lady lone traveller from Singapore, we were fitted out with ice axe, crampons & helmets prior to spending our first day on the mountains practising ice axe arrest. This was a daunting experience for some one who has never even worn crampons let alone walked on ice.
Later that day we walked till late on Lurcher's Crag and the Chalamain Gap, looking towards Corrie an Lochain, before returning to Fraoch Lodge for another wonderful dinner, having first stocked up on copious bottles of red and white wine from the local Tesco.
Day 2
On Saturday 23rd February after a hearty breakfast at 7.30, we set off for the snow hole day. We arrived at Aviemore ski resort and walked in. At about 2pm we were ready to dig our snow hole. Andrew marked out 2 doorways on the ice covered mountain side. (We were about 3000ft up by now.) These door holes, roughly about 12ft apart, were then dug into using ice saws and snow shoverls. It took 2 hours to create a vertical face, then we had to further excavate in for about 5ft prior to turning inwards to join the 2 ends of the snow hole. This was particularly backbreaking work for Hui, thank God we had clear blue skies and sunshine. After about 4 more hours, the hole was completed. My feet were so cold I could hardly feel them.
Having put all our gear, including cooking utensils inside, Andrew started the evening meal. We had hot tea, followed by carrot and coriander soup, then a buckwheat and chorizo casserole. Dinner commenced about 10.30pm! Ouside the temperature was approx -9oC; inside however was relatively comfortable.
Day 3
Next morning we woke up to a complete whiteout. My fear was how do we navigate to the summit of Cairngorm Mountain? Andrew explained that we take a direct compass bearing but because I was finding the walk hard he explained that provided we walked clearly up and around the pudding shaped mountain, we would by definition reach the summit and incidentally GB's highest automatic weather station. After approx. 600m of ascent we duly found the summit at 1245m.
Roughly 4 hours later, we had descended back to the ski lodge. It was particularly hard going with Hui hanging on the to back of Ian's rucksack most of the way. We had the pleasure of seeing a Ptarmigan and 2 white hares.
Overall a fabulour experience which I will not be repeating, but one to tick off. Andrew's knowledge of the terrain, geology, weather conditions, and navigation skills were par excellence.
Having successfully returned to Fraoch Lodge, we were treated once again to an excellent farewell dinner. Many thanks Ian, Andrew and Rebecca for a memorable trip which i will not forget for a long time.
Andrew Palliser
PS My 70th Birthday on March 12th 2013 – what a perferct birthday treat to myself!
Why come to Scotland in winter?
10 reasons in pictures
Have you ever wondered what all the fuss is about? Scotland. Why? Especially in winter must be far too cold and far too dangerous. Take a look – yes, it's proper winter but isn't that preferable to wet rain, umbrellas and grey days with little to differentiate between summer and winter, except for the lack of leaves on the trees.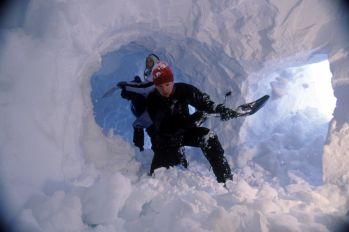 1. A Snow Hole Expedition: Digging out a snow hole site in the Cairngorms under the guidance of Andy Bateman of Scot Mountain Holidays. It's not quite Sweden't ice hotel as you have to create the living space yourself, but they'll have a relatively comfortable night out of the wind, cocooned in their sleeping bags enjoying being cooked for and served a three course meal by their guide.
Photo Credit: Paul Tomkins/VisitScotland
2. Winter mountaineering and ridge walking: Hiking along the ridges of Argyll – space to yourself away from all the crowds and views which stretch for miles under clear skies. We visit Argyll in March on our West Highland Winter Munros trip. For more examples of the spectacular hikes and scenery take a look at that itinerary.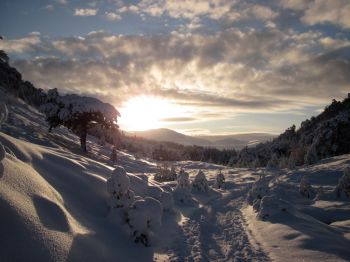 3. Cross country skiing: The beauty of Glenmore in the winter. Snow laden trees and cross-country skiing opportunities. Short days are not always a disadvantage as they allow for the most spectacular photographic opportunities, as seen above.
Photo credit: Dave Downing
4. A winter skills course: Safety skills for walking in the winter hills, demonstrated here by Andy Bateman – ice axe arrest. Legitimate playing in the snow, but as part of a learning process on how to avoid a sliding fall.
Photo Credit: David Mansell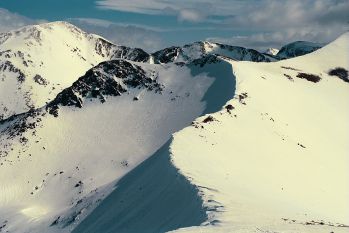 5. Winter photography: Scotland on a cold, clear, crisp day in winter. What's not to like, especially if you like to take stunning pictures.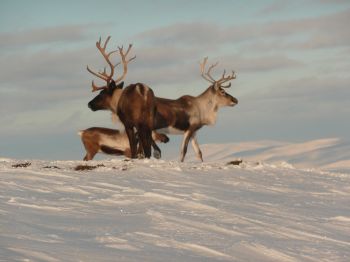 6. Reindeer: The Cairngorm Reindeer herd in their natural environment. When out walking in the Park, you can come face to face with the reindeer who roam the hills in winter.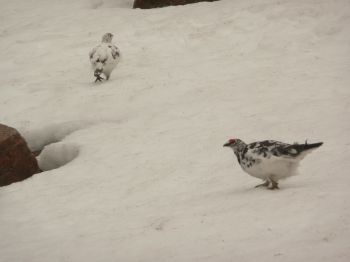 7. Ptarmigan: The Scottish Munros, particularly the Cairngorms, are the only area of the UK where you can spot Ptarmigan. Ptarmigan change their plummage twice a year – they have a summer coat, a breeding plummage and a winter coloration to blend in with the snow. You can almost step on the Ptarmigan sometimes as they like to conserve their energy by walking rather than flying if they can and they nest on the ground – there being no trees at the elevation where they are found.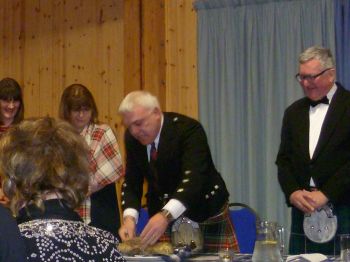 8. Burns Night: a chance to savour some of Scotland's most famous and unique produce. Haggis is a traditional meal to celebrate Scotland's greatest bard, whose influence can be found everywhere from the Birks of Aberfeldy (where there is a thinking/writing seat dedicated to Rabbie Burns) to the Winking Owl in Aviemore, where the great bard is said to have taken breakfast. You might not even be aware of his influence on your own life from: "And we'll tak a cup o' kindness yet, for auld lang syne" – which you'll have sung if you've ever brought the New Year in; to "O' my luve's like a red, red rose, that's newly sprung in June" and a special Scottish grace for a meal: "Soem hae meat and canna eat And some would eat that want it. But we hae meat and we can eat, sae let the Lord be thankit."
Burns Night is 25th January and is celebrated throughout Scotland with a haggis meal and the address to the haggis – written by Rabbie Burns.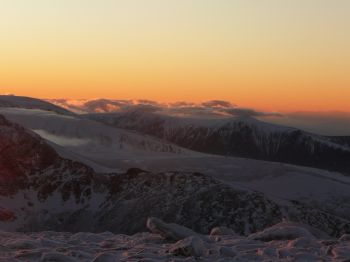 9. Colours of winter: Scotland is famous for the colours of heather in the summer but the winter can be colourful too. This is the time of year that you'll get to appreciate the sunset. The snow also reflects the light of the moon & stars if the sky is clear, so a night out in winter can be glorious.
10. Snow is fun: snow will entertain the kids for hours and cost nothing, but make sure you're well stocked with socks, gloves and hot chocolate!
Useful links:
Have fun in the snow: 
Snow related activities for kids: 
Family fun in the snow: 
Free mountain weather service: 
Met Office forecast for the hills: 
Scottish Avalanche Information service: 
USEFUL BLOGS
How to ice axe arrest: https://scotmountainholidays.com/blog/skills-how-ice-axe-arrest/
Best practice: how to build a snow hole in Scotland: https://scotmountainholidays.com/blog/best-practice-building-snow-hole-scotland/
How not to get lost – the art of navigation: https://scotmountainholidays.com/blog/hiking-how-not-get-lost-art-navigation/
Top 10 winter skills tips (for Scotland): https://scotmountainholidays.com/blog/top-10-winter-skills-tips/
How to prepare for a mountain challenge: https://scotmountainholidays.com/blog/classic-ridges-and-horseshoes-hiking-tips/
Which boots to choose for winter: https://scotmountainholidays.com/blog/which-boots-choose-winter-walking/
How to choose a walking ice axe: https://scotmountainholidays.com/blog/how-choose-walking-ice-axe/
How to predict snow: https://scotmountainholidays.com/blog/how-predict-snow-uk/
EXPEDITIONS FROM SCOT MOUNTAIN HOLIDAYS: https://scotmountainholidays.com/activities/mountain-challenges/
SKILLS COURSES FROM SCOT MOUNTAIN HOLIDAYS: https://scotmountainholidays.com/activities/mountain-skills-courses/
WINTER WALKING HOLIDAYS FROM SCOT MOUNTAIN HOLIDAYS: https://scotmountainholidays.com/activities/walking-holidays-uk/