Calvin College (Michigan) come to the Highlands – June 2015
We were contacted to organise a Scottish extension to a long study tour for 15 people from Calvin College in early 2015. The outline brief for the trip was that it was a first time visit to Scotland for the students who would be travelling up from Edinburgh after spending a few days in London and exploring Edinburgh. They wanted to experience the beautiful Scottish scenery and visit Loch Ness and they only had a couple of days free in their itinerary.
Their trip worked out as below:
Day 1; depart Edinburgh on the train for Aviemore. This is a beautiful train ride which passes through the Cairngorms National Park. The journey ended at Aviemore station where it was the plan to pick up all the baggage and walk the group through to the Old Bridge Inn. There was a slight hiccup to the original plan in that picking up the extra van to transport the whole group took a wee bit longer than planned so we picked up the baggage as the group were finishing their pub lunch.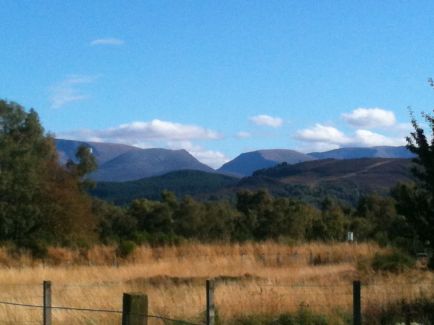 Photo caption: the Lairig Ghru seen from the Boat of Garten end of the Speyside Way
In exchange for the baggage, maps and route information was handed over so the group could follow a section of th eSpeyside Way to hike through to Boat of Garten across the heather moors. The girls then walked the 5 miles from Aviemore to Boat of Garten along the Speyside Way. The route is waymarked and relatively easy to follow without a professional guide. A couple of boards along the way with information about which hills you're seeing at the relevant viewpoints would be very beneficial. You do get excellent views of the Lairig Ghru along the way as well as Cairngorm and Braeriach. Also if you're lucky enough to be crossing the moor when the steam train is making one of it's scheduled runs to or from Aviemore, it adds something special and atmospheric to the walk.
By 5pm, everyone had finished hiking and was settling in to their rooms at the lodge after devouring the tea and cake set out to welcome them.
Later in the evening we all ate a dinner of Harissa Chicken or butternut squash dumplings with rice and vegetables, followed by Self-saucing jaffa cake pudding (recipe to follow in our recipe requests section).
Day 2: Loch Ness
After a light breakfast, the girls made up sandwiches and a picnic lunch to take on the tour to Loch Ness. Today they were tourists personified planning to do the main tourist highlights around Loch Ness. First stop – Urquhart Castle. Lunch stop at Divach Falls. Nessie Exhibition, circuit of Loch Ness through Fort Augustus past some Heilan Coo (photo opportunity not to be missed) and back through Inverness to Boat of Garten.
Photo caption: Dressing up at Urquhart Castle
Day 3: Guided hikes: Forest Loch and Abernethy Woods or Rothiemurchus and Loch an Eilean.
The group was a large one at 15 so we offered 2 levels of hike: one for the more energetic and one for those feeling the strain of being on the road for a while.
In Andy's group, we took the girls to Forest Lodge, where Andy was able to explain how the partnership between Scot Mountain Holidays and the RSPB works to regenerate the tree level up to 600m in this area. The RSPB have established a sapling nursery at Forest Lodge to encourage the regeneration of seeds of local provenance which they can then reintroduce across their estate to try to take the natural tree line to the level it would be at were there not so many deer in the area.
Photo caption: the active group enjoying the Pass of Ryvoan
Photo caption: Forest Lodge to Ryvoan Bothy with Calvin College
Monday morning: after breakfast the group departs to go back to Edinburgh and their ownward flight to Dublin.
Without the help of Scot Mountain Holidays the girls may well have missed out on their hiking opportunity and hence may not have visited the Cairngorms National Park at all. We were able to provide the missing link so that they could hit eveything on their bucket list in the limited time they had available. We hope to see a group from the college again.
All transport provided by Scot Mountain Holidays.
Tour conceived and supplied by Scot Mountain Holidays
Tailor made to the requirements of Calvin College.
Vacations organised by Scot Mountain Holidays
Self-guided Mountain Biking breaks
Useful links for planning your trip to Scotland
Email us if you think we can help plan your vacation in Scotland – we can hit all the Highland hotspots and include some off the beaten track surprises you might not know about.
For inspiration check out our  and our  account.
July and August are the height of our season and this year we've been busier than ever, which does of course have its plus points; the down side being that we have had very little time together and time to get our heads together to plan for the autumn etc. Still we are well stocked with mushrooms (see below) and will be adding some top chanterelle mushroom recipes to the blog, just in case anyone else has been equally blessed.
Slightly less well-blessed on the weather front this year which has also meant that the fruit bushes have suffered. For the first time ever, our worcesterberries have not overwhelmed us in quantity and we probably won't be able to restock with wine this year and will have to conserve all the fruit for jam making.
Our jam and marmelade skills have been in constant use since May as the downside to making your own jam is that people seem to eat enormous quantities of it with their breakfast.
Below if a selection of the activities and scenery we've been lucky enough to experience this month. We've saved all the wildlife and flora pictures for a seperate post. Look out for some very impressive reindeer antlers and some amazing wild flower shots to come shortly.
Always happy to hear any comments.
Photo caption: Mushrooming in the Cairngorms – August 2015 is the month of the chanterelle; obviously a cool, wet summer does them a lot of good. So glad there are some benefits to this summer's weather. (The photo above proved a popular Facebook post.)
Photo caption: what a lot of snow for August. Looks like it will be one of those years in which the snow will survive until the next winter season. Many more of them and we'll see glaciers back here.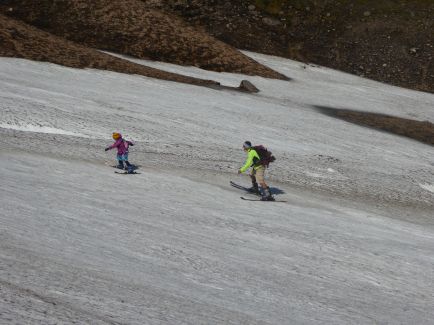 Photo caption: this might not be resort skiing but if you're keen …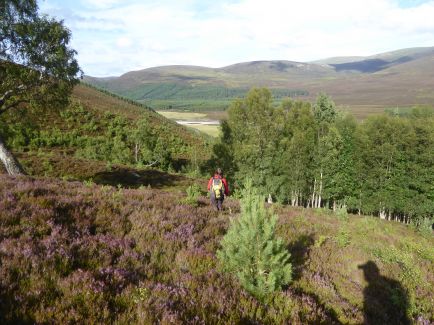 Photo caption: Hiking through the heather with Andrew Bateman of Scot Mountain Holidays to experience the hidden delights of the Cairngorms National Park. This route is part of the Complete Cairngorms itinerary.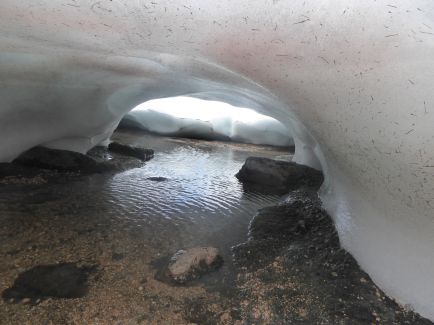 Photo caption: Snow bridge which has developped in the Cairngorms. It makes for quite a dramatic photo.
Photo caption: dinner by candlelit is not a problem in August as we still have a fair bit a light streaming in from outside. This is our Mountains and Malts group sitting down to a revised dinner menu. Impromptu revision forced on us as we had a power cut just as our dinner was due to go in the oven. Fortunately the courgette rolls didn't need any cooking preparation.
The Cairngorms is an amazing destination for biking. Be it road biking or mountain biking, there really is something for everyone. Not only are we surrounded by purpose built trail centres, but we also have miles of natural tracks throughout the forests and up on to the hills. There is more than enough to do for repeated visits or at least a week.
Related holidays by Scot Mountain Holidays
Hiking vacations:across Scotland
Mountain biking breaks: self-guided biking adventures
Family Adventures: a taste of everything for groups or families
Useful links:
Developing Mountain Biking in Scotland
Visit Scotland: about cycling
Visit Cairngorms: about cycling
Glenlivet Bike Trails
Laggan Bike Trails
Monster Moray bike trails
Grantown bike park
Inverness bike park
How do you measure wilderness?
Are there wolves in Knoydart? No – but then there aren't any wolves in Britain so we can't really use this as a measure of wilderness in this instance.
Are there bears in Knoydart? No – but again we don't have bears in Britain.
So – no bears, no wolves, is it wilderness?
Knoydart is wilderness as soon as you leave the village of Inverie. There are no roads for 19 miles; you can't take a car there; there's no train station, no buses but courtesy of hydro-electricity there is electricity and there is a running water supply for the residents of Inverie.
Check out the video below made by the Guardian and Wilderness Scotland – then you can make your own decision.
Wild Knoydart
We're returning to Knoydart on Saturday 9th May 2015 with a group of hikers. We haven't been back for 2 years so it will be interesting to see what if anything has changed. When we first stated to visit Knoydart in 2008 there was no Wi-Fi access freely available. Now you can pick up a network at the pub (The Old Forge) and at the pottery/cafe across the road. Most self-catering properties also offer internet access. Seems like no one can be without their electronic entertainment these days and the thought of being unconnected with the wider world gives us the heebie-jeebies.
However, it is still not possible to drive on to the Knoydart peninsula. (Some of the locals in Inverie have motorised vehicles, but once you leave the hamlet, you won't really see another vehicle until you return to Mallaig.
Knoydart definitely retains it's sense of being a special place apart from the rest of mainland Scotland, because it has to be reached by ferry or on foot.
Remote = survival?
Knoydart might be remote and take a lot of time to reach (though not as remote as trying to reach Everst base camp), but this doesn't mean that you need to feel in any way deprived or on survival rations.
The advantage of being in a smaller community, less easily accessed by the rest of the world, is that it is a safe environment for children to grow up in and one where security of your own assets does not need to dominate your daily life. Locking up is not essential as it is downtown.
The natural larder
Access to the internet and social media, does not provide any of the basics of life such as food. However living by the sea means that you need not go hungry. Seafood is amazing at Knoydart as you will have seen on the video and the platter at the Old Bridge Inn has to be seen to be believed, as below.


We hope you will consider joining us on one of our visits to Knoydart. We usually go in May and spend the majority of the time exploring the stunning surroundings and sampling some of nature's larder. If we're lucky we also get to have up close and personal encounters with some of the local wildlife – we have seen a pine marten fom the kitchen window of our accommodation.
Get off the Beaten Track with Scot Mountain Holidays
In May 2015 we were asked to organise a trip for 2 days and 3 nights which had to end at the Craigellachie Hotel and needed to include a hike in the Cairngorms National Park.
We ran a tailor-made trip including a guided ascent of Ben Macdui, which was far more than could have been accomplished without Andy's guidance. Even in May the temperatures on the high Cairngorm plateau are not much above freezing level. It is essential to wind proof clothing and plenty of warm layers. Fortunately Andy always has spare clothing to loan to walkers in his group and though his supply of hats may not be too flattering, at least they are warm.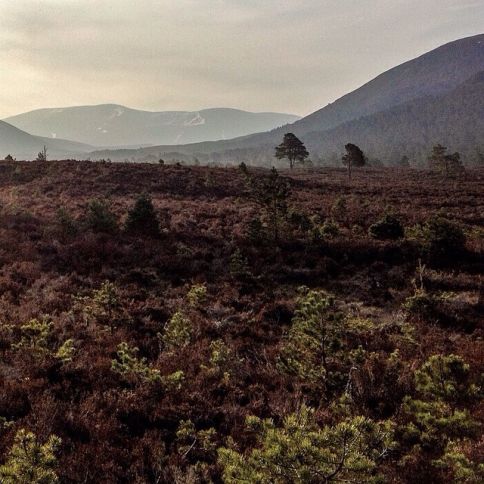 On day 2: Diana and Ted walked through to Aviemore along theSpeyside Way, one of Scotland's waymarked long distance routes. This was a contrasting walk with the previous day on a wide relatively level track facing the mountains they had been exploring the previous day. A wee bit of a warm down walk was needed after the exertions of the previous day.
On day 3: we had very limited time before meeting up with some of the wedding party at the Craigellachie Hotel for a private whisky tasting at the Macallan distillery. Fortunately we left promptly and headed straight out to Culloden Battlefield visitor information centre (Diana was anOutlander fan, keen to see the battle sight and experience some of the atmosphere).
We also hit the Speyside Cooperage to see the Coopers (who make the whisky barrels) at work. The Cooperage is only around the corner from the hotel, but would still have been a wee bit of a challenge to get to on their own.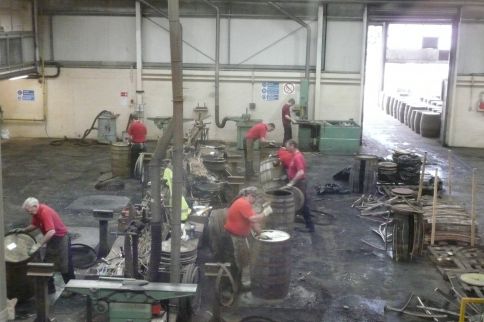 Without the help of Scot Mountain Holidays, Diana and Ted may well not have been able to hike to the summit of Ben Macdui, despite their previous hiking experience in the States. They would also probably have needed to hire a car and may never have got to Culloden Battlefield.
Vacations organised by Scot Mountain Holidays
Self-guided Mountain Biking breaks
Useful links for planning your trip to Scotland
Email us if you think we can help plan your vacation in Scotland – we can hit all the Highland hotspots and include some off the beaten track surprises you might not know about.
For inspiration check out our and our account.