Can you rank these images with your favourite at number 1?
All images taken on the Magical Mull hiking vacation with Scot Mountain Holidays, led by Andrew Bateman in September 2014. We're heading back again in September 2014. Perhaps these images will persuade you to join us if you have some time free this September …
Mull isn't all about the mountains as you'll gather from the range of shots we've chosen below. Food, architecture, crafts and traditions play a part as well.
Something you might not know about Mull:
We stay at Torlochan Farm on Mull which is a stone's throw from Australia. What do we mean? Governor MacQuarie of New South Wales orginally came from Mull. He is now interred in the family mausoleum on Mull which is maintained by the National Trust of New South Wales, so a tiny part of Australia on Mull!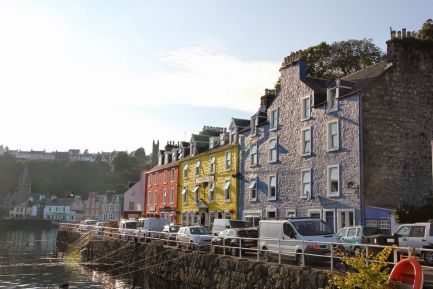 Photo caption: you couldn't get a more iconic and easily identifiable image of Mull than this one of Tobermory, which is the image most people would most easily associate with Mull
Photo Caption: Some of the rugged coastal scenery which is typical of Mull
Photo Caption: check out the geological formats. These columns are very similar to those found at Fingal's cave and the Giant's Causeway over in Northern Island. Much of the Giant's Causeway can be under water. On Mull though there are quite extensive sections of columns to be seen.
Photo Caption: who doesn't aspire to see a hairy coo when they come to visit Scotland?
Photo Caption: Duart Castle – one of the top tourist spots on Mull, unfortunately covered in scaffolding during our stay.
Photo Caption: Climbing a hill on Mull
Photo Caption: Amazing scenery – you can see ridge after ridge, rolling away into the distance
Photo Caption: what a spread of seafood from Cafe Fish in Tobermory
Photo Caption: they might not be Munros but they are still imposing mountains – Mull viewed by hikers.
Photo Caption: mystical woodland on Mull
VACATIONS WITH SCOT MOUNTAIN HOLIDAYS
Hiking Vacations across the Highlands of Scotland
Adventure vacation in Scotland for all the family
Exploring products from Scot Mountain Holidays
Highlighting Scotland's most famous export – Scotch or whisky is a feature of this trip. Link in with the Speyside Whisky festival and join us for the first trip of the year departing soon for Whisky month (May) – https://scotmountainholidays.com/tours/19/4871/mountains-and-malts
A wild and secret exploration in Knoydart, home to Britain's most remote pub and the mountains where Bonnie Prince Charlie i supposed to have hidden after the battle of Culloden: https://scotmountainholidays.com/tours/7/4871/wild-knoydart
A great all round exploration of Scotland's adventure and culture. Dress up as a Highlander and sample haggis; hike in the remote hills; mountain bike through glorious forests feasting on wild berries and plenty more – https://scotmountainholidays.com/tours/51/4871/visit-scotland-highland-family-adventure
Related blogs from Scot Mountain Holidays
Other news items from Scotland – scotmountainholidays.com/index.php/blog-search-results/?akID[18][atSelectOptionID][]=2
Useful links
BBC Highlands News – 
National Visitor Information –