Northern Cairngorms winter conditions report no: 4
We have a lot of Snow!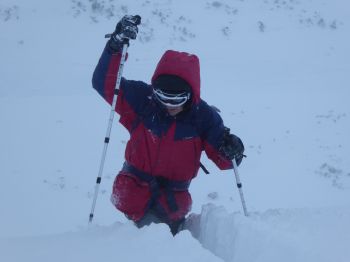 It has now been near enough consistently wintry to low levels in the Northern Cairngorms for 3 weeks now. With the winds swinging around to the north a good number of the snowfalls have been heavy for the Northern Cairngorms with some of them being significant at lower levels too. Last night we had just a "skiff" down here in Boat of Garten (230m) whilst on the hill they received 4 inches of fresh powder. We haven't had such a consistently wintry period for a good number of years! Skiing conditions are presently excellent.
The earlier snowfalls were blown around the hill on westerly and north westerly winds leading to deep deposits of dense (hard) windslab which has now provided a very good base in lee North east through to SE facing areas.
Last Friday and Saturday saw heavy snowfalls with deep drifts below 600m. It's presently hard going at all levels on the mountain due to knee deep snow.
The forecast is for things to get gradually warmer as we now move towards next week but with frosts at night. This should help to consolidate the snow pack and sets us up very nicely as we move into February.
Best wishes and safe climbing,
Andy Bateman