Birdwatching in the Cairngorms: the Ring Ouzel
Wildlife of the High Cairngorms (1)
Birdwatching in the Cairngorms: Ring Ouzel
Though we don't claim to be wildlife guides or guides for birdwatching in the Cairngorms, Andy is always delighted to see bird life when he is out with walking groups.
"I was delighted to see my first of the season. This would be a great start to my High Mountain Wildlife blog." I thought. "I saw the Ring Ouzel amoungst the in the Cairngorm Ski Area. If you come to stay at Fraoch Lodge, I'll be able to explain exactly there I usually see these lovely birds and what time of year it would be best to see them."
One of the treats of Scottish mountains in spring, particularly for birdwatching in the Cairngorms,  is the arrival of the increasingly rare Ring Ouzel. The Ring Ouzel comes back from its wintering grounds of the mountains of North Africa in the spring. It's the mountain equivalent of the Blackbird. Due to its scarcity, its remote high mountain living and it's very flighty nature, it's a hard one to spot. It is though, one of the first birds to arrive and one of the last to leave.  We do come across it fairly frequently on our walking holidays especially as the Cairngorms National Park is a stronghold.
Photo Credit: Scot Mountain Holidays
Birdwatching in the Cairngorms: Details to watch out for – the Ring Ouzel
The male is a very handsome black bird sporting a very distinct white bib or 'gorget' right across his breast. The female's gorget is a far less striking brown being just a lighter shade than the rest of her dark brown body. Noticeably both sexes have a silvery sheen across the backs of their wings in flight and are a slender version of the common blackbird. They are very much a bird of open tree-less landscapes.
Their alarm call is a distinctive chac, chac, chac with their flight being low and direct. Their song is delightfully fluty and strong with it being composed of a few notes followed by a pause and then a few more different notes.
Photo Caption: Female Ring Ouzel
Photo Credit:
In massive environment of the mountains they can be a difficult bird to spot. They are often quite a vocal bird. Its song is probably the first thing that will alert you to its presence. It is quite similar to the common Blackbirds all be it at a slightly higher pitch. They also have the convenient habit of singing their pretty little tune perched on a rock. In the Cairngorms they are very much a bird of steep inaccessible rocky and cliff terrain.
Their numbers have been subject to a steady decline over the years. There's also been a severe (at least 50%) contraction of UK breeding range over last 25 years. They are our least understood endangered species, being one of the 52 on the British Red List. Upland forestry is thought possibly to have had an effect on their breeding habitat whilst the loss of their winter juniper scrub habitat 1500m – 2500m up in the Atlas Mountains is also thought to be responsible.
Next: the Wheatear
Beginners Tri Camp Review:
We're back home now and managed to get a wee swim in this morning.
We've spent a lot of time discussing the training weekend. We both really enjoyed the very high level of your coaching skills. We learned a lot of theory but not so much that we can't remember it and the practical aspect was also great especially the drills for running and swimming. We learned more about how to set up the bike and use the gears in one weekend than we have in years on our own! We also went into the pool session this morning with a greater sense of purpose than we have for a long time.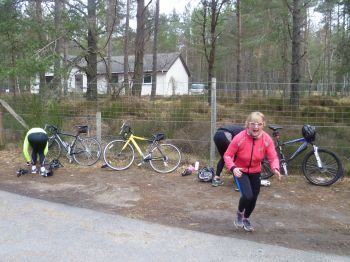 If I can now put on my ex-teachers hat, I think you are a natural teacher. You know your subject extremely well from both the academic and experience standpoints. Despite being an elite athlete you never talked down to us and never treated us like numpties. Carol was particularly pleased that you did not ignore her and direct your comments to me as has often happened with instructors in the past.Your delivery is informal and a good mix of fact and anecdote. You also listened well and acted on what you learned about us. We were apprehensive before the course that we would not be good enough to keep up but that was never an issue and you were constantly positive and reassuring. It was a privilege to work with you. I am sure that you will be very successful in your coaching career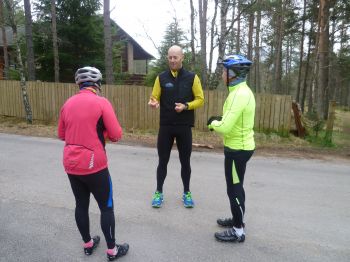 By: Carol and Charles Davies, Mull
Carol and Charles are both now resident on Mull and regularly take part in 10k runs. In fact, they have been inspirational in putting together a group on Mull to run 10 x 10k runs to raise funds for a new hall on Mull. They also have a run booked on Iceland this year which will take place on the longest day.
Related blogs:
Triathlon training in the winter
Related products from Scot Mountain Training Camps
In the pipeline:
Boot Camps; 5 day triathlon training camp; Family friendly Triathlon camps; Triathlon pool based swim camps; Triathlon open water swim camps; Long distance triathlon camps … please contact us for full details if you're interested in any of these proposed camps.
We are also planning to list some open dates for bookings of 3 or more people for the camp of their choice. Please check the website for availability.