2 Day Mountain Navigation course in the Cairngorms National Park
Navigation weekend in the Cairngorms National Park
We usually aim to pick up from the station or airport around 5pm on the Friday as you'll then have time to settle in, meet the group and make yourself comfortable before the course introduction
HIGHLIGHTS
fully inclusive
all meals during the weekend at Fraoch Lodge
2 nights accommodation at Frach Lodge
acquire traditional navigation skills
Mountainous, rugged and rising abruptly off Scotland's Atlantic coast, the eye is drawn to Rums imposing outline. In a little over 2 km the land rises from sea level to over 2500ft in an array of jagged peaks, testament to the isle's volcanic beginnings. Climbing above the tiny community of Kinloch you immediately become aware of the islands remoteness and sense of space. Dramatic unspoilt wild landscapes set to the backdrop of seascapes meet the eye. Come an experience Scotland's most mountainous isle.
Day 1 Barkeval and Hallival
921m (3000ft) of ascent involving moderate and steep gradients. 7.5 miles (12km) of walking on mountain paths and over open mountain moorland terrain. Approx walking time excluding breaks: 5 hrs 22min
Day 2 Orval
850m (2800ft) of ascent involving gentle and moderate gradients, 13 miles (21km) of walking on tracks and mountain footpaths and across open mountain moorland terrain. Approx walking time excluding breaks: 7:39 hrs
Day 3 Askival
1090m (3600ft) of ascent involving moderate and steep gradients. 9 miles (15km) of walking on mountain paths and open mountain moorland terrain. Approx walking time excluding breaks: 6:25 hrs
Day 4: Transfer from Mull to the Cairngorms National Park
We'll take a break from hiking today to travel back over to the Cairngorms
Day 4: Glen Feshie
706m of ascent & 13 miles (21km) generally gentle gradients on footpaths, tracks and moderately rough ground but with some steeper ascents. Approx walking time excluding breaks: 6:30
Day 5: Glenlivet
1900ft (580m) of ascent and 8 miles (13 km) on tracks and over open moorland with mainly moderate and gentle gradients but with 150m of steep ascent. Approx walking time excluding breaks and training: 4:30
Departure
Most guests depart the following morning after walking finishes, after breakfast but should you have a plane or train to catch we will make sure you we get you there in good time. Feel free to stay on and enjoy more of the area if you want. Extra accommodation may be available, please enquire.
Dual based trip:
Rum BarBQ bothy and Scot Mountain Holidays Tentipi:
We have booked the BBQ bothy on Rum.
The cabin sleeps 4 and can seat 20. The barbeque is inside the hut for a warm and cosy, midge-free evening, whatever the weather. Sleeping platforms with luxurious reindeer hides
provide comfort and warmth while you wait for your sausages to cook.
Situated on the edge of the campsite, looking out over the loch near the old pier, this beautiful new cabin is a welcome addition to Rum's accommodation. It's close to the toilets and showers,
and only a ten minute walk from the village.
In addition we are taking the heated Tentipi for additional sleeping space with cosy sleeping systems and its own stove.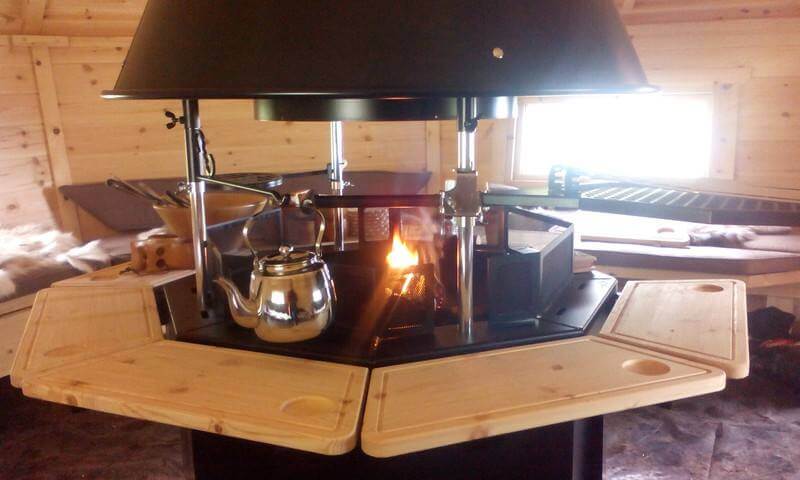 Scot Mountain Holidays will be hosting, guiding and catering with the best of Scottish produce. As there will be no opportunities to restock our supplies while over on Rum we will be planning the menu in advance and would ask that you make sure to give us all your requirements in advance. If there are any Scottish specialities you definitely don't want to try, please say.
Scot Mountain Holidays strongly advises all clients to take out suitable insurance cover.
Fraoch Lodge: 
Our main base and home in the Cairngorms National Park, Fraoch Lodge is a 5 star graded hostel, which we run with our son, Gregor (born in 2008). Full details of the facilities at Fraoch Lodge can be found on the Lodge page.
We have achieved Gold Star Awards from the world's most highly respected green accreditation scheme, Green Tourism, and were awarded Highly Commended in their Green Star Awards 2013 for both Scot Mountain Holidays and Fraoch Lodge. We offer a Green Travel Discount of £15 to any guests who travel to us by public transport. Our primary aim is to minimise the carbon footprint of our holidays, and to this end we donate 1% of the price of our tours to the RSPB's Abernethy Reforestation project.
It is a holistic approach we have to the care of the environment. Andy your adventure guide has a passion for the natural world – whether it's the flora, fauna or fungi. He has a background in geology and a lifelong interest in natural history, as well as being a keen gardener.  He knows a Golden Plover from a Dotterel, a Green Shank and a Dunlin. He also makes no apologies to being very excitable upon spying a Golden Eagle!
For further information, please don't hesitate to check out our Environmental Responsibility page, or contact us directly at .
Booking Procedure
Departure Guarantee
We are proud to continue to offer our unique departure guarantee*. If your booking is confirmed by Scot Mountain Holidays you can be assured that your holiday will run. We can offer this guarantee as we are unique amongst walking holiday operators in Scotland by providing all the parts of your holiday (guiding, accommodation and catering) in-house.
* Scot Mountain Holidays reserves the right to alter the venue and itinerary of holidays advertised as based away from Fraoch Lodge.
We work with Worldpay to process our online transactions now so you can rest assured that your payment will be processed securely. We accept the following cards:




Booking online is straightforward and enables us to confirm your reservation immediately. We also accept bookings by telephone, email, and post.
Attention! Don't forget to read our trip dossier and booking terms and conditions, BEFORE you complete the booking process!
A deposit of 50% is required at the time of booking unless you are booking less than 28 days before departure. In this case, full payment of the trip price is required
---
Your Financial Protection
In compliance with the UK Package Travel, Package Holidays and Package Tours Regulations 1992 a client deposit account has been arranged with the Royal Bank of Scotland to protect monies paid in respect of travel arrangements offered in the Brochure and to cater, where necessary (and subject to the terms of the insurance policy), for a refund of such monies in the unlikely event of our financial failure. The balance of payment is due 28 days prior to the commencement of the course. Credit/debit cards accepted are: Visa, Visa Electron, Mastercard, Switch, Non-refundable deposits will be debited on receipt of the booking form. Balance of payment reminder will automatically be sent out to you. Please be prompt in paying the balance. If you decide to pay by internet bank transfer please use your own name or booking number as a reference for the payment so it can be reconciled.
---
Insurance
It is a condition of booking that you are insured against medical and personal accident risks. This must include cover for the activities to be undertaken during the trip. We also recommend that you take out insurance which includes cancellation and baggage cover.